Best Backpacking Tent for Solo Adventures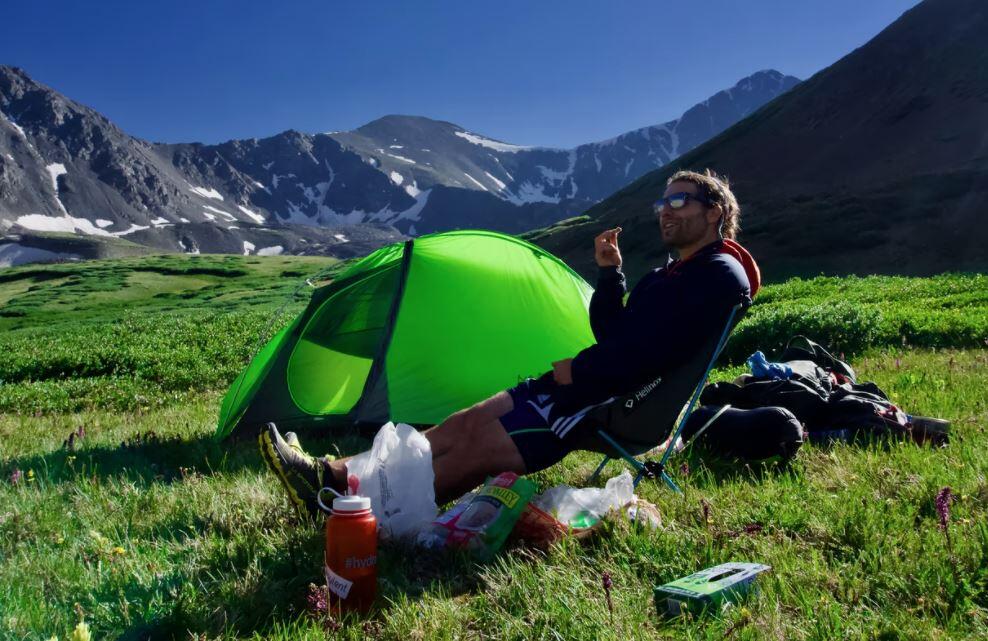 If you want to skip to our recommendations for the best backpacking tents on the market then please click on one of the button choices below:
Several of my friends scoffed when my wife and I bought a campervan. "That's not camping" was a familiar refrain, and I have to partially agree with them because our campervan verges on the 'ridiculously luxurious' side of the camping equation.  It's an interesting point – what exactly is camping? If you stop at campsites with hot running water and plumbed-in toilets whilst watching TV in your tent, camper or caravan are you really getting back to nature or just transplanting your home life?
In my opinion "proper camping" should involve both an element of adventure and an element of simplicity. Nothing screams this more than backpacking adventures – squeezing all your belongings into a hefty 40l+ rucksack and heading for the hills to lose yourself in the wilderness. 
Introducing the 'Adventure Tent'
An essential element to this kind of wild camping is a one or two person tent. We often call these 'adventure tents' because their very nature implies a 'back to basics' mentality of getting out into the nitty-gritty of the natural world. Although you do occasionally see these small tents pitched up at campsites, they are more typically deployed out in the wilderness under a starry sky with a mountainous backdrop.
The best backpacking tent is one which can fold up small and is lightweight enough to carry with your other equipment over the typical hiking distances you're expecting to cover. If you normally just pop out for a night or two not far from your house or car then you can probably get away with slightly more weight and size in your pack than if you're embarking on a two week trek in the wilds with nothing but your legs to transport you.
The potential weather patterns you will encounter can also make a big difference in your choice of backpacking tent. The UK weather can be extremely variable, and while it's unlikely to get massively sub-zero in temperature even in the midst of Winter, you've got to expect heavy winds and rain at any time of the year. It's almost the norm! For this reason we recommend a minimum of a three season tent for UK use – more on that below.
Let's take a look at the implications of weather on the design and materials of lightweight backpacking tents. We'll examine the trade-off (there's always a trade-off!) between the price of the tent and the features you're getting. Finally we'll offer a roundup of some of the best backpacking tents we've tested over the last year if you're looking to buy one.
Factors Influencing Choice of Backpacking Tent
Size and Weight
Typically adventure tents are classed as either 1-person or 2-person tents with the latter being heavier than the former as they are naturally bigger. However, it's worth noting that a 2 person tent of the same model is typically less than twice the weight of a 1-person – this makes them a more efficient choice for the extra space you are getting.
In general, if you are camping alone we recommend a 2-person tent for shorter wild camping trips with less walking per day (say <10 miles) because the extra space in the tent can be very welcome. For longer trips with hiking at >10 miles per day then weight saving becomes more important, in which case a 1-person tent may be preferable to carry.
If there are two of you on the expedition then a 2-person tent can still be a great option because you can typically split the tent into two sub-packages, with each person carrying a part of the overall unit. 
3-person tents and higher may be overkill for wild camping trips and as such we won't be covering them in this article.
3 or 4 Season Capability
Do you need an extreme tent which could potentially be used on an arctic expedition (normally called a 4-season tent), or a lighter, more airy tent instead which can still be used in most scenarios – these are typically called 3-season tents.

The urge is often to go for the "belt and braces" solution which is the 4-season adventure tent, but this can be overkill. For a start they are often more expensive than the 3-season alternatives as they use thicker technical fabrics, with less meshing. This also means they will be heavier. Both these attributes also apply to 4-season sleeping bags.
Ventilation can be worse than 3-season tents and so you need to carefully manage airflow to avoid condensation. However, 4-season tents will be warmer in general and so if you are expecting temperatures below freezing then a 4-season should be the way to go. The design of a 4-season adventure tent will also be optimized in an aerodynamic way, typically a geodesic dome structure using criss-crossed fiber glass rods – the shape allows strong winds to 'slide over' the tent without disruption. 
In general for most UK hiking conditions, a 3-season tent will be more than adequate most of the time, especially if you have a thermally efficient sleeping mat and sleeping bag.
Waterproof Capability of 3 vs 4 Season Adventure tents
It's a common misconception that 4-season tents will be more waterproof than 3 season tents, but this is not the case. A 3 season tent from a reputable manufacturer will be just as waterproof as the 4-season and in fact may well be more breathable at the same time. It is more the design/shape and internal warmth which is different. 
The situation is confusing though because a more expensive tent from manufacturers like Hilleberg, MSR, Big Agnes etc will be at a massively higher standard compared with cheaper brands of the same season type. For example the seams on the hand-crafted Hilleberg are stitched with cooled needles to prevent the stitching holes growing bigger than required. You just won't get this attention to detail on a cheap Chinese tent, however good it looks in the photo. The upshot of this is to buy the best you can afford for the type of tent you require – a 3 season tent from Hilleberg will be massively superior to a Chinese import 4 season tent.
3 Season, 1 Person Backpacking Tents - Our Recommendations
Vango F10 Hydrogen Air Tent
The Vango F10 Hydrogen Air Tent is one of the lightest one person tents on the market at 600g and is also unique in that it uses airbeam technology rather than fiber glass poles. This does mean that you need to carry a bike pump with you which you may or may not see as an added encumbrance. There is also the minor risk of punctures, but we view the risk as minimal, especially if you carry some 'superpatches' with you for emergency repairs.
The F10 Hydrogen is fantastic to use in the UK in the spring – autumn time frame, with some potential for colder weather.  It consists of an inner tent section and outer flysheet which contains the airbeam. The inner and outer are internally joined together and so it is a "pitch as one" design. The airbeam uses a standard bike pump valve (Schrader) for fast and simple inflation – either with a pump or gas cannister.
Packed size is small at around 10 x 20cm – similar to a packed down jacket. Very impressive. As mentioned, the weight is extremely light at 600g which is barely more than the down jacket.
Setting up is very simple – simply pump up the airbeam and peg out with the supplied titanium pegs. While these are extremely lightweight, we found they were not ideal for frozen ground and you may need to source something a little more sturdy if you're camping in Winter.
Dimensions are not huge, but you obviously don't buy a one man tent for palatial accommodation. However, what you do get is a 2.2m length inside with a varying width between 75 – 90cm. Height is 90cm as well which is adequate for sitting up if you're not too tall.
In use, we found the Hydrogen Air surprisingly good in windy conditions. The waterproof hydrostatic head is 2000mm which is not huge, but a silicone layer on the outside stops any water ingress. We had no problems with condensation, partly due to the flysheet material but also there is a useful air vent above the door which we kept open during our overnight test.
In summary – this is the best adventure tent for a 'shortish' solo adventurer on a long duration, long distance walk in the spring-autumn timeframe. The weight is ridiculously light, but the compromise is space. If you're over about 5ft11 you may struggle to sit up inside, in which case we would not recommend it. Definitely worth a look though.
We recently reviewed the MSR Elixir 2 in detail and came away impressed. The smaller MSR Hubba NX Solo Backpacking Tent is equally capable but saves weight considerably due to slightly thinner material and size. It's MSR's best-selling adventure tent, and we can highly recommend it. If you're not so bothered about weight then the MSR Elixir 1 is almost half the price with just as good build quality and design.
Anyway back to the Hubba NX solo – It uses a two-piece construction but via clever design you are able to pitch the outer flysheet first in wet weather and then add the inner part of the tent afterwards. This offers alot of flexibility as in hot weather you can camp without the fly or without the inner.
Pack size and weight are reasonable for the Hubba NX. It comes in at 1.29kg but the size is fairly large for a one person tent at 45.7 x 15.2 cm. Yes it will fit in a typical rucksack, but it takes up more volume than you might expect.
However the considerate design touches quickly soothe any residual grumpiness and show how versatile and reliable the Hubber NX is. From the in-built guttering to channel water away to the colour coded tent pole ends which match similarly-coloured recesses in the fly sheet for simple deployment, MSR have thought of everything.
Pitching was straightforward in our tests. The fiber glass poles are pre-connected and form a structure which can have both the outer fly and the inner tent both clipped to it from the topside or underneath respectively.
The flysheet is 20 denier ripstop nylon, with a thicker 30 denier for the bathtub floor. Hydrostatic head is low at 1200mm for the fly although I've never heard any reports of MSR gear leaking – they treat all external surfaces with a silicone coating which works wonders.
Size inside is ample for a 6ft3 guy like me to lie in, and there are not too many one-person tents where that is the case. The dimensions are 216 x 76 cm of internal living space with a head height of 91cm. Still not enough to comfortably sit up for long periods of time though if you're over 6ft. 
The Hubba NX Solo has an excellent vestibule at the side of the tent which will take a large bag and kit. Some people like to keep their gear in the tent with them, especially if it's extremely cold outside but the Hubba vestibule is class-leading in our opinion. 
In summary, this tent is definitely worth seeking out and won't completely break the bank like a Hilleberg will!
Wild Country are a subsidiary of the famous and award-winning Terra Nova tents, based in Derbyshire, UK. The Wild Country arm of the company offers variants on some of their classic designs, but using slightly cheaper materials to offer fantastic value for money. In terms of three season tents, they represent an ideal mix of performance and price in our opinion.
The Wild Country Zephyros Compact 1 Tent takes this philosophy to the max and is excellent value for money. With the latest version (the 'compact'), Wild Country have significantly reduced the packed length of the fiber glass poles used to create the single hoop of the tent structure. This means the Zephyros packs down to a decent 30 x 18cm – about the size of a rugby ball.
Weight is not too bad at 1.6kg for a tent using relatively thick Stormflex fabric with 4000mm hydrostatic head on the flysheet and 6000mm on the bathtub. This won't be letting any water in, and it feels extremely durable and quality.
Pitching is simple although this tent will not stand up without at least a few tent pegs holding down some guy ropes. The fly and inner are joined together and so you can pitch without getting the inner tent wet. This is always a good thing in our view.
Internal size is around 210cm in length and around 70-80cm width in general (it widens from 64cm at the ends to 96cm in the middle. This creates a useful vestibule space outside of the inner tent where you can store your rucksack and boots.
Ventilation flaps at each end mean that you can get through the night in most conditions without drips of your own sweat dropping on your face when it gets colder, but we would still rate this as a 3 season tent. 
Overall this is a fantastic product at a price point which beginners can pay in the knowledge they're getting a decent tent which will last and can be used even when the going gets cold outside. We love the Zephyros.
No respectable roundup of the best adventure tents can leave Hilleberg out of the picture. Unbelievably expensive, but by far the best performance and quality that we have come across at Camping Secrets. Hilleberg tents are all hand-made and employ excellent quality materials and processes.
The Hilleberg Enan is a remodel of the famous Akto one man tent shape, but using significantly lighter fabric. This makes it slightly more expensive than the Akto and only suitable for 3 season usage. But boy what a tent! 
It uses Kerlon 1000 tent fabric which is the lighter version of the Kerlon 1200 used on the Akto – this keeps the weight of the Enan down to 1.05kg including pegs and the 9mm poles. Packed size is interesting at 43.2 x 12.7 cm which is relatively long and thin – still no trouble to stick in your rucksack though.
The inner tent and the fly can be joined and pitched as one or separately if required – very flexible. The Enan uses a long central pole like most of the best one person tents and six pegs are required for stability – it is not freestanding without pegging out. Ventilation is excellent with both the head and foot ends having panels which can be fully opened to allow great air flow.
Overall the Hilleberg Enan is a fantastic option for 3 season use. The lighter weight material is not ideal for the highest winds or snow fall for example, but it will certainly handle most of what the UK can throw at you. If you can afford it, we have not seen a better three season, one person adventure tent.
3 Season, 2 Person Backpacking Tents - Our Recommendations
Big Agnes Copper Spur HV UL2 - Most Roomy Backpacking Tent
Big Agnes are a fantastic manufacturer of adventure tents from Colorado, USA. They understand the needs of backpackers and choose lightweight but strong fabrics in their designs.
Their newly updated Big Agnes Copper Spur HV UL2 is a great 3 season option for camping adventures. It has two doors and two vestibules which immediately singles it out in a crowded market. Packed weight is 1268g plus another 88g from the eight pegs supplied (11g each). Packed size is reasonable at 50 x 15cm, but it is a fairly large wedge in your rucksack.
When pitched however you are getting a tent which is 102cm high with a surface area inside of 132 x 224cm – this is a superb amount of space for the weight of the tent. You can easily sit up in it for long periods of time, even as a tall adult. It is essentially a 2 person tent which weighs less than many solo backpacking tents!
The Copper Spur is also importantly a freestanding tent which means you don't necessarily have to peg it out to sit or sleep in it. This can really speed up the pitching in rain or wind as well. You can also move the tent without re-pitching if you don't like where you've first set it up. Nice!
Like the MSR tents we've reviewed, the waterproof specification looks low at 1200mm but we did not experience any problems after heavy rain in Wales on our test weekend. The outer fly is treated with a silicone layer on top of polyurethane which kept the water out. There was some condensation build-up, but the weather was particularly humid for our tests. 
Big Agnes do not supply the Copper Spur with a footprint, and we would say it is an essential addition in order to protect the underside of the tent from rips and damage. Using the footprint also allows the tent to be pitched fly first, because otherwise the tent poles have to be clipped first to the inner – not good when it's raining! When using the footprint the poles can be attached to this first and then the fly attached on top of the poles before adding the inner inside the structure. The footprint will set you back a further £60-70 which should be factored into the overall purchase price.
Overall, we were really impressed with the light weight of the Copper Spur as well as it's internal space. Two doors and two vestibules as well as three large internal pockets really offers alot for the money. We do worry a little about its ability in very strong winds, but for a general 3 season lightweight tent it's a great option to look at.
Coleman Cobra 2 - Best Value Backpacking Tent
For shorter backpacking trips and superb value for money look no further than the Coleman Cobra 2 backpacking tent. It can often be found available for sale at under £100 which is an utterly incredible price for a tent from the excellent Coleman range.
So what are you losing for this crazy price? Well for a start this is a relatively heavy backpacking tent at just over 2.05kg, but we would argue for shorter trips that this is not a dealbreaker. The materials are strong and the two hoop design is well thought out and gives reasonable windproof performance. A potential weak-point are the aluminium poles which are relatively thin but under normal 3 season conditions we have used the Cobra very satisfactorily – check out our in-depth review of the Coleman Cobra.
The pack size is not tiny at 48 x 18 x 15cm but it is comparable to other two person tents on the market, some which cost alot more. When pitched there is plenty of room inside (257cm x 125cm at it's widest), however the height is slightly cramped at 87cm. This is the biggest drawback for me as a taller camper. If you're under 6ft then happy days! 
The inner tent has zippable doors on both sides with storage vestibules on each side too. There is only a single door in the outer fly though which is fine if you're on your own, but not so good with two people as one person may have to climb over the other to get out!
Waterproof performance is excellent and we have never seen a drop of water get through from rain. Hydrostatic head of the fly is a very reasonable 3000mm with taped seams and a polyurethane coating.
Overall, this is one of the best budget backpacking tents out there. Other than the Vango Banshee 200, we would not recommend anything else if you've not got alot of cash to splurge,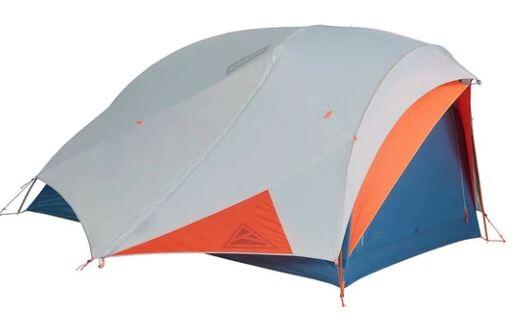 The Kelty All-Inn 3 Season, 2 Person backpacking tent is a very interesting option placed around that crucial £200-£250 price point. It uses a really innovative design to facilitate superb ventilation and excellent sitting space. As a  result, condensation is low and it's one of the most pleasant tents to spend time in this roundup.
The packed size and weight are reasonable for a 2 person tent – 1.76kg for a pack of 46 x 15cm. Pitching the All Inn is fairly easy but unfortunately you do need to pitch the inner tent first.
What is great is that due to the system of poles used with this tent, the inner tent space actually increases with height giving more vertical side walls and plenty of sitting and head space – the pitched dimensions are 213 x 132cm with a height of 107cm – luxury! Even better, there are two proper doors on the All-Inn – one on the side and one at the back. The side area has a really useful vestibule space, but if you are on your own this tent is like a mansion and there is plenty of space inside for your kit if required.
Ventilation is where Kelty have done a superb job. We suffered no condensation at all when testing the All-Inn. This is chiefly because that rear door can also be partially unzipped to create a netted ventilation window. This gives proper airflow through the tent which was very much appreciated on a humid night's testing.
Because of the lightweight materials used, we would recommend the use of the footprint with the All-Inn. This will help protect the bathtub underside of the tent. Both the fly and the bathtub use 40 denier ripstop material, and we would be worried that the bathtub could easily get ripped on rocks etc without that additional protection.
All in all though, we think the Kelty All-Inn is the best backpacking tent for tall people as it comfortably allows a 6ft+ adult to sit and sleep in comfort. Recommended.
4 Season, 1 Person Backpacking Tents - Our Recommendations
At 1.135kg (not sure how they measure it so accurately!), the Lightwave Sigma S10 is a 4 season, 1 person tent with a difference – it does not consist of an inner tent and an outer – it's purely one layer which makes it very lightweight and easy to pitch.
So how do Lightwave overcome the age-old problem of condensation? Well they've employed a highly breathable technical fabric, more akin to the Gore-Tex used on waterproof jackets. Their particular fabric is X-tex and it is able to effectively absorb and diffuse water vapour generated by your breath and heat meaning that the flysheet stays dry to the touch. 
The tent packs up quite small (45 x 12cm) and is a proper 4 season design – the waterproofing is rated at 20000mm hydrostatic head which is 10x better than most adventure tents for backpacking. Impressive stuff.
So how does it stack up in the real world? Well space inside is quite good for a 1 person tent. If you'd like more space for not alot more weight than the Lightwave Sigma S15 may be more suitable. The dimensions of the S10 are fairly long and narrow (230 x 95cm living space) with a 70 x 230cm triangular vestibule for storage and cooking. 
Pitching is simplicity itself with just two crossed poles to slide through some silicon-coated ducts on the outside of the flysheet. You then peg out the bathtub and the guy ropes and you are done. 
The S10 conserves heat extremely well, and we were sweating on our test set-up on a mid-summer day. Luckily the main door-cum-vestibule has a two-way zip which allows ventilation from the top of the tent – this is essential!
Overall we really like the Lightwave range of tents – the founder and chief designer Carol McDermott really knows his stuff and is an enthusiast of wild camping in general – that counts for so much. We can highly recommend the Lightwave Sigma 10 and 15.
4 Season, 2 Person Backpacking Tents - Our Recommendations
The MSR Access 2 is their main four-season offering, and we've been extremely impressed with the performance at a price which is at least a third less than Hilleberg or North Face.
The Access 2 has a flysheet which fully covers a dual cross-over pole inner tent structure for an extremely stable and aerodynamic limpet-like structure. You will be welded to the mountainside with the MSR.
Pack size is 46 x 15cm with weight a fairly robust 1.86kg. However the materials on offer are strong and have that fabled MSR reliability. For instance, the Easton Syclone tent poles are built from extremely light, flexible aerospace-grade composite material which is almost impossible to break even when bending under extreme force.
In use on a Scottish Highland trip in early winter-time we quickly pitched the Access 2 – those tent rods are excellent and give alot of confidence. Unfortunately the design means that the inner must be pitched before the flysheet (unlike the 3 season MSR Hubba NX) and this is not ideal for the constantly rain-swept UK. However, if you can dodge the drizzle then this is a quality tent in use and has that dependable feel you want when the weather gets tetchy.
There are doors and vestibules on each side of the tent and a decent inner floorplan size of 213 x 127cm. Spacious! The height of the tent is 107cm so again enough to easily sit up and even squat!
Overall this is a quality tent which weighs a little more than you'd like but gives you strong, quality materials in return. There is plenty of room on offer and it feels like it will survive a nuclear explosion. However we wish that the outer fly could be pitched first or even together with the inner like Hilleberg manage. If that was possible this would be just about perfect for every condition the UK could throw at you!
The North Face AMK Assault 2
The North Face (TNF) are traditionally known for their clothing, but actually also manufacture some of the best backpacking tents on the market. They may not have that special caché which Hilleberg attract, but TNF tents use exceptional quality materials and we have been blown away with the designs and performance achieved.
With their AMK Assault 2, The North Face have made a 4 season, 2 person tent which emphatically delivers the goods. It uses their patented Futurelight technical fabric which is exceptionally breathable – so breathable in fact that the tent only requires a single skin for operation and condensation is banished. Take our word for it!
The downside is obviously the price of the AMK Assault 2 – it's hellishly expensive and really only an option for hardcore Alpine trekkers. 
Due to the single skin and use of carbon fibre twin poles, the weight is kept down to a very respectable 1.45kg. This includes an additional vestibule which you can decide to attach or not. Excellent flexibility.
The internal layout space is ample when pitched giving 110cm of headroom as well as a 208 x 114cm floorplan. Ventilation is very good and is facilitated by a third cross-length pole which attaches at the top to open up a sizeable gap for airflow. This was needed on the summer's evening we tested the Assault 2 – a tent which is more designed for arctic temperatures rather than sun!
Overall this is an immensely capable tent which should be considered if you're likely to encounter severe snow and alpine conditions. The single skin is not 100% optimum for highly wet conditions (i.e. the UK) and we would typically recommend a dual-layer tent for that in most cases.