Best Self Inflating Mattress – Lightweight and Uber-Comfortable SIMs!
If you're itching to get to our recommendations for the best SIMs on the market then click below:
Self Inflating Mattresses or SIMs have come a long way over the past 10 years or so. When I first started out tent camping, the self inflators were rather thin (about 2.5cm / 1 inch thick) and I could always feel the ground pressing up against my hips as I tried to get to sleep on my side. Invariably I'd wake up stiff as a board, but that's a story for another time!
Moving to the present day and there's now an extremely wide variety of camping mats and camping mattresses on the market – some of them self inflate (the topic of this article) whereas others require pumping – either via a hand pump, pump bag (a simple way of filling a bag with dry air which can then be squeezed into the SIM via a valve) or electric pump.
Camping Mat vs Camping Mattress
Let's start with some definitions. At Camping Secrets, we generally distinguish between a Camping Mat and a Camping Mattress as follows:
Camping Mat or Sleeping Pad

Lightweight
2.5cm or less in thickness.
May self inflate slightly or can be physically blown into for to inflate.
Rolls up very tight for hiking trips.
Main use is as a heat insulator to prevent heat escaping out of your body into the ground. 
Used for adventure tent trips but unlikely to be used at a campsite if you've brought the car and can transport something thicker. Unless you're a masochist of course!

Camping Self Inflating Mattress

Generally 5cm or more thick. Some can be 15cm of comfy goodness!
Contains 'rebound foam' inside which is breathable, comfortable and warm. 
Quite heavy – will generally require the car to transport them around.
Primary aim is to provide a bed-like sleeping experience.
In this article we concentrate on our experience and recommendations for the choice of best self inflating mattress, and so the size and weight of the product is of less concern than how comfortable it is and how well it stays inflated etc.
Both camping mats and camping SIMs can also be used on top of a camp bed or 'cot' (as the Americans say) for more of a bed-like experience. This also helps stop the heat escape problem which lying on the ground can incur.
If you're planning on sleeping directly on the floor with either mat or mattress then take note of the 'R-value' for any potential purchase.
R-Value – what is it?
R-Value is a measure of how much resistance to heat transfer your mattress has. So a high R-Value means that the heat that your body generates and escapes through your sleeping bag onto one side of the mat will not get through to the ground.
We recommend an R-Value of 3 or higher for 3-season use, and 5 or higher if you will be lying on the ground in winter too.
However a low R-Value (<2) could mean you end up getting cold in the night. Inflatable air mattresses which are essentially big air balloons which you sleep on have notoriously low R-values and are no good at all for sleeping on in winter or autumn.
For campsite camping, the comfort of your SIM is still the main consideration in our opinion. However, the R-Value should definitely be taken into account, even at a campsite.
Finally, it's worth bearing in mind that you can add R-Values, so sleeping on two sleeping pads will maintain your heat better than one. It may be lighter for you to carry two sleeping pads and a lightweight 3-season sleeping bag, rather than a heavy 4-season sleeping bag and a standard mat.
So let's take a look at the top SIMs on the market right now....
Decathlon Quechua Luxury Ultim Comfort SIM
We've been quietly impressed with Decathlon's camping gear in recent years. They now stock a wide range of equipment from well known manufacturers (e.g. Dometic, Coleman, Vango), but it is their own brand Quechua gear which shows the best cost savings for those on a budget. However we do recommend looking towards the top of the range for the best combination of comfort and price.
One good feature of the Ultim is that both the single and the double SIMs in the range come with clips which enable you to join up multiple SIMs into an enormous bed. Perfect to practice your gymnastic routine on after a few beers!
The Decathlon Quechua Luxury SIM is an 8cm thick self inflating mattress which has an excellent R-rating of 8.6 and can be used all year round in a tent without heat escaping from your body into the cold, dark earth. It is hard to stress how important the R-rating is for an enjoyable night of camping, even in fairly mild UK weather. Please bear it in mind when buying or you may end up comfy but cold, however good your 4 season sleeping bag!
The folded size is fairly substantial, but it is a fact of life that the more cushioning you require, the larger the packed size has to be – you can't inflate the foam more than is physically possible with a fixed air pressure. Packed size is 70 x 52 x 12cm and the carry weight is 5.5kg.
Inflation is simple and obviously doesn't require a pump. Simply undo the valve and the air will gush in with full inflation after 5-10 minutes. At this point tighten up the valve and you are ready to climb on board. Inflated size for the Ultim is 200 x 136 x 8cm which is enough for most people under 6ft 6 inches in height.

The Ultim In Use
The Decathlon Quechua Ultima is a comfortable mattress at a pretty reasonable price point. It's not the cheapest double and it's not the most expensive. Would we like a little more cushioning, say 10cm total? Well actually we didn't really miss those extra 2cm, and the great insulation really made a difference on a cold autumn night. We slept very well, with none of the 'sleeping bad sliding' you get on some smoother SIMs. For real additional comfort to the Ultim you need to be looking at a 15cm SIM such as the Outdoor Revolution Skyfall or similar.
Packing away was not too much effort once you've had a bit of practice. Simply open the valve and roll tightly whilst using your body weight to squeeze out air. At any point you can stop for a breather and tighten up the valve – then restart when you're ready.
The Decathlon Quechua is a very sensible choice for a new SIM purchase in our view as it gives an excellent combination of comfort, price and the all-important R-value. Add on to this the fact that it's from Decathlon who are a very reputable hyperstore with a great reputation for returns and you can't go too wrong. Get camping!
Outdoor Revolution Skyfall Double 150
We really love Outdoor Revolution – they make great quality items at the mid-to-top end of the camping spectrum. Yes they may be slightly more expensive than the Decathlon's of this world, but we've never been let down by their tents or their general camping gear.
The Outdoor Revolution Skyfall Double 150 SIM is no exception to this experience and offers an immense 15cm of pure cushioned comfort for your nighttime napping.
We rate the Skyfall over the well known Vango Shangri-La 2 purely based on the price – quality is very similar, but at around £60 cheaper we can only recommend the Skyfall in this instance – plus the name is way cooler – James Bond always wins….!
Dimensions and setup
There is no escaping the fact that the OR Skyfall is a bit of a beast – with measurements of 201 x 132 x 15cm fully inflated then the folded size is always going to be bulky. We measured the packed size as 72 x 35 x 33cm, but Outdoor Research say it should be slightly smaller than this – either way, it's a fair-sized package to carry in your car or trailer. The weight is an ample 8.1kg too – at least you know you're getting something for your hard earned cash!
Inflation and deflation is nicely handled by the patented 'Cyclone valve' which sounds a bit gimmicky but works very well. It's basically a flippable valve with a lockable outdoor cap to stop air getting squeezed out. You simply half-flip the inner part of the valve until the mattress is inflated and then flip it back and lock the cap – simples!
We really liked the fabric used on the top of the Skyfall – it feels nice to the touch and is not too slippery (a pet hate of ours). It seems thick enough to withstand plenty of abuse and is not going to spring leaks.
Bond himself would use the Skyfall
So it it comfortable? We can give this a resounding thumbs up – it is by far the comfiest double SIM we've tested for the money, and while it may seem expensive, this is up there with the best air mattresses but without the stress of punctures or requiring pumps.
The Skyfall can be easily placed on a double campbed, or even two singles placed together. With a decent sleeping bag we think you'll be set for lovely campsite slumbering.
One specification we've been unable to find out is the R-Factor and as a result we would recommend always using it on a camp bed base. We tested our review unit in the summer and so were unable to use it directly on cold ground, so please bear this in mind. If you're planning to use a bed base then we don't envisage any problems and you can buy in confidence.
The Outdoor Revolution Skyfall Double 150 has the comfort of the Vango Shangri La 2 but at a more palatable pricepoint. With 15cm of depth and using quality fabrics, there's not alot to dislike here if comfort is your main aim. The lack of an R-rating though loses it a half point. Great SIM!
In a rather sleek and sultry black, the Vango Comfort 10 is one of our favourite choices for a double SIM as it is extremely comfortable whilst being priced attractively.
With Vango goods you are are always assured of decent quality fabrics and components, and the company have extensive experience in the inflatable arena with their tents and sofas.
The Comfort 10 is available in single (200 x 60cm), grande (200 x 76cm) or double (200 x 130cm) sizes. Personally, our preference would be for two Grandes placed next to each other, but it depends how intimate you want to get in the night! 
The Comfort 10 double is a fairly hefty beast and weighs a whopping 6.7kg with a 67 x 35cm packed size. Interestingly, that's a smaller pack size than the Berghaus Air 10 (reviewed below), but a much heavier weight – higher density foam obviously!
And oh how it's worth it. I've long been an admirer of Vango inflatable gear and the Comfort 10 follows on a familiar theme of reliability coupled with performance. The Comfort 10 really lives up to its name, providing ample cushioning for even the weightiest of folk.
In a similar way to the Berghaus Air 10, the Vango uses a flip valve to allow air to stream unidirectionally – either in or out, depending on whether you wish to inflate or deflate. Inflation is quick, taking around 5-6 minutes for full support.
Warranty
Vango offer a 2 year warranty on all their gear and that gives peace of mind when buying a self inflating mattress. If there are any issues with the valve or unexpected deflations in the night then they will unhesitatingly repair or replace your treasured SIM.
Due to the thick materials used in the Comfort 10, insulation is excellent and it has a warmth rating (sadly not the same scale as R-Value) of 16. We found that it gave excellent isolation in our tent in February when we used a decent down sleeping bag on top.
The top surface of the SIM uses an embossed no-slip outer layer meaning that you don't slide around during the night – a bugbear of mine on plastic air mattresses!
The Vango Comfort 10 double self inflating mattress is a great combination of excellent comfort and attractive price. Only the Shangri-La in the range has higher thickness (at 15cm), but the pack size is enormous! We think the 10cm on offer here is plenty unless you're like the Princess and the Pea at night!
Andes 10cm - Best Value Double
Without doubt, the best value double SIM on the market is the Andes 10cm. 
Significantly cheaper than the competition but still providing a very comfortable cushioned sleep.
Andes have improved the valve design of their SIM after numerous complaints of air leaks back in 2016.
Dimensions are just about on the money, measuring 196 x 128 x 10cm (4") when fully inflated. Weight is a decent 4kg and the Andes will pack down to a manageable 64 x 30 cm.
The Andes uses a dual-valve system and is quick to inflate. In fact it's a little too eager to please because it can be a bit of a difficult job to get air out of when packing up. We found that we had to tackle it as a couple (fitting for a double bed!) and literally fold and sit on it together to get it flat enough to roll up. Even then it was tricky to get it back into the carry bag.
Andes supply a couple of clip straps to help secure the SIM in its rolled-up state, but we did find that the shiny material on the top surface made it trickier to handle than some of the more expensive SIMs using flock or tactile materials. The Andes was like wrestling with a slippery eel!
In use however it is sublime. You quickly forget about the handling woes when you are lying on the 10cm goodness. The great thing about having so much cushioning is that you can lie on it, let a little bit of air out and then seal up the valves. You may now only have 9cm of cushioning but you get a far comfier mattress. Top tip!
Overall the Andes 10cm is an excellent choice for campers on a budget, and we think it is the best value double self inflating mattress.
Andes have pulled a cracker out of the hat with their 10cm double SIM. It is extraordinarily comfortable and excellent value at under £70. Only slight negatives are the difficulty of packing it away - we couldn't get it back in the bag, but the comfort on offer more than outweighs this concern. Highly recommended!
Measuring only 71 x 40cm when packed up and a reasonable 4.6kg in weight, the Berghaus Double Air 10 Self-Inflating Mattress is one of the top-performers we've tested for both comfort and warmth.
Berghaus is a name synonymous with quality outdoor gear, and we love their tents, waterproof jackets and overtrousers especially.
The Air 10 Double SIM offers a very decent 10 cm of thickness and only takes around 5 minutes to fully inflate – all by itself! No pumps needed here….
The SIM comes packed away tightly in a decent stuff sack and is certainly easy to stow in your car boot with the rest of your camping equipment.
Operation is simple. The Berghaus uses a rotatable 'flip valve' with a protective sealed cap to secure in place. When the flip valve is is one position air can get in but not escape (i.e. use when inflating). In the other orientation, air can escape but not get in – use for deflating.
For inflating, remove the cap and make sure the valve is in the 'inflate position'. Unroll the mattress and it will automatically let air rush in and will self inflate. Spot the top-selling author in that previous sentence!
After inflation, just screw the valve cap in and hey presto, it's ready to lie on!
Berghaus Air 10 In Use
We found this an exceptionally comfortable SIM to lie on. The outer material seems strong (30 denier stretch fabric) and it has a flocked texture on the top layer which helps stick your sleeping bag to it – we found that we didn't slide around on it at all.
Berghaus report that this will carry 200kg of load, so that should suffice for most couples.
Fully-inflated dimensions are 201 x 132 x 10cm and so it can cater for somebody up to 6ft 7 in height. I found I had plenty of room at 6ft3 tall.
Packing away is a simple affair. Remove the valve cap and fold the mattress length ways in half. Then fold over about a quarter of the mattress from one end and sit on it – the air will rush out. Fold over a bit more and more air is expelled. Keep going until it's all out and then screw the valve cap back on. You can then unfold the Air 10 and roll the whole thing up. Job done!
The Berghaus Air 10 double SIM is a very comfortable double size bed which could suit people who are taller than average. Inflation and deflation is simple and only uses a single valve for simplicity. We found it very comfortable and would highly recommend it, although it is on the pricey side which loses it a point.
Outwell Dreamcatcher Double
As the price of your potential SIM purchase drops below £100, it becomes much harder to get hold of  products having a 10cm thickness.
In reality (unless you are a heavy person over 15 stone) a 7.5cm option is acceptable, but we wouldn't go any lower than that if comfort is your main objective.
For a sub-£100 option, the Outwell Dreamcatcher 7.5 does what it needs to in providing quick and easy self-inflation via two valves for each side of the mattress.
Where it really scores though is in the R-Value. The Dreamcatcher has an R-Value of 8.3 which is exceptionally good, even in winter conditions and down to temperatures of -40°C. If cold-weather camping is your bag, and you want a bit of comfort under your bones as well as warmth, then you may wish to check out the Dreamcatcher.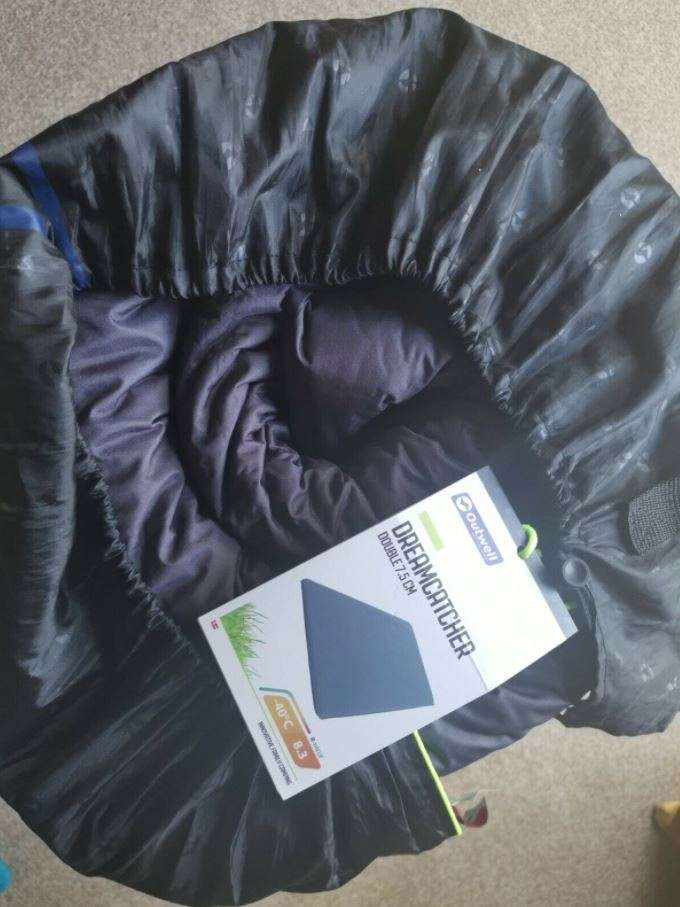 In terms of dimensions and operation, the Dreamcatcher is pretty standard in most areas. However, the inflated size is a little restricted compared to the more expensive Vango and Berghaus options – the length is 195cm (just under 6ft5) and so we would recommend either of those two over the Outwell if you're lanky like me.
Fully inflated size is 195 x 130 x 7.5cm and it will pack down to an excellent 65 x 27cm in the supplied loose drawstring bag. Weight is reasonable at just under 5kg.
In Use
As a 15.5 stone man of just over 195cm in height, the Outwell is probably not my ideal self inflating mattress because my feet just drop over the end which I find stops me sleeping well when stretched out – however, it's easy to whack a bag or rucksack at the end of the bed if you really like to be ruler-straight in bed.
There's no denying that the SIM was comfortable for my wife though who is a much more svelte 11 stone. OK, 10.5 stone – she's watching me type!
The dual-valve system works well, and there is no screw-on end cap like most of the SIMs we've looked at. Instead, the valves are rotated to either 'deflate' or 'inflate' which is pretty self-explanatory. If I can do it, then anyone can do it!
The slightly restricted length for tall folk and the reduced 7.5cm thickness of the Outwell Dreamcatcher means it loses a few points compared with the competition. However there's no denying that the R-Value of 8.3 means it insulates well and if you're lighter than 15 stone, we would say it's definitely worth a look if you can grab it for less than £100. Solid choice for winter camping.
With a great array of camping tables and chairs, KingCamp are the new kid on the block of outdoor gear and are rapidly making inroads into what can sometimes be a bit of a crusty old world order. Mainly importing their gear to the UK from the USA, Kingcamp offer chunky, quality gear with some nice design flourishes. We like em!
The KingCamp Deluxe Double SIM comes in two great covers a delicious electric blue or a gorgeous grey/anthracite mix. It uses a novel 'wave-like'  top surface layer to provide a tactile 150D surface to lie on and hold your sleeping bag in position.
Measuring 198 x 130 x 7.5cm, the Deluxe offers a sufficient length of 6ft 6" which should be ample for most of the adult population of the world – apart from Sultan Kosen perhaps. For those that don't know, he's the current world's tallest man!
Packed size is pretty compact at 67 x 32 x 32cm using the supplied carry bag and the weight is around 5kg which is about average for a large double SIM.
You may ask 'why would I buy the KingCamp over the Vango Comfort 10'? Well the answer is simple – they're about the same price and the KingCamp looks better and packs up slightly smaller, although it only has 7.5cm thickness compared with the Vango's 10cm.
If you're under 15 stone and like the bright blue design, then the KingCamp could be for you!
The KingCamp is undoubtedly fabricated from decent materials – the two valves on the SIM are brass which is a nice touch and differentiates the Deluxe from other SIMs which rely on plastic.
R-Value for the KingCamp is ~6.5 which is pretty decent for cold weather camping, but not quite on a par with the Outwell Dreamcatcher. For typical UK winter conditions though, this is ample. Just make sure you bring along a decent sleeping bag or use electric hookup for an overnight heater.
We are impressed by KingCamp's deluxe double SIM and feel that it's quite a funky choice – possibly one for the younger camping crowd. Great fun!
KingCamp have pulled another top product out of the bag with their Deluxe double self-inflating mattress. Length and overall size is good and the colours and design are top notch. We found the comfort to be excellent if you're under about 15 stone in weight. If you're more than this then you might prefer a 10cm option. Either way, SIMs have no right looking this stylish!
Double SIM vs Two Single SIMs
The question of camping with your partner using a double bed/mattress vs 2 x singles is a perennial one. We're not here to tell you what to do on that score – it's definitely a case of horses for courses.
However in our mind, using two singles is a preferable option, primarily because of the flexibility on offer. If one of you wants to go camping on your own or with the kids then you don't need to try and wrestle with the larger SIM. That being said, the luxury of stretching out on a double is something to savour.
For once, we're torn on a question – what do you guys think? If only we could find a pair of interlocking single SIMs which can function together as an effective double. So far, the search for the holy grail has drawn a blank!
Vango Shangri-La 15 Single
The Vango Shangri-La (version 2) is the thickest SIM in Vango's range with a whopping 15cm of travel underneath your body. It offers the absolute ultimate in comfort at the expense of weight and packing space. 
We think the Shangri-La makes sense in single format but is just too bulky as a double. Of course, your mileage may vary on that choice. There's no doubt that it is an absolute comfort monster in terms of the luxury it offers. This is also reflected in the price of course, and in terms of price per square metre it is one of the highest reviewed.
The Shangri-La is for all intents and purposes a proper mattress when it's fully inflated. It has vertical side walls to maximize the top-level surface area and this means that you don't roll off in the night.
Dimensions are solid at 200 x 76 x 15cm for the 'Grande' size which is slightly wider than a conventional single – we appreciate Vango's dedication in constantly supplying 200cm (6ft7) length mattresses instead of cutting cost by reducing too much.
Packed size and weight is crucial and this is where the new improved Version 2 of the Shangri-La beats Version 1 handsomely. Version 2  weighs 4.45kg and is 80 x 29cm whereas Version 1 was 5.2kg and only packed down to 87 x 29. However let's not kid ourselves – both packed sizes are enormous for a single-sized SIM!
Shangri La In Use
The Shangri-La is exceptionally easy to inflate and deflate, and this is one of its major strengths. The Cyclone 'flip-valve' as seen on the Comfort 10 Double is a joy to use. Simply flip it around to the correct airflow direction required. Inflation happens automatically, and deflation can be achieved in a couple of minutes by the old "roll and kneel" manoeuvre. 
As said above, if comfort is your only consideration then BUY THE SHANGRI-LA NOW. If you would rather a more compact single mattress then carry on reading, because a couple of Shangri Las will take up nearly all of your car boot space!
The Vango Shangri La Version 2 is a fantastically comfortable mattress but may be considered a bit of overkill. Definitely recommended if packing space is not an issue for you or if you need that extra 5cm of cushioning (anyone over 15 stone we would say), but it's easily the most expensive option on offer here. A definite option, and potentially worth seeking out the older Version 1 which is just as comfy but now much cheaper.
IForrest Sleeping Pad Single
At Camping Secrets we often like to highlight niche products we uncover which accomplish a task in a clever way, whilst maintaining quality and value. The 3rd generation IForrest Sleeping Pad accomplishes this task extremely successfully.
It straddles that thin line between a lightweight sleeping mat for wild camping and a thicker SIM for campsite use very effectively.
Measuring 201 x 74 x 5cm when inflated, the IForrest includes both an integrated pillow and armrests for significant added comfort. What is great about the armrests is that they stop you rolling off the mattress in the night very effectively. If you are planning to use it on top of a camp bed then this is an important consideration – you might be a foot off the floor!
This is a self-inflating foam mattress with 5cm of thickness for the central portion and a single flip-valve. The armrests and pillows are manually blown up via separate standard inflatable valves using either your breath or a pump bag if you would rather use fresh air.
It is a true 4-season sleeping pad with an R-Value of 6.8. This provides excellent insulation between you and the floor for effective winter-use.
Packed size is very small indeed (38 x 15 cm) because the deflated  armrests can be folded in and the whole SIM rolled up tightly. This really highlights the IForrest as an exceptional all-round self inflating mattress for both hiking trips and/or campsite stays.
It weighs 1.6kg which is manageable for a hike with an overnight stop – for longer expeditions you would likely require something fully air-inflatable with less bulk when packed.
In summary, we are impressed with the IForrest, but please don't be expecting Shangri-La levels of comfort. If you are reasonably weighty (>~13 stone) then you are likely to still feel some of the ground underneath you. However on top of a camp bed it could be perfect.
The IForrest self-inflating sleeping pad is a great intermediate product with the ability to take on overnight hiking expeditions and use at the camp-site. We loved the inflatable pillow and side arms for added comfort and flexibility. Inflation and deflation are very straightforward, and the small packed size very useful if equipment space is at a premium in your set-up.
Thermarest 3D MondoKing Single
Thermarest are the go-to manufacturers of sleeping pads for adventure camping, typically producing excellent lightweight mats with great R-Value. These types of mats are not really our recommendations for campsite camping relaxation and will be examined in a separate article.
However, the Thermarest 3D MondoKing is a different beast altogether, combining a fantastic 11cm foam thickness for superb comfort together with excellent thermal properties – the R-Value of the Mondoking is a whopping 8.0 which means it can be used in extreme cold. And by extreme we mean below -20°C!
Weighing only 2kg in large size (196 x 64 x 11cm) and 2.5kg in XXL (203 x 76 x 11cm), this is a surprisingly lightweight product which has greatly impressed us. It is more less than half the weight of the Vango Shangri-La for example. Personally I would plump for the XL if you find you have a choice of sizes – it just gives that extra bit of surface area for a nice sprawl when sleeping, and for not much extra weight.
In a first that we've seen, inflation and deflation are dealt with by two separate 'twinlock' valves – one inny and one outy! The materials and plastics employed are of high quality and feel substantial to the touch – this should be expected as it is the most expensive single mattress we've reviewed in this roundup.
With 11cm of inflatable foam on offer, the packed down size is always going to suffer. We measured 66 x 18 cm which frankly isn't too shabby, but obviously too large for hiking overnighters.

In Use
The comfort of the MondoKing is exceptionally good. I lay down on it for a few minutes to 'test it out' and found myself dropping off surprisingly rapidly – that wasn't the plan, but it's testament to the cushioning on offer. Thermarest use a 'Stratacore' construction to achieve this which combines a continuous layer of thermal foam with alternating ridges of air and foam. It works very well.
The other interesting point to note is that the Thermarest MondoKing has vertical edges when inflated which means you can butt two of them up together to make a quasi-King Size double. I'm pretty sure you could use Velcro or something similar to join them together in this way which could be the ultimate in campsite flexibility.
We can't really fault the Thermarest MondoKing for a single camping mattress. It's very lightweight, has exceptional comfort and a great R-Value. The only downside is that you pay a premium for the privilege. However you often get what you pay for, and if you want a product that does it all, then look no further. Highly recommended!
Trekology 7.5cm SIM Single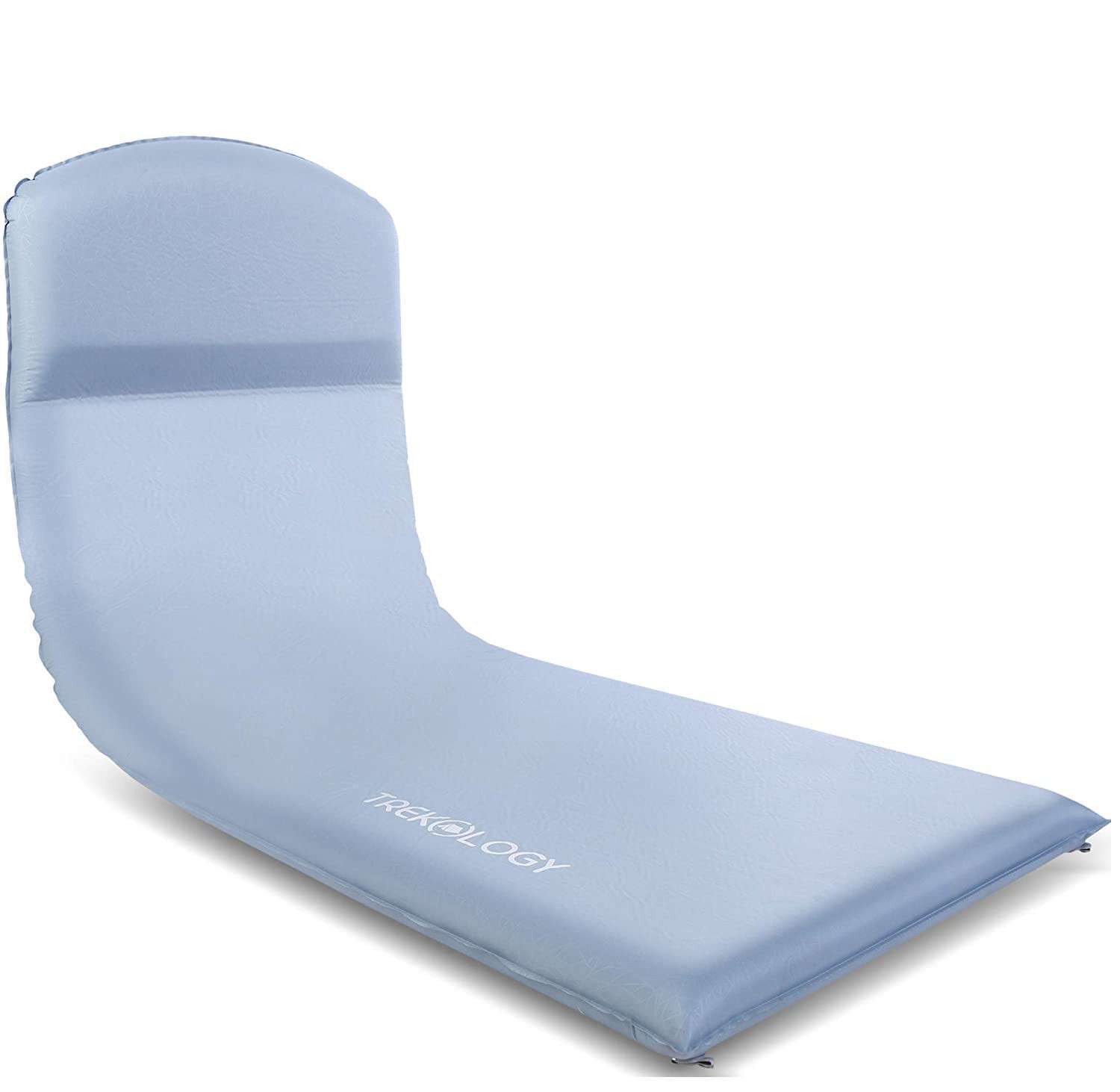 In terms of low cost options for the single camper, then the Trekology 7.5cm SIM is our current favourite. We were luckily able to review a couple of these as the parents of one of our daughter's friends had bought some after an Amazon spending spree – we've all been there!
The Trekology is excellent value for money at just under £30 and has a decent 7.5cm thickness when the dual valves have been opened and the mattress self-inflated.
The dimensions of the SIM are 195cm (just under 6ft 5) x 71 x 7.5cm and it weighs 2.7kg. When inflated, there is a slight thickness increase in the head and neck region – this acts like a pillow – a nice touch.
One thing we noted that we didn't like too much were the sloping sides and fairly smooth/slippery material used on top of the Trekology. This means that it's easy to slide around on top of the SIM when in your sleeping bag – we'd prefer more of a flock top surface which is easier to stay put on! That being said, the surface is easy to wipe down and keep clean.
In use, the comfort is very good indeed, and provides just enough support for up to around 15 stone in weight. If more support is needed then air can be blown into the top valve – this makes the top surface more taut, but less comfortable.
Packing down is relatively easy. Undo both valves and kneel on the SIM to expel the air. Then fold in three sections and do the same. Do up the valves, unfold and then roll up. The packed size is only 69 x 20 x 20 cm which should be fine for a car boot or roofbox to transport. Overall, we think it's great value!
Losing a halfpoint for the slightly slippery outer fabric, the Trekology is an excellent SIM option for those on a budget and comes highly recommended. A couple of these together give a highly flexible campsite sleeping option, especially if placed on camp beds. Recommended!
That concludes our roundup on the best self inflating mattress or SIMs on the market today. Please drop us a line if you find any better options which we should review!