Best Camp Bed – Top Rated Portable Cots for Camping
During your next camping trip, you shouldn't need to suffer discomfort just because you are sleeping outdoors. By selecting a suitable camp bed (or cot as they're known in the USA), you can get very close to the same luxurious sleep you get at home. This is because the best camp beds are designed to provide the same comfort level as a regular bed, especially when used in conjunction with a self-inflating mattress.
On top of the comfort aspect, our best camp bed choices come with the advantage of being portable and compact. This allows you to travel and carry them with ease. To make your next camping trip more manageable, we've shared an in-depth outline of our picks for the best camp bed to help you identify the perfect option for your needs.
Decathlon Inflatable Camp Bed Base
The Decathlon inflatable bed base has often been highly recommended on many Facebook camping forums, and after trying it out for ourselves, we can understand why. It comes with a fantastic 5 year warranty against any mishaps, and we can highly recommend Decathlon for their behaviour when products fail.
If you've ever used an inflatable stand up paddle board or inflatable tent, you'll immediately understand how to get the Decathlon bed base pumped up. You literally unroll it from its carry bag, connect a compatible pump and start doing your business! It's recommended to use the official Quechua double action pump to get this up to 6psi, but most other pumps should suffice.
As you start to pump, you need to slot in eight rigid cross-members (ooh err!) which then act as slats for you to put on a separate self inflating mattress or similar. The pumped up base then has a forgiving external rectangular structure which offers decent suspension if you have to move in the night.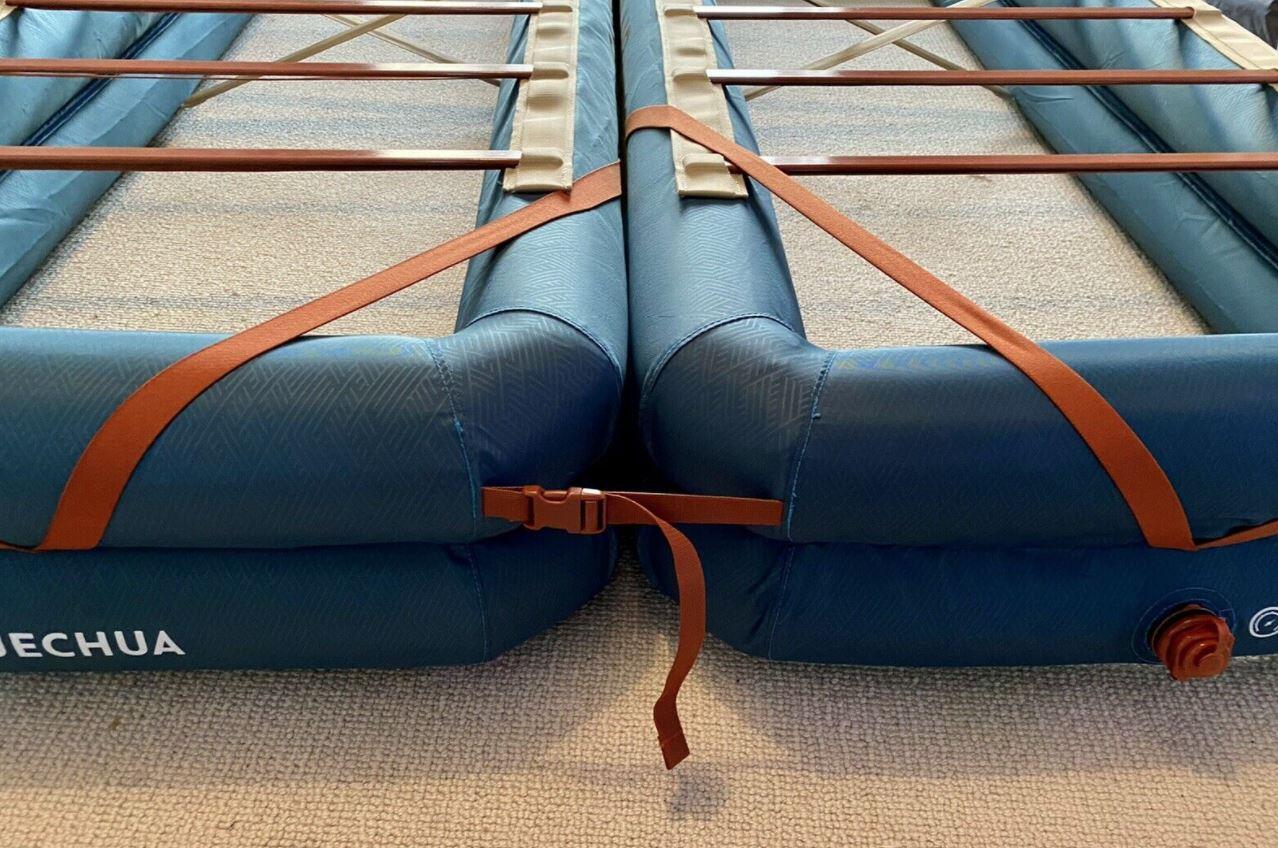 One great feature of the Decathlon is that you can very simply strap two of the bases together to make a double bed which is one of the comfiest around. Yes you still need the mattresses on top but we think it's a great solution.
Packed size of the Decathlon bed base is only 70 x 14 x 14 cm and the weight is 3.9kg – this is nothing for a car to carry, and can easily fit in a trailer or roof box if required. Perfect for family tent camping! Bear in mind that the maximum weight is only 110kg, so if you're over ~17 stone then it may not be the best option for you.
Outwell Posadas XL Signature SLG Bed
The Outwell Posadas Camping Bed offers a comfortable sleeping platform on its own. However, it also allows you to have a sleeping mat if you want to do so. The bed integrates elasticised straps at the corners to comfortably secure a sleeping mat and padded cushions.
Its high-strength steel frame offers reliable performance, while the polyester fabric provides long-lasting durability and ruggedness. In addition, there's no complex assembly process to set up the bed.
We like the Outwell Posadas because it keeps you a decent distance off the ground – this means that the cold isn't going to seep into your bones as happens with some camping beds. It is also extremely packable, measuring only 106 x 15 x 16cm when dismantled and in its carry sack. Weight is a hefty 9.6kg though.
Helinox Lite Cot Camping Bed
Featuring an ultra-light finish, the Helinox Lite Cot Camping Bed is a backpacker's haven. The camping bed only weighs about 1.26 kgs, yet it can support individuals that measure up to 6 feet tall. 
The camping cot is built with a custom DAC aluminium frame which enhances its comfort and support. In addition, its self-locating shock cord technology allows for easier assembly. The cot can also be used with three supports to significantly cut down its weight, making it perfect for those long backpacking expeditions.
West Lake Galician 4 Leg Flat Bed
To enjoy optimal comfort, the lightly padded West Lake Galician Camp Bed is a perfect choice. Constructed from hard-wearing 600D fabric with some padded material, the camp bed withstands harsh conditions. 
Its flat profile allows for a good night's sleep, while the cabled tension system offers good lumbar support. The frame's steel material gives the bed a high tensile and supportive finish. Its adjustable legs with rotating mud fit allow for a comfortable setting on any terrain.

A tall profile and simple frame design of the Zempire Speedy Camp Bed facilitates plenty of under-bed space for extra storage room. This design helps to optimise the limited space in your tent.
Yet, the camp bed still folds down to a packable size and comes with a carry case for easy storage and transport. Furthermore, thanks to the bed's simple design, assembly is convenient and quick. All you have to do is unfold the stretcher bed and stabilise the angled legs.
Dam CamoVision 6-Leg Aluminum Bed Chair
If you aren't on a restricted budget, the Dam CamoVision Bed Chair is worth the investment. The bedchair is designed with adjustable legs with mud feet to prevent digging into the ground. 
Its strong round aluminium frame gives it a lightweight profile, while the microfleece mattress allows for a more plush feel. On the outer part, the bed features a 100% CamoVision 600D polyester shell for long-lasting durability. For added comfort, the bedchair features a comfortable neoprene pillow.
Built from a stainless steel frame and legs, the Hi-Gear Slumber camp bed offers long-lasting durability and weatherproofing. In addition, the legs and frame feature a foldable design to allow the bed to be packed away with ease.
This makes long-distance travel and storage more convenient. Constructed from polyester fabric, the camp bed is ultra-durable, hard-wearing, and easy to clean. In fact, because of the durability of the construction, you can use the bed as a spare for visitors to your home.
Eurohike Utah 4 Leg Camp Bed
If you are on an ultra-strict budget, the Eurohike Utah 4 Leg Camp Bed is an excellent investment. Whilst the camp bed is surprisingly affordable, it still maintains superior quality. In fact, the camp bed is ideal even for nights in frigid weather. 
The raised bed features a high-quality weather-resistant powder-coated steel frame with a gently raised top for superior comfort. Its fabric features a water repellent and durable finish. Thanks to the heavy-duty build, the camp bed can be used for both large and small sleepers.
The Vango Hush Camp Bed features a rugged yet soft fabric for long-lasting comfort. Measuring about 182 cm long, the camp bed is designed for both short and tall people. It also has a weight capacity of around 100 kg. 
Yet, the camp bed still easily packs down to fit in the small supplied carry bag. Its steel frame offers a supportive and high-tensile build, although it still maintains an overall lightweight profile.
Buying Guide – How to Choose the Best Camp Bed
Even if you are spending time outdoors camping, a good night's sleep is still essential. After all, sleep promotes a whole range of health benefits – it even affects your mood. So, in our buying guide below, we've shared some of the key features to look out for to ensure you find the best camp bed for the best sleeping experience.
Camping beds come in a variety of different types. In this review, we've focused on fold-out beds, although you can find other varieties as well. A fold-out bed is designed to keep you off the ground during sleep. Its most popular advantage is that it keeps you away from the cool and sometimes damp ground whilst protecting you against elements such as rocks, sticks, and even crawling bugs. 
Due to their elevated design, fold-out beds are ideal for people who struggle to get up and down from a higher bed. Furthermore, a fold-out bed helps preserve the small space in your tent as it offers additional underside storage space. To enjoy the best option, opt for crisscrossed fold-out beds as they are more steady. 
However, they may not be the best option for cold weather as they promote cool airflow. Other camp bed options include sleeping mats, air beds, or hammocks. Sleeping mats are lighter and more compact – making them ideal for hiking and backpacking. However, while they are excellent at insulating, they are not the best option for comfort and support. 
Air beds feature an inflated design, which allows them to deflate and pack down into your pack. Unfortunately, this means that the setup may be time-consuming. Although they offer comfort, air beds are not the best option for those who want to enjoy more insulation.
For added warmth, you have to add a blanket. But, this will mean more weight to carry. A hammock is ideal for those who want more adventure – it rocks you to sleep and only requires a free-standing frame or tree to support it. In addition, a hammock is ideal for the hot seasons as it promotes airflow.
Size is also an essential factor to consider. In this case, you want to look at their height and weight. Different individuals have varying heights, which means beds are also designed to have variable dimensions. So, when choosing a camp bed, you want to ensure it can fully accommodate your body. 
The best option is to always opt for a bed that offers a little more space. For example, if you measure about 6 feet tall, opt for a bed that measures at least 182 cm to 190 cm long. The width depends on the type of sleeper you are. Some people don't mind narrow beds, while others want some room to move around. 
Before choosing a camp bed, simply look at the dimensions to ensure the width works for you. Weight-wise, the easiest way to gauge if the bed is ideal is by looking at the load capacity. Whilst some beds are designed with a small capacity of about 200 kgs, some extend to as high as 200 kgs. 
Remember, the primary purpose of investing in a camp bed is the portability it offers. The level of portability depends on your needs. For example, driving to a campsite has different requirements for weight compared to cross-country backpacking or multi-day hiking trips. 
This is because although you still need portability if you're driving, you can at least accommodate some weight rather than if you are backpacking or hiking. Nonetheless, you want to ensure that your camp bed is portable enough to allow easy and convenient transportation. 
When driving, a camp bed that measures up to 10 kgs will not be an issue as long as it easily packs down. However, if you are walking and supporting your load in a backpack, you don't want a camp bed that measures more than 3 kgs. 
For camp beds, you want to look at the fabric material as well as the frame material. The best camp beds are constructed from materials such as nylon, polyester, or polycotton. Each material has its benefits outdoors. 
Nylon is thin and light, but it has superior toughness, making it an excellent outdoor fabric. This material is perfect for activities such as backpacking. Properly seamed polyester is water-resistant, making it ideal for the outdoors. Furthermore, its high-strength seams also make it perfect for most fold-out camp beds and sleeping mats.
Compared to polyester, polycotton is more breathable. It is also stronger and lighter than cotton, which makes it ideal for camp beds. However, this material choice is a little more expensive. On the other hand, the frame comes with two main metal options, i.e., steel and aluminium. Steel is thicker and heavier than aluminium. However, steel is susceptible to rust due to exposure to water.
A powder-coated steel frame is a better and more protective option. Aluminium has high tensile strength and is much lighter. In addition to the material, you also want to focus on the metal profile.  Frames with thicker legs are more durable and sturdier. But, this also means that they are heavier. Furthermore, cross-legged frames are much stronger than straight-legged frames.
Frequently Asked Questions (FAQs)
1. What Are the Benefits of Using a Camp Bed?
The best camp beds come with numerous benefits. These include:
Raised sleeping surface for easy entry and exit, which also reduces joint strain

Temperature regulation promotes airflow in warm weather and prevents contact with the ground during the cold season

The best camp beds offer better back support

Elevated fold-out camp beds provide additional underside storage, which is helpful in a tent with limited space

Most are easy to use as all they require you to do is fold them out

The best camp beds are just as comfortable as your bed at home to allow you to enjoy the same sleep quality

2. How to Make My Camo Bed More Comfortable?
To make your camping bed more comfortable, simply add more padding and insulation (if it's cold). You can invest in materials such as a memory foam mattress topper, padded cushions, or a sleeping mat. 
3. Which Is Better – a Foldout Camp Bed or an Airbed?
It depends on your needs. For example, air beds don't offer the best insulation. Similarly, unlike fold-out camp beds, they don't promote airflow during the warm season either. Additionally, due to their inflatable design, air beds may be time-consuming to set up.
4. How Much Should I Expect to Pay for a Camp Bed?
The price of camp beds significantly varies based on the design and quality. In general, you should expect to pay anywhere between as low as $20 to as high as $200 for your camp bed. However, keep in mind that just because a camp bed is inexpensive does not imply that it is of poor quality. You can still find an excellent quality camping bed at a low price. 
Conclusion
The bottom line is that investing in the best camp bed allows you to sleep comfortably and healthily while not breaking the bank. Yet, the beds offer portability and compactness, so you don't have to haul a massive load during your camping and other outdoor trips. 
After all, these beds come in a vast range of designs and styles. So, you can rest assured that you will always find a design to fit your needs and preferences. In fact, our versatile list of recommended options for the best camp beds above is a perfect starting point for choosing what you like.