Best Electric Cool Box for Camping
Summertime is almost here, and the allure of camping in the beautiful British countryside is proving almost too irresistible to ignore. For anyone with a sense of adventure, there is no better way of escaping mundane suburbia than by packing the camping gear into the car and setting off into the great beyond with the wind in your sails!
One concern people often have is how to enjoy fresh food and drink on your camping trip without simply living on a diet of baked beans. What they don't realize is that eating a ton of beans can help keep the gas supply for your camping stove stocked up – there's always positives in every situation! You read it here first….
Joking aside, perishable items such as fresh greens, dairy, cold meats, and fruits demand storage at a fridge-equivalent temperature (typically 5°C or less), otherwise they will quickly go off, especially when the sun starts shining. One way around this is to purchase an electric cool box which will operate on either mains hookup or a 12V source such as a car battery or power pack to cool your goods down to the optimum storage temperature.
In this article we will outline the key factors to search for when looking to source an electric cooler for your camping trip. The best electric cool box can offer extreme flexibility by combining a thermoelectric Peltier cooler and fan with excellent insulation and storage space to typically provide around 30°C reduction from the ambient outside temperature. In the UK, this is plenty to keep your perishables down at the correct temperature all year round.
Advantages of Electric Cool Boxes
At a camp site, it's very common to have access to either 12V or 240V main electricity, either via an electric hookup or a leisure/car battery. It's now also possible to buy portable lightweight battery power packs which can last for extremely long times running a fridge if you don't have access to mains power. These work very well and allow simple operation of your electrical goods when you're in the middle of nowhere with no mains to rely on.
Using mains or stored power in this way means you have almost a guaranteed supply of energy for your chilling and are unlikely to quickly lose your cool man!
The alternatives to electricity include gas powered fridges which can take cannisters of propane/butane to provide the chilling action. The problem with this is both cost and supply – you might run out when you need it most! However, most gas fridges can also run off electricity, but cost more than pure electric alternatives.
Finally there is the good old fashioned insulated cool box with absolutely no tech built in – you basically load them with frozen ice blocks before you set out from home and hope that it lasts a day or so. These can be good for day trips, but are no good for serious camping holidays in our view.
What types of Electric Cool Boxes are there?
There are several different technologies to look for when buying an electric camping fridge, with budgets to match. For camping trips we have found that some of the best thermoelectric cool boxes are perfectly adequate to chill your food for days and even weeks at a time – there's no real need to spend more than £100 for one of these.
Thermoelectric cool box – these are well insulated coolboxes which use a Peltier cooler (12V or 240V powered usually) and electric fan to drive heat out of the box and keep your food and drink chilled. The best thermoelectric coolboxes can lower the temperature by about 30°C below the ambient temperature which means they can be used all year round in the UK. Downsides are fan noise, but in a tent you're unlikely to hear it. 
Compressor fridge – this is like your electric fridge at home which uses circulating refrigerant inside which expands to provide cooling. They are heavier than thermoelectric fridges and also more noisy because the compressor is a mechanical engine in effect. However, they produce exceptional chilling and can have the temperature adjusted accurately using a thermostat.
Three-Way Fridge – not the name of your favourite 'exotic' film, but rather a description of the expensive absorption coolers which can run on gas cannisters, 12V and 240V. The most versatile fridge available (they're often included in caravans), but a bit of overkill for a week away in your tent. The great advantage though is that they are silent, but need to be kept on very level ground or they won't work.
What Temperature Should my Camping Fridge Be Set To?
Thermoelectric coolers cannot be set to a particular temperature like on a conventional fridge – they just cool a certain amount, and it depends how high the fan is whirring as to how much cooling is performed.
On a hot day, you will need higher fan speed to be set, so it will take a bit of fine tuning.
It's worth buying a small thermometer to keep inside your electric cool box and aim for around 5°C. This will keep your goods chilled without too much condensation forming.
If you have a posh compressor fridge or 3-way then just set the thermostat to the same temperature and relax! Your work here is done.
Considerations When Choosing A Thermoelectric Cool Box
Quite frankly, few items are as important in a camp environment as having a top-performing electric cool box. From our experience, it is important to carefully examine the features of a particular product to make sure it will match up to the conditions under which you will be using it.
Capacity: the size of your travel cool box matters a lot, especially if you have a family to feed. A large cooler is important if you are a serial picnicker or typically like to pack a large quantity of food up front. 
It's worth knowing that a fridge will work better if it is kept as full as possible. This is because it can withstand the door being open far better than an empty one, so try and buy with that in mind. No point having a massive fridge on site if you're only going to put a pint of milk and a couple of scotch eggs in it!
Insulation: From our testing, not all electric cool boxes can reliably keep food and drinks sufficiently chilled if it's warm outside. This can be due to a puny fan or, more often poor insulation.
We recommend looking for polyurethane foam as it is an excellent insulator. Check the interior of the electric coolbox to see if it's divided into distinct compartments, especially those that can allow you to slot in additional ice packs if you want to be usable on non-powered day trips.
Weight and portability: the ease of walking around with the cool box is an important consideration if you are planning some picnic trips away from the campsite. If you are always on the move, perhaps a lighter, portable cool box (a mini fridge) might suit you best.
For portability, wheels and handles are very important. If it is non-wheeled, lacks a proper handle, and looks smaller in size, then it isn't a portable box. Remember that the weight of the box itself is only of partial consideration – it's how heavy it will be when filled to the brim with grub and champers!
Electric connectivity: 12V connection are a real advantage if you're planning on running your coolbox off a leisure battery, however we found that they don't always cool quite as well as a 240V mains powered unit. Also, check that a cigarette lighter socket lead is also included so you can run the cool box in your car when travelling to the destination. In this way you can pre-cool at home and then keep it cooling while you drive. Nice!
Warranty and reputable seller: We've learnt that buying from a reputable seller is important for powered camping gear in particular. Electric cool boxes don't typically go wrong (think how long the fridge in your house has lasted), but it's useful to buy from a shop who will honour a warranty. The market is awash with lots of knock-offs, mostly sold cheaply and without a reliable warranty.
So what is the best electric cool box on the UK market at the moment? We've tested a wide variety of units and can recommend the following at several levels of expenditure depending on your requirements.
Outwell ECOCool 35L Cool Box
Although at Camping Secrets we always try to offer value-for-money recommendations on gear, the truth is that sometimes it's worth buying from a reputable manufacturer – we've found that this is especially true for powered items. You may pay slightly more than the cheapest Chinese imports (which can often be built in the same factory!), but you get peace of mind that the company will stand behind their product.
Outwell is a case in point. They make some of our favourite pieces of outdoor equipment and have a strong pedigree of providing reliable gear and great customer service. The Outwell ECOCool 35L Cool Box is a case in point for a thermoelectric cool box which can operate on both 240V hookup and 12V battery power and provide a substantial amount of cooling power.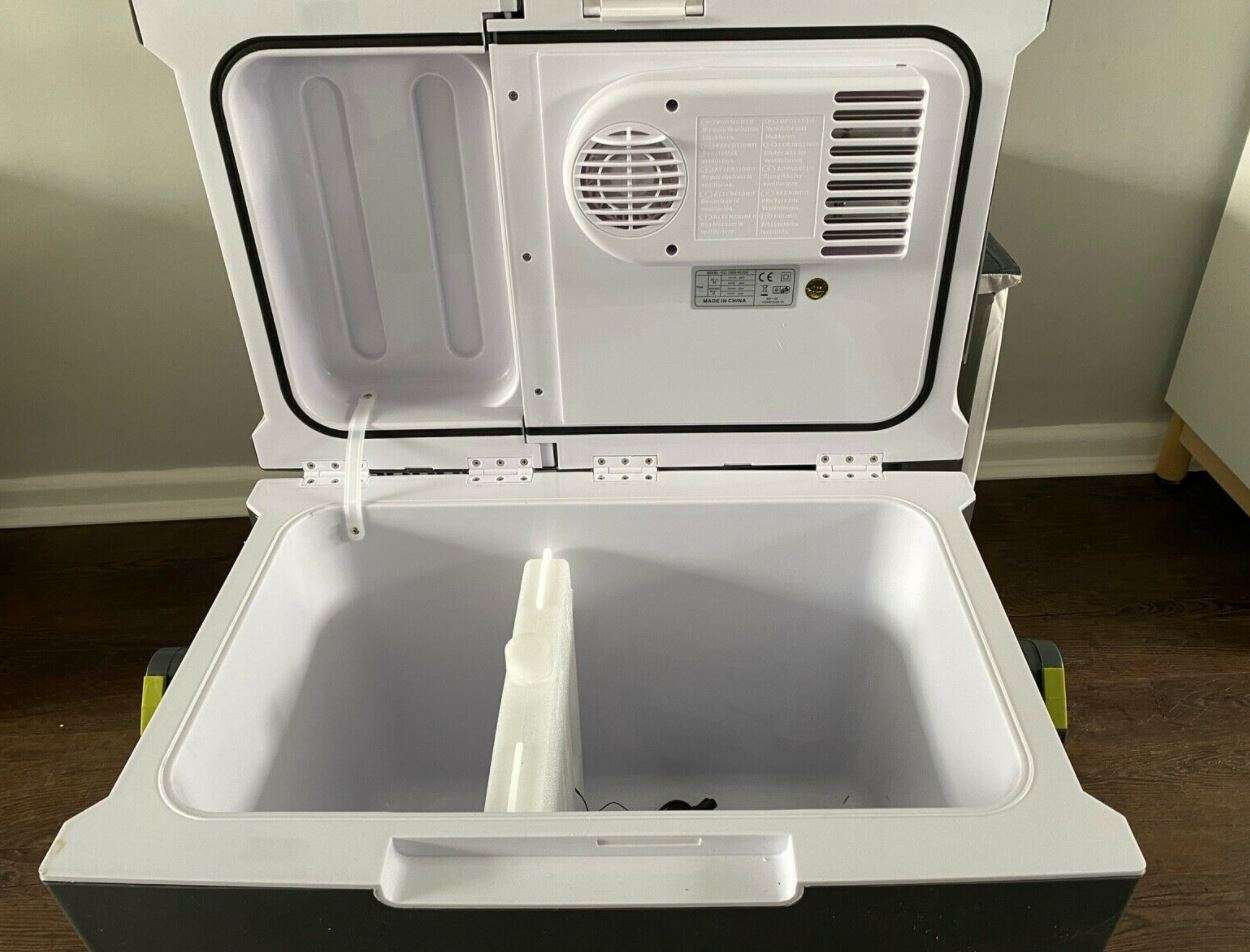 The EcoCool offers two cooling modes with a cooling delta of up to 25°C below the outdoors temperature on the MAX setting operation. This means that even on a scorching day, you can still get temperatures close to freezing.
There is also an Eco mode if you need less cooling or want to save your leisure battery juice.
The size of the EcoCool is 52 x 32 x 43 cm and it weighs around 8kg which is fairly substantial. There is a great swing handle for lifting the box and it does not struggle with a fully laden fridge.
The cooler offers a 35 litre capacity in total which we found to be a good compromise for small to medium sized family trips away. A nice touch is a dividing section which can be filled with water and frozen at home before you set off on your journey. This will set things off with a decent chill en route and you can then use the cigarette lighter socket in your vehicle to keep it cold while you travel.

Microbe Killer
Outwell have taken particular care with antimicrobial coatings on the EcoCool, and in fact it has been treated with a biocidal glass coating inside – this is a special glass which has bug-killing properties and is a real selling point in our view.
Hot to trot?
The EcoCool could also be called the EcoHeat as the cooling action can be switched to heat for temperatures up to 60°C higher than ambient. This is plenty for keeping soup or pies warm whilst you go out for a late night winter walk. This cool box has all year round use!
In conclusion, we were impressed with the Outwell ECOCool 35L Cool Box. It does pretty much everything you need from a thermoelectric cooler as well as looking stylish in its grey, white and green colours. The ability to both heat and cool by large amounts above and below the ambient temperature make it a great buy for the money.
Alpicool CX40 Electric Fridge
In our opinion, no electric cooler combines greater simplicity, affordability, and efficiency than the Alpicool CX40 Refrigerator. This is a full-on compressor-based fridge which can also cool to low enough temperature to freeze water and act as a camping freezer. The downside is that you pay for the privilege of having this functionality.
The CX40 comprises an ample family-sized capacity of 40L and the convenience of using either an AC (240V) or DC (12V) power connection. Current draw is low at only 4 amps, even on 12V power which means a typical 100Ah leisure battery will not get drained until after about 20 hours of continuous operation.
A useful tip is to cool for an hour or two and then turn off the power – the insulation is so good that you can easily last a weekend using just a standard pre-charged leisure battery – of course on electric hookup or a battery pack like the Ecoflow Delta then you'll have no power limitations and can just run pretty much permanently.
Key Features
The Alpicool is part of a range of different sized electric cool boxes, all providing similar performance. The only difference is the sizes on offer. For the CX40, the main attributes are:
40L partitioned storage with storage basket
DC cords and UK 3-pin plug AC adapter
Compact and lightweight, with an ergonomic handle and wheels for transport
Ultra-fast cooling functionality and excellent preservation
Cool-looking, low-maintenance, easy-to-clean.
3-Level Battery Protection Mode
1-year manufacturer warranty
Perfect for long-distance travel, picnic, camping and BBQs.
Despite being a decent-sized cool box (storage volume measures 46.8 x 38.0 x 25.4 cm), the Alpicool is portable enough to move around when required. Weight is around 13kg, but the presence of a decent telescopic handle and wheels makes transport a breeze.
The inside storage area has one large compartment as well as a smaller one next to it. This gives you the freedom to place items according to the required accessibility.
We love the fact that it comes with an internal basket, a built-in LED light for viewing your grub at night, and an adjustable thermostatically-controlled temperature system. There is a digital display too which we found legible and easy to use.
Cooling Ability
The advntage of a compressor fridge (i.e. like one you would use at home in your kitchen) is the speed, controllability and power of the cooling on offer. With the Alpicool CX40, you can lower the internal temperature from 25°C to 0°C in just 15 minutes which is exceptional. As mentioned previously, you can then disconnect the power so that the insulation is put to work and your food can remains frozen for several hours without using any more juice. One other great feature of the cool box is how it manages to protect the car's battery from exhaustion; it stops drawing current if it senses that your car battery is about to go kaput! Handy when you're wild camping miles from anywhere.
We think you will love how easy it is to use the Alpicool CF40 Car Refrigerator – the question is whether you're prepared to pay over £300 for the privilege. We think it's worth it, but also recommend some cheaper options below which won't break the bank. Sometimes though you "pays your money"! 
Subcold Ultra 15 Mini Fridge
The Subcold Ultra 15 Mini Fridge is an affordable, lightweight fridge that can be taken on-the-go. With a capacity of 15 liters it's perfect for snacks or drinks while camping. This sleek little gadget has it all: from silent operation to the ability to cool or warm food in seconds. Yes you read it right – this baby can heat up and cool down!
It also features two removable shelves inside so you have plenty of space for anything –  from your favorite beer to a good old Cornish pasty!
Key features with the Subcold Ultra:
15L mini fridge
Super-lightweight, compact and stable with an ergonomic handle
Perfect for snacks and drinks or skincare products
Warms to 65°C and cools to 20°C
Silent, low noise operation
Versatile with multiple-power options (240V AC and 12V DC)
2 removable shelves inside
Great looks!
Dimensions are reasonably compact at 26.9 (W) x 32.2(D) x 38(H) cm, and we found this an excellent size for a few nights away in our tent. It's a great option for a mini-break or an afternoon retreat as it is small enough to be easily carried using the ergonomic handle on top. However, it's probably more of a fridge than a coolbox to take picnicing – just bear this in mind!
Build quality and materials are surprisingly excellent for the price you are paying – it oozes class and excellence. In particular the matte glass door on the front closes snugly and looks fantastic. 
Having two removable shelves inside means one can stack in three different items and comfortably hit the road. Throw in a few beer cans, two Monster Energy drinks, and a bunch of bananas and you are good to go!
On its warming and cooling capabilities, the lowest the fridge can go is 3°C, while the highest is 65°C. It's worth mentioning the noise the fridge makes too – it doesn't! It is almost completely silent which can be a godsend when it's running in your tent and you're trying to sleep.
We really love the Subcold Ultra 15 Mini Fridge and think it's almost the perfect contender for a weekend away. If there's just one or two of you camping then it could be the best electric cool box on the market for the price. For a larger family, you might want something more substantial. We were very impressed though!
Amazon Basics Thermoelectric Cooler
There used to be a great TV advert in the UK which went something like "Ronseal quick drying wood stain – it does exactly what it says on the tin!". Well the Amazon Basics Thermoelectric Cooler is essentially the electric cool box equivalent of that advert! What can it offer the discerning camper? Let's check out the key features…
A roomy 24 litre capacity
Portable and versatile – can warm to 65°C as well as cool
Powered by either 12V connection cable or 240V mains power
Substantial self-locking handle for lugging around even when fully laden
Energy-efficient and perfect for long drives, hikes, and camping.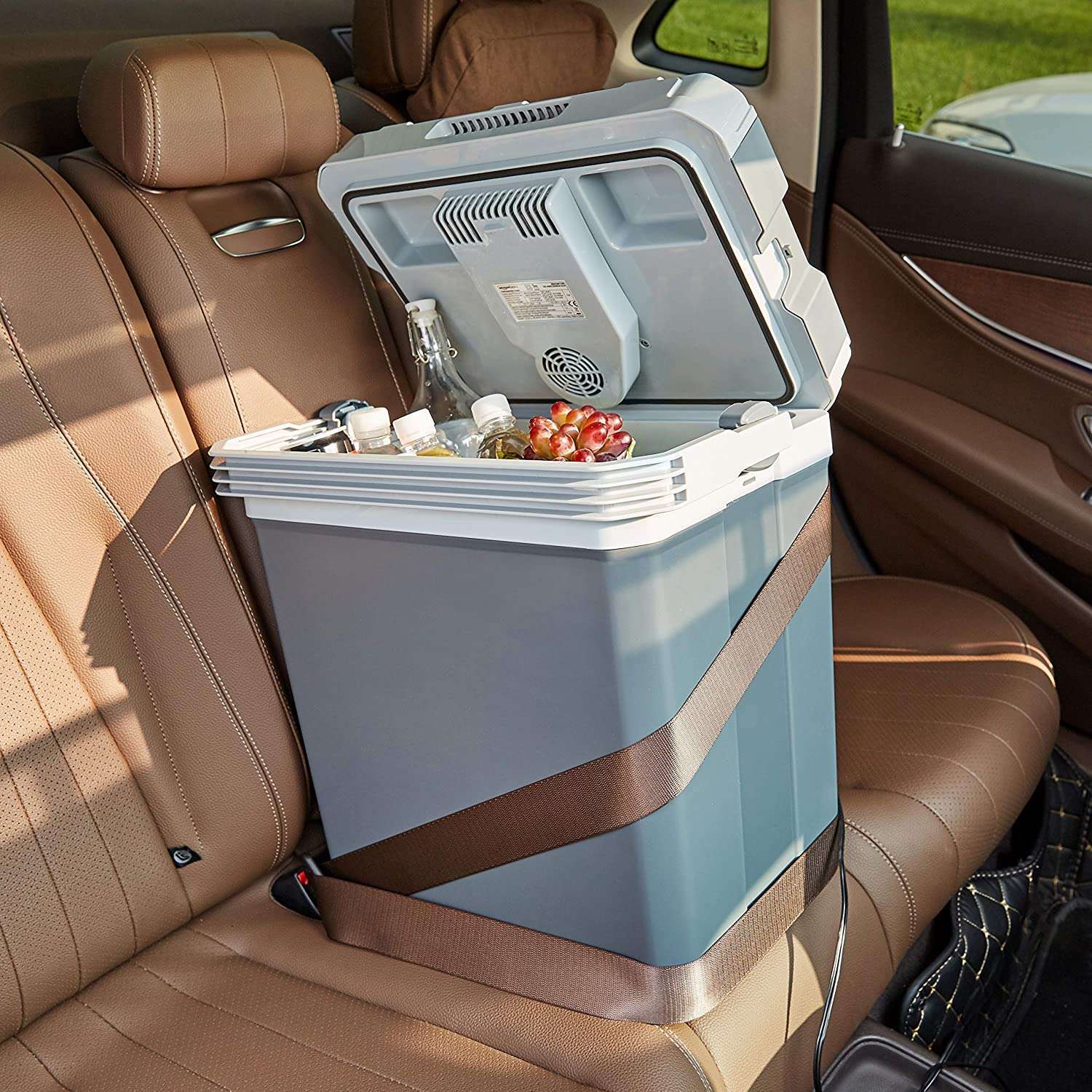 With a decent 24L of space on offer, you can comfortably load all your food and drinks inside the Amazon cool box and drive off on a camping adventure.
It will operate from the 12V cigarette lighter of your car or campervan and comes with the requisite lead. This is perfect for chilling your perishables before, during and after your journey. No chance for stuff to warm up if you don't want it to.
It's not the most powerful in terms of absolute cooling though. It uses the thermoelectric Peltier technique rather than a compressor like the Alpicool above. This means it can only maintain a temperature around 18° below ambient. On a hot summer day in the mid to high 20s, you may struggle to get the Amazon coolbox to chill below 10°C – however, let's be honest – in the UK, temperatures like that are a bit of a rarity. For most trips it will cool just fine and is an excellent price for the features on offer.
Heating as well as cooling
We were impressed that it can also heat the contents up to ~65°C. Obviously this isn't hot enough to actually cook food, but it means you can keep your fish and chips warm if you're busy – watch out for bacteria though – the heating should just be for short blasts after you've actually cooked the food. Think of it as maintaining temperature rather than reheating.
We found that the Amazon box has decent insulation and you can actually cool it down, bung in a couple of ice packs if you have some and head out on a picnic. It will remain cool for several hours in this state, so long enough for you to find a comfortable spot and enjoy your grub.
As mentioned, the carry handle is robust and will easily carry a fully laden box, but you wouldn't want to carry it too far in this state – feels like it's dragging your arm out of its socket! The Amazon cool box itself weighs  4.2kg, but it's the fact it holds so much which adds the weight – empty it is relatively light! Dimensions are 42 x 30.5 x 43.2 cm.
We would certainly recommend seeking out the Amazon Basics Thermoelectric Cooler – it's an excellent performer for most conditions required by most families. Is it the best all-round electric cool box? Possibly not, but overall and when considering the price, it is definitely a contender.
VonShef Electric Cool Box
First impressions count, and the dazzling blue of the VonShef Electric Cool Box really catches the eye. It's big and blue and ready to cool for you! Someone should hire me to write the TV jingle…. 
This is a very similar cool box in terms of size to the Amazon Basics cooler we also rate highly, but the Vonshef isn't able to keep the contents warm like the Amazon. To be honest though, we are not sure how often you would need the heating function in the real world.
It's also worth bearing in mind that the Von Shef is about £20 cheaper than the Amazon for the exact same volume and similar cooling power. Definitely worth a look at in our opinion. So what do you get for your dosh?
22L non-partitioned capacity
Only 12V operation – car or leisure battery needed
Carry handle with lid lock
Lightweight (3.1kg) and portable
Durable with heavy-duty plastic construction
2-year warranty
We think 20 – 30 litres is the sweet spot for a camping trip away for one to four people. It can store just enough stuff to keep you all going for a few days, and the fewer of you there are, the longer you can last between reloading!
The Vonshef measures 40 x 24.1 x 40.5cm and has enough height to allow you to chill a large 1.5 litre bottle of fizzy pop. Perfect for hot days. There is no internal sections though which limits the amount you can keep food separate inside – basically it's all chucked in together!
Cooling is by the thermoelectric effect and again is a little limited. It will get you to around 10°C in our experience on a standard UK spring day (i.e. not too hot outside). Vonshef actually suggest 12°C as the minimum temperature which is way off from where we would prefer to be – around 5-6°C. Still, it can definitely chill and is great for cooling drinks in this respect, when you don't have to be completely ice cold.
The handle and locking lid is a nice design feature. The handle rests horizontally to one side of the lid – this keeps the lid secured on. When you wish to access the contents, you rotate the handle to rest in the opposite direction (i.e. a 180° rotation) and the lid can be lifted. Neat!
12V power only without extra purchase
Another slight limitation is that you have to use the supplied 12V cable to do your cooling. This is great for a car where you can use the cigarette lighter socket, but not so good in your tent when you have a 240V mains hookup. We recommend buying a cheap adapter for this scenario if you think you'll need it – the Vonshef is still great value!
One of the best features of the Vonshef electric cool box is the 2-year warranty. Vonshef have confidence in their electric cool box, and so should you!
The cheapest cool box in our recommendation is the HI-GEAR 20L Cooler. It is another 12V only system which can cool food and drinks to around the 10°C mark. For the money, it's excellent value and has a few extra little design touches we like.
20 litre non-partitioned capacity
Compact heavy-duty plastic build with a sleek, stylish look
Integrated handle
Power control dial
Comes with a 12V cigarette lighter cable
A 20 litre capacity is not going to set the world on fire if you're planning a long trip, but it's ample for a night or two away. Hi-Gear make cheap, dependable equipment and we were impressed with the quality of plastic used on this cooler. It looks more expensive than it is!
The handle, which can also help keep the lid in position when you need the box open, is super-strong and handy. As for the interior of the Hi-Gear, it isn't partitioned – however, as a result it can easily be cleaned using water and a small piece of cloth without any fuss.
The Hi-Gear is also one of the only cool boxes we've found which will take a 2 litre bottle of pop standing up – there is a hole built into the underside of the lid especially for this purpose. You don't expect that on a £40 cool box.
Overall, you generally get what you pay for. In the case of the Hi-Gear 20L Cooler 12V you get slightly more than you'd expect.
We hope you enjoyed our roundup of the best electric cool boxes on the UK market. Of course there are many other choices which could be made, but these offer the best attributes in the categories of cooling, size and price. Some even heat up your food! If you need a proper cooker to do this though, be sure to check out our guide on camping stoves and kettles.