EcoFlow Delta 2 Review – A Power Station That Packs A Punch
EcoFlow have updated their very capable Delta power station, and with 1800W of power on tap it could be just the ticket for campsite use….
What we like about the EcoFlow Delta 2: 1800W output will drive almost anything; LiFePO4 batteries have long life; Accurate and useful display; Great app
What we don't like about the EcoFlow Delta 2: Quite high fan noise under heavy charging or discharging
Founded in 2017, EcoFlow is a relatively new company which has hit the ground running with an impressive array of power stations and solar panels. Their initial products (the starter level River and the original Delta) were crowd-funded to great success, and enabled the China-based company to eventually offer a suite of green energy battery storage devices which are now (in our opinion), world leading.
We've been lucky enough to get our hands on one of their latest power stations – this is the upgraded version of the original Delta, which has been cunningly named the Delta 2. The main change for the Delta 2 is the introduction of lithium iron phosphate (LiFePO4) battery technology, which has a number of advantages over the standard Lithium-Ion batteries used in the original Delta.
In this review of the EcoFlow Delta 2, we'll talk you through the main features and performance levels that we've achieved in our extensive testing, as well as deciding whether it gets our recommendation thumbs up.
EcoFlow Delta 2 Review – What's in the box?
The EcoFlow Delta 2 comes packed quite lightly with only a few items in the box
The Delta 2 itself, in all its glory. 
Instruction booklet.
Separate small box containing three cables:

AC kettle lead for mains charging
12V cigarette plug for car/12V charging. Interestingly, the other end of this cable has a XT-60 connector for attachment to the Delta 2. This means that if you forget this cable then it may be tricky to get hold of a spare if you want to charge via 12V.
DC5521 to DC5525 male-to-male cable – the Delta 2 has 2 x DC5521 sockets which are often used for regulated 12V electronics work, such as powering a soldering iron. Not generally required for camping expeditions!
Dimensions and Features of the EcoFlow Delta 2
Whilst lifting the Delta 2 out of the box, I was immediately struck by how solid and well made it felt. Weight is reasonably high at 12kg compared with similar-sized storage (such as the Jackery Explorer 1000), but  there are numerous reasons for this:
The Delta 2 includes its own mains power supply within the case. This means that you can simply connect up the kettle lead to the mains and start charging whereas many other power stations use a separate power brick. We prefer the simplicity of the all-in-one EcoFlow Delta 2 solution
The Delta 2 has a very high power inverter which can supply 1800W of steady state power to your gear. Larger inverters are usually heavier than smaller alternatives.
The use of LiFePO4 batteries can add slightly to the weight to achieve a certain amount of power storage. LiFePO4 batteries are about 10% less energy dense than standard Iithium-ion, and so require about 10% more space and weight to achieve the same amount of storage.
In terms of dimensions, it depends how you measure them. The Delta 2 has two large, rigid carry handles on the  top front and back of the casing. These make it extremely easy to lift up the Delta 2 with either one or two hands.
We measured the dimensions to be 40 cm (L) x 28.1 cm (H) x 21.1 cm (W), which is perfectly respectable compared with the competition. There is only one colour scheme available for the casing, which is light grey for the top third of the Delta 2 (including the carry handles), and dark grey/black for the lower two thirds.
Input and Output Ports
Front Panel – USB connections
For the UK version of the Ecoflow Delta 2, there are thirteen electrical output ports in total, which is something of a record we think. If you buy one in the USA, then the port count rises to a whopping 15 because there are two additional AC sockets on board. So what do we get exactly?
The front panel hosts a lovely colour LCD screen as well as a range of six USB sockets for powering or charging consumer electronics gadgets such as phones or laptops. There are 2 x USB-A (standard), 2 x USB-A (high power) and 2 x USB-C sockets which are rated at up to 100W. These are great for charging modern style laptops or phones, and means that you can use the EcoFlow Delta 2 as part of a portable office in your campervan if you want to work somewhere scenic.
The USB sockets have their own activation switch which isolates them from drawing any unwanted power until you have connected your gadgets.
Additionally on the front panel you have the main on-off button which operates the Delta 2. Simply press the button quickly to turn the power station on, and then press for a longer period to turn off. It is therefore a two stage process to actually get some power to your gadgets – first turn on the Delta 2 itself, and then hold the USB on-off button to activate the USB sockets. It's slightly irritating to have to do this, but it's a feature shared by all power stations on the market and helps preserve power.
Rear Panel – Inputs and Outputs
Interestingly, the Delta 2 has additional input and output ports on the rear panel. This means that you will need to access both front and back opanels f the power station if you wish to concurrently use both USB and mains power for example.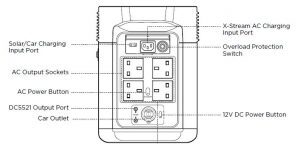 For the UK version of the Delta 2 that we were testing, there are four AC sockets (3 pin, 220-240V) in the middle of the rear panel. This is a great number and means you don't need to hook up an external 3-way extension lead to expand your socket count as is often the case on alternative devices.
At the top of the rear panel are the input ports to charge up the Delta 2. There is a an XT-60 socket which enables a solar panel to be connected, and this socket also allows the 12V cigarette lighter charger which arrives with the Delta 2 to be connected for charging on the move. There is also an overload protection switch here which can trip out the supply to the Delta 2 if the input current is too high for too long – the switch trips for currents over 20 amps and must be manually pressed to resume charging.
At the bottom of the rear panel, there are three additional 12V output ports. There's a standard cigarette lighter 10amp output socket for driving camping gadgets like a cooler box. There are also two DC5521 sockets to provide a regulated 12V 3A supply for home electronics. I've never used these and don't envisage trying!
Storage Capacity and Power Delivery
EcoFlow have aimed the Delta 2 squarely at the camping market by incorporating a decent amount of power storage of 1024 Wh (Watt Hours). This is slightly less storage than contained within the original Delta model (1260Wh), but is enough for a weekend of low power (<50W) operation, especially in conjunction with solar charging. The storage is equal to the Jackery Explorer 1000, and means that the Delta 2 is not large and unwieldy. 
The amount of storage on board is a direct trade-off with the weight and size of a power pack, and to incorporate more would not inspire you to take the Delta 2 out of the house for your camping trips. 
Storage Expansion
Luckily, if you want more storage on board, the Delta 2 incorporates an expansion port on the side panel. This means you can hook up extra battery power from either a Delta 2 Smart Battery unit which gives an extra 1024Wh (for a total of 2048Wh), or a Delta Pro Smart Battery which gives a whopping extra 3600Wh (for a total of 4624Wh). 
Having an expansion port offers excellent modularity – by this I mean that you can pick and choose how you choose to use the Delta 2, and you don't need to purchase additional power storage unless you're certain you need it. To my mind, this is great flexibility and an excellent feature.
Powering Appliances
The Delta 2 has an on-board inverter which can offer up to 1800W of steady-state AC power to your devices. This is an excellent amount of power for camping or home-use in the event of a power cut or similar.
We've successfully powered
A full 4-slot toaster
A 1.8kW fan heater
A jet wash
A microwave oven
An AC-powered hammer drill
Watch our video review above to see these appliances being successfully powered with the Delta 2.
Part of the reason the Delta 2 is so effective is that the inverter can allow a peak power surge of up to 2700W, so if your appliance requires higher power at start up (for example, microwave ovens often have a high start-up power requirement) then it should still be able to cope.
In Operation – Our Thoughts on Usability
Display
The display on the EcoFlow Delta 2 is undoubtedly the best we've seen on any power station. The reason for this is that they've actually thought about what information to display and the accuracy of it.
In terms of useable battery life left, Ecoflow display a "time left" when powering devices which is based on your current rate of use. This is fantastic and extremely useful. We tested the accuracy of the calculated time using a 1.8kW fan heater and found it predicted 30 minutes left in the battery at power-up. In the end the fan heater lasted about 29.5 minutes which we think is pretty accurate.
When charging the Delta 2, the display then changes to a 'time left to recharge' value which again is very useful.
In the middle of the display is a simple percentage number which shows how much juice is left – there's also a graphical circle representing the amount of power remaining.
The display also shows the power coming in to the Delta 2 as well as the power which is being supplied outwards. Again, these values seem very accurate and help you keep track of the key parameters.
Charging the Delta 2 – XStream Technology
The Delta 2 can be charged up at a phenomenal rate of 1200W using mains power or 1100W using DC charging. Solar is limited to 500W which is still exceptionally good.
In reality, on mains power the Delta 2 adjusts its input power throughout the charge so it's not always constant. We found that it took two hours exactly to full charge from 0%-100%, but the power was only about 580W for most of that time. If the full 1200W is used then charge time should be only around 80 minutes.
Before writing this review, I contacted EcoFlow to see why I was not seeing the full 1200W. The answer was because I had been conducting a range of high power discharge tests beforehand. If the temperature of the Delta 2 is raised by that sort of operation then it may not charge at the full rate. In any case, anywhere between 80 – 120 minutes full charge time is excellent in our view and at least 3x faster than the competition.
Discharge Testing – Battery Efficiency
If you have a power station with 1024Wh of battery you might reasonably expect that it would be able to power a 1024W device for one hour of operation before fully running out of stored power. This is not the case.
In actual fact all power stations have an in-built efficiency which reduces the amount of power which can actually be used. In the best devices, this is around 90%.
We conducted a test taking the Delta 2 from 100% to 0% using a 1771W fan heater. See the video above for full details of this, but essentially the Delta 2 ran that fan heater for 29.5 minutes.
We can calculate the efficiency as follows:
Actual power used (in Wh) = 1771 * (29.5/60) = 871Wh
Efficiency of Delta 2 = (871/1024) * 100 = 85%
So the Delta 2 is ~85% efficient, which although not the highest we've tested (the Jackery Explorer wins that test at 90%), it is still a highly reasonable efficiency for a device using LiFePO4 battery technology. Check out our video on the differences between standard Li-ion and LiFePO4 efficiency.
What this means is that to calculate the run time of any device, you should do it relative to 871Wh rather than 1024Wh. For example if you plan on running a 50W laptop using the Delta 2, it will last 871/50 = 17.4 hours before it runs out of juice. Useful to know.
The EcoFlow App
EcoFlow have also created a really useful app for either IOS (Apple) or Android smartphones. This easily links up with the Delta using either Bluetooth for a direct connection (when you're out in the wild), or WiFi if you're at home and your network is running. With the WiFi option, you can theoretically log on to your Delta 2 from anywhere in the world, although I'm not sure why you'd want to do this.
That being said, the app is excellent and really allows you to control and visualize a whole host of features of the power station. From renaming the Delta 2, to telling it when to start charging, or what level to set the min and max charging rates, you have full command of the action.
We found it much easier to look at the app when conducting our speed charge and discharge tests. To our knowledge, EcoFlow are the only power station manufacturers who have an app, and it's another differentiator when you are choosing who to buy from.
Negatives of the Delta 2
In our view, the Delta 2 is exceptionally good from a build quality, design and control point of view. Some of the niggles we've found are almost unavoidable.
For instance, the cooling fans can be loud under high load or when charging at maximum speed. The reason for this is that the power supply and inverter are all internal to the device and produce heat which needs to be pumped out. This is unavoidable in a compact power station like this, and I would much rather have the option of fast charging from 0-100% in 80 minutes (vs 5-6 hours with the competition) and have the downside of some fan noise. The fan noise is not even that bad in all honesty, especially when you're using the EcoFlow outside or with a noisy item like a fan heater.
Similarly, having some power sockets on both the back and front could be construed as a negative, but I don't really agree. I'd much rather have those sockets present, even if it means rotating the Delta 2 to see the screen. This is not much of a problem in all honesty, especially when you also have the app available.
Finally the storage capacity of 1024Wh – is it enough? Personally, I'd like to see more because for camping use it's not going to even run a 50W cooler box over a whole weekend if you have it on 24-7. The best it will last is about 17 hours which isn't really enough, and you would have to top this up with solar power if you wanted more. For periodic chilling then the current capacity is fine. 
Of course you can also buy extension batteries, but then the size and weight starts to come into play (not to mention the cost!). Ultimately though, this is just a limitation of lithium battery packs in general – they're not power sources themselves and can only operate to the laws of physics. They are still genuinely revolutionary in our view.
The EcoFlow Delta 2 is the best power station we've tested so far in a number of ways. From the 1800W steady state power to the excellent app, fast charging capability and rugged good looks, it is a cut above the competition in our view. 
With the current price of £1099 GBP which includes a 5-year warranty we think it is the power pack to go for it can be successfully used in a variety of home and camping scenarios.
In terms of battery technology, the Delta 2 has been the first power pack using LiFePO4 cells that we've seen offer >80% efficiency (85% scored) which is almost up to the best of the standard Lithium-ion offerings (Jackery Explorer 1000) of 90%. If you want the absolute maximum power storage in the smallest, lightest casing then you may wish to look at Jackery. However, if you value the much greater cell lifetime and safety of LiFePO4 then we can highly recommend EcoFlow and the new Delta 2. It's a winner for sure.
The EcoFlow Delta 2 power station succeeds at everything it attempts to achieve, and is highly recommended by us. The price is good, with a fantastic 1800W inverter which allows nearly anything you might take camping to b e powered. The exceptionally fast charge time and good lucks have really left us smitten. Buy with confidence!