Best Inflatable Sofa – Luxury Blow Up Couches for your Camping Trips
If you want to skip to our recommendations for the best inflatable couches then click below
More and more people are buying huge tents containing acres of space. This is a real change from when I started out camping back in the early 1990s – then it was all about taking as little gear with you as possible – now it's about building mini-empires on site!
We recently published a roundup of great family tents and set ourselves an upper limit of 6-person tents to provide a big enough space for the standard UK family of 4 or 5 people. However, on our most recent campsite visits, it was clear that many families are extending well beyond that with 8+ person tents – for example using trendy glamping Bell tents. They're huge! 
With all that space available, the option to bring along some luxury furniture is often too good to resist. If you are likely to have friends visiting your tent for drinks or there are a few of you camping together then a huge inflatable air sofa is a fantastic bit of kit for social gatherings. They are doubly good for just chilling out.
So what are the features of the best inflatable sofas?
Small pack size when deflated – inflatables can fold up extremely small when not being used considering the size of sofa on offer – let's face it, there's no way you could transport a real couch to the campsite unless you hire a Luton van!
They are exceedingly comfortable – some people even use blow up couches in their homes as substitutes for real sofas.
Opportunities for punctures are low if you make sure there are no sharp stones underneath your tent. A thick groundsheet or rug/carpet in your tent can normally help protect the underside of the sofa too. Just don't jump on them when you sit down!
They are flexible – some of the best blow up settees can be reconfigured into beds for nighttime sleeping. We have found this useful because I'm a snorer. My wife Ali and daughter Loz often sleep in the campervan, and I use the inflatable sofa in our awning. Don't tell them but it's actually comfier than the campervan bed!
Use a blow up couch outside on a sunny day – you can drag them outside and recline in the sun – they can even replace standard folding camping chairs if care is taken against puncture risk.
In this article we roundup the best inflatable sofas on the market today. We tested many during our search for the optimum design and have drawn some definite conclusions on the ultimate blow up couch for your buck!
Pump included?
One important consideration to bear in mind when you're weighing up the different inflatable sofas on the market is whether they have a pump (hand or electric) included in the price. Some do and some don't, but personally we think it should be a pre-requisite because it is always difficult to match the valve type exactly to the pump when buying separately.
Our preference is for a rechargeable electric pump – for instance the Beautyovo or Cyclplus pumps. These are extremely portable and you don't have to trail a wire from your car cigarette lighter to pump something up. Although the Cycplus is expensive, it can also be used to pump up car or bike tyres at high pressure. Check here for our Cycplus review.
So without further ado, let's take a look at our recommended inflatable sofas so that you can cozy up at the campsite in comfort….
Outwell Laze Inflatable Furniture Set

When it comes to inflatable furniture, we find that it's the texture and feel of the material which makes the difference. If it is too 'plasticky' or 'shiny' then you can tend to slip off or get sweaty legs – not much fun.
The Outwell Laze Inflatable Furniture Set completely avoids this problem by using an excellent tactile material for the top surface which you come into contact with. It is rugged and grippy and means you can sit on either the three person sofa, single armchair or 'pouffe' and not feel like you're about to slide to the floor.
Materials and Dimensions
The set comes in a fairly small box measuring 54 x 38 x 23cm – this is the great joy of inflatable furniture because you can squeeze so much sitting space into a small storage area for transport. The combined weight is 10.7kg.
The base of each part of the set is waterproof and durable (thick pvc) which means that it won't puncture on stony ground – some campsites insist on making you camp on gravel which we've never particularly enjoyed. Pumping or inflating each chair is quick and easy, with 'easy valves' on each main section. Unfortunately, no pump is provided and so you will need to purchase one, but if you have an Outwell Airbeam tent then you can use the same one.
In Use

This is a great inflatable furniture set which gives ample support and comfort. The armrests are curved which is really useful as they feel like they encompass your body and make you feel snug and comfortable.
Before we blew up the three items of furniture, we didn't really feel like we would have much use for the small pouffe or ottoman as it is named by Outwell. However at the campsite, we found that this was used by everyone – whether you just want a quick perch in order to put your boots on, or as a footrest when you're kicking back in the evening – it was really useful!
The important point to note about the Outwell Laze is the quality and feel of the green fabric covering. It is designed so that you don't slide all over the place and this makes it worth the expenditure in our opinion – you're getting a very decent family three piece suite which packs into a tiny box. The covering for each item is also detachable and can be washed if required. 
The Outwell Laze really gives you superb comfort and feel for extreme campsite comfort. This is the closest we have found to the comfort you can get at home, mainly due to the excellent material used on the chairs. Yes it's pricey, but not compared to your home suite and it's almost as good!
Outdoor Revolution Campeze Inflatable Sofa
Outdoor Revolution are a great brand we have used for many years (we love their driveaway campervan awnings), and so were excited to checkout their substantial range of inflatable furniture.
Our eyes were immediately drawn to the Campeze inflatable sofa because a) it is made of quality 420 Denier fabric (decent strength and thickness) and does not stand out conspicuously in terms of colour, and b) the fact it is multi-functional and can act as both a sofa and a bed. Perfect for our requirements!
The Campeze consists of three individual chambers which are physically connected but inflated separately. These chambers can then be arranged and rearranged into five different 2-seater sofa and sleeping options. For us, there were only two main options that were useful: a) the two-seater 'high sofa' shown in the photo above, and b) the full bed option (shown below). All the other options are basically variants on these but at different heights, and utilising different numbers of chambers.
Key Dimensions
When deflated and packed away, the Campeze measures 46 (L) x 15 (W) x 46 (H) cm and weighs 9.8kg. It comes supplied with a carry bag and can be easily tucked away in your car boot. Unfortunately, the Campeze does not come with a pump and so you need to buy one of the 'wireless' options above, or the Outdoor Revolution pump which connects to your car cigarette lighter. A bit disappointing OR!
Inflating is simple and accomplished in three stages for each chamber. The top chamber has a little extra volume because it includes the armrests and backrest. Inflated size in 'sofa mode' is 150 (W) x 70 (W) x 75 (H) cm and is created by mounting the three chambers on top of each other.
The Campeze uses a system of velcro straps and zips in order to keep the three chambers together when arranged in sofa mode. This works well and keeps the unit tightly together with no danger of it toppling over into its constituent parts.
Campeze In Use
Let's face it – all inflatable sofas are exceptionally comfortable 'under the bum' due to the air suspension involved – the Campeze is no exception in this regard and gave a very supportive feel when sat on by either one or two people. When fully pumped up it offered good support and there was little roll together when a 15.5 stone person sat down next to a lighter 10 stone individual. We also found that it maintained its air pressure very well over several days. The valves are good quality.
The key point for ascertaining comfort is whether you can maintain reasonable posture when sat on the sofa. In this regard we would give the Campeze only average marks. The backrest is just not high enough to act as a dedicated sofa making it difficult to really 'sink into' the chair. For lounging on though it is adequate.
Bed time?
Where the Campeze comes into its own though is when it gets transformed into a double bed – this is simply achieved by undoing the velcro straps and unfolding the three chambers. Simplicity itself and an exceptionally comfortable sleeping station is the result.
In summary, the Outdoor Revolution Campeze is a very flexible inflatable sofa which works remarkably well as a flexible item of furniture – double bed or double couch, the choice is yours. The only slight negative is the unsubstantial rear backrest when it is in sofa mode, but this is a minor negative. We were impressed.
The Campese from Outdoor Revolution uses quality materials, has a quality feel and a ton of flexibility. The lack of a pump is a shame, and the backrest could be slightly more substantial. However it's extremely flexible as both a bed and a sofa. Be sure to check it out.
Intex Pullout Queen Inflatable Sofa
Intex have a few different inflatable furniture items in their range. All their offerings are well priced with great functionality – the Intex Pullout Sofa in Queen size is no exception.
It uses a really tactile felt-like material (Rayon) on all visible surfaces of the sofa – this is unusual because most products really skimp on the flock-type covering, typically just applying it to the seat or armrest areas. In our opinion, this material really helps give the sofa a quality velvet feel. I also like the understated charcoal grey colour.
Dimensions and Inflation
The Intex pullout sofa arrives in a well-packaged box measuring 36 x 46 x 23 cm and weighs 7.7kg. It consists of one single interconnected fabric shape with one main valve for pumping up the main frame of the sofa (including armrests). The remaining two valves are for the cushion system.
The valves used on the Intex are large and easy to apply air to. Unfortunately there is no pump provided and so you will need to buy a hand or electric pump to use. Inflation is easy and pretty quick – it can be accomplished in a few minutes of full-on pumping – ooh err! 
The armrests of the Intex each include a cupholder which is a nice touch – this is the only sofa in our roundup to have this feature. The two cushions are connected to the main body of the sofa by a fabric strip. This enables them to be folded up and onto the frame to create a backrest and a comfortable main cushion to sit on.
Make a bed
Because the two cushions are connected to each other and to the main frame of the sofa they can also be unfolded into a Queen-size bed measuring 221 x 193 x 66 cm. This is long enough for me to stretch out in full, and I'm pretty tall at 6ft3 (191cm). It is exceptionally comfortable and great for chilling out to watch TV or similar, or even lie out in the sun. We love the flexibility of the Intex, and for the money it is hard to beat.
Punctures
It's worth mentioning that there are a few negative reviews of the Intex on the internet, with some reports of leaking seams and air escaping. I think this is always going to be a potential problem with inflatable goods and it can be extremely frustrating. I would recommend buying from a decent supplier who will not quibble if something like this happens. In the main it is a small percentage who experience problems, and while it is annoying, I would not let it put you off buying what is a good value, functional product.
In summary, the Intex Pullout Inflatable Sofa is a great value option for combining comfortable seating (both inside and out) with the functionality of an additional bed arrangement. Overall, it's our choice for the best inflatable sofa when all factors are considered, including price.
If you avoid the curse of air slowly seeping out from the seams as some owners have experienced then this is a great value inflatable sofa which also makes a large bed, easily fit for two. It might not look as elegant as the Outdoor Revolution Campese, but it's half the price. Definitely worth a try in our view.
Intex Inflatable Corner Couch
The Intex Inflatable Corner Couch is the absolute daddy of the inflatable world. You need a sizeable tent to house it, but you'll be basking in luxury once it's up.
Materials and Dimensions
The Intex weighs a fairly sizeable 12.9kg and has multiple sections to inflate. Packed size is surprisingly small however – the box it arrives in is only 42 x 34 x 28 cm and yet it contains a humongous L-shaped corner couch with dimensions of 257 x 203 x 76cm. How can this be possible I hear you cry? Well it's inflation of course!
The sofa comes with four main pieces – three cushion sections, each individually inflatable via standard valves. The remaining huge main section contains four inflatable chambers comprising the base, two arm rests and the back section. This thing takes a long time to pump up, believe me – almost 20 minutes in total using my new electric pump (the Intex doesn't ship with its own pump sadly).
Materials are reasonable however I cannot get too enthusiastic on this front. The PVC plastic is adequate for the price of the sofa and seems reasonably robust in my experience. However there are reports of deflating sofas on the internet and so you evidently need to take care when you sit down. Saying that though, the manufacturers state a maximum load of 400kg is permissible and so if anything does happen, you should invoke the warranty. Thankfully our review unit survived our testing.
In Use

The Intex corner sofa is EXACTLY that – it's a sofa which is best positioned in the corner of your tent or awning.
Although it doesn't transform into a horizontal bed, it is easily long enough to stretch out and sleep on, and is extremely comfortable. The cushions have a slight flock felt feel to them which we liked – gives grip and feels more tactile than pure PVC/latex. With a few scatter cushions and a throw over the top, it feels quite luxurious – especially in a tent!
We absolutely adored the Intex – the main problem with it however is the current price. Because of the Covid situation, they have been snapped up everywhere, and something which was originally around £70 is now over £150. Is it worth the higher amount? Well actually yes we think so, provided you buy from a reputable supplier who will warranty any claims based on unexpected puncturing or deflation.
The Intex Corner Couch is the most 'regular sofa-like' option out of all the units we've looked at. It is hugely comfortable and some people have been know to use them as proper sofa replacements in their house. We have to say that it will blow your friends away to see this in your tent or awning. Fantastic! 
The occasional report of punctures and deflation wouldn't put us off this fantastic inflatable sofa. It really is impressive and is big enough to sleep on. If we were nitpicking, it would be preferable if the materials were slightly higher quality, but overall this is a great option for campsite luxury!
Vango Inflatable Chair Set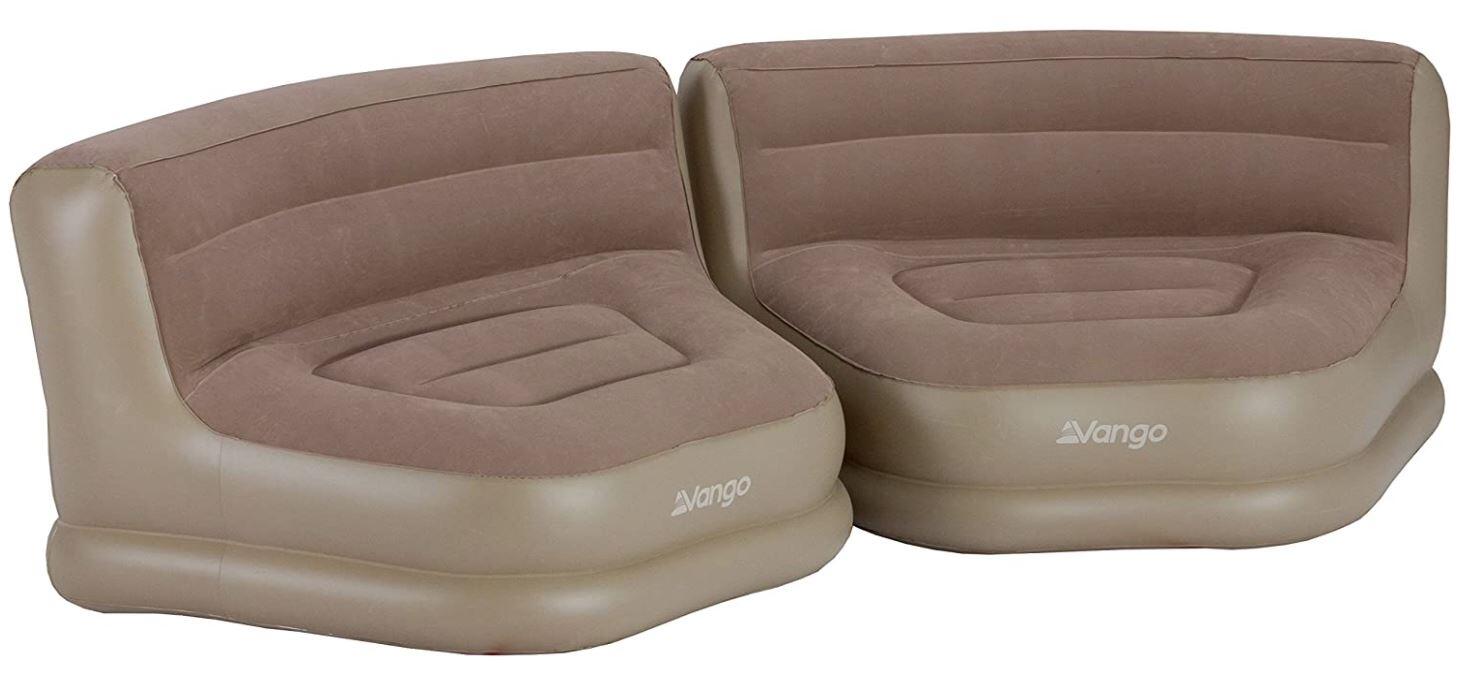 While they're not strictly a sofa, this futuristic set of Vango Inflatable chairs may as well be. They have been specifically designed as a pair which can closely fit together to allow two people to choose to sit closely together if they so desire (or not as the case may be!).
Weighing around 2.25kg each, the Vango chairs are available in one colour only – a fairly subtle beige/brown colour. They pack down to 41 (L) x 33 (H) x 13 (W) cm which is a decently small size.
Inflation is simple with just a single valve per chair, but sadly no pump is supplied with them, although the price is low enough for it not to matter too much. The inflated chairs have a really nice contoured shape, with a decent backrest although they are fairly low to the ground. It can take a bit of effort to stand up again – possibly not the best if you suffer from arthritic knees.
The surface of the seat and backrest areas of the chairs are covered in a suede-esque fabric, a bit like flocked wallpaper. This offers good grip to your body and you never feel like you're going to slide off like you do on some inflatable furniture! The chairs are exceedingly comfortable, providing just the right amount of support. They also kept their air very well over a two day period.
In summary, we think the Vango chair set is a great design and actually look pretty stylish. They offer the flexibility of separating into two separate chairs and can be used inside or out. Definitely worth a look.
An excellent inflatable chair set which has been designed to allow very close coupling like two slices of pie (mmmm pie). For the price, we will let them off for not including a pump. These are a good option for campsite inflatable comfort.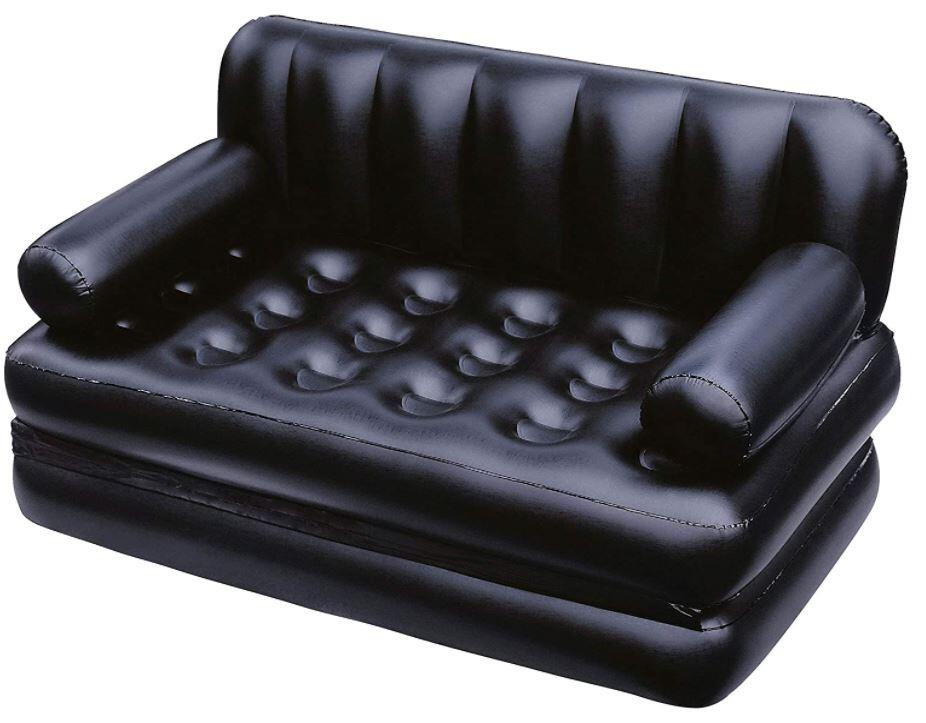 It's the camping equivalent of a Chesterfield regency leather sofa – the Bestway Inflatable Couch is a low price offering but wouldn't look out of place in a Gentlemen's club.
The Bestway is a blow up sofa which can also be transformed into a bed or lounger when required because it consists of two inflatable sections or 'chambers'. When packed away, it squeezes into a carry-bag of dimensions 41 x 33 x 13cm and the weight is 4.3kg. Inflated dimensions are 188 x152 x 64 in bed mode, but no pump is included in the box unfortunately.
In Use
Using the Bestway in sofa mode it is immediately comfortable to sit on and has a decent backrest to relax against. The arm rests are also substantial. We liked the ribbed design with Chesterfield-style 'dimples' in the material. Unfortunately, the material used is a shiny PVC-type plastic. It is used for the whole surface and so the sofa is quite slippery under clothing and in hot weather you could even stick to it if you have shorts on!
In our view the Bestway could be improved by adding a suede/flock layer to the seating and backrest surfaces. That being said, the PVC is waterproof and so you could theoretically take this on a swimming pool for some floatable fun!
Another slight downside is that in sofa mode, the top chamber is simply resting on the lower chamber with no significant strapping to secure them together. This isn't the end of the world, but does make the seat a little more unstable than the Outdoor Revolution Campese say.
Bed mode
By swinging out the lower chamber, the sofa turns into a lounger or bed as shown above. Unfortunately it is not long enough for taller members of society, having only around 1.8m of length to lie on in a straight line. I'm more like 1.95m and so had to lie diagonally, and even then my feet dropped over the edge. 
Another downside as a bed is that the two chambers have a gap between them which you lie over and can slide down into a bit at night. Again, not completely the end of the world but it's not the greatest design – it needs some attachable straps to draw the sections together.
Also bear in mind that the Bestway is not that wide at only 1.5m – it's not much wider than a single bed and so is really only for one adult, and maybe two children at a push.
In summary, the Bestway Inflatable Couch offers a reasonable seating arrangement at an excellent pricepoint. It is not a leader in design because it lacks straps and flock material. It is also compromised as a bed by being too short for many tall adults and not wide enough to sleep two in comfort. That being said, it does a job fairly well and should be considered for the price if you need a cheap and cheerful inflatable sofa.
The Bestway feels like a bit of a lost opportunity - it really looks great on first viewing and is an excellent price. However, the lack of useful design features and the short length of the bed means it's a bit of a "Jack of all trades, master of none". Still, it is worth considering if budget is a concern.
Be sure to check out our in-depth sister article to this one on the best folding camping chairs for slightly more solid seating options!
The cheapest option on test, but potentially the most fun (for the kids at least). The Asab Double Pod is essentially two moulded apertures within an inflatable body creating what looks like a large pair of goggles.
Plonk your bum in one of the spaces and the body of the inflatable holds you secure – extremely comfortable if you don't mind a semi-lounged seating posture.
The Asab uses a fairly bright red flocked material on the top surfaces of the pods (both on the body and within the podholes themselves). This gives a warm tactile feel and avoids your bare legs sticking to the black PVC inflatable plastic used for the main body. 
Dimensions
The Asab weighs around 2kg and measures 135cm across and 85cm deep, with a height of 49cm. It's actually larger than you expect when pumped up and is pretty inviting to rest your weary legs.
Inflation is a doddle but there is no pump provided (understandable at this price). There is just a single valve for the entire unit – plug in your pump, switch on and you'll be inflated in under 5 minutes. We wouldn't recommend doing it with lung power alone (we tried) – a pump is essential!
In Use
The pods are designed to angle downwards from back to front so that the front portion is easy to slump into, and then the higher rear part supports your back. Once you're in you are effectively cocooned around your body and feel very secure and comfortable – perfect for camping either inside or (even better) outside in the sun. With a beer in hand. Sorry, getting carried away there….
In summary, we really like the Asab Double Pod – it doesn't look like a conventional inflatable sofa, but can seat two medium-sized people in comfort for less than £20. If you're a larger-than-average adult it may be too small though – you might get stuck!
Fantastic value inflatable dual pods from Asab. We really liked this product - it looks funky, doesn't cost much, blows up quickly, has decent flocked upper material and is great for outdoor lounging at the campsite. What more can you ask for?
That concludes our roundup on the best inflatable sofas on the market today. If you prefer a more stable traditional folding camping chair then be sure to check out our roundup analysis.