A cold tent can make sleeping a nightmare during winter camping trips. No matter how many layers of clothing you put on to stay warm, it sometimes feels like a camping heater is all that will deliver the goods.
By using a small but powerful camping heater you can make the most out of your winter trips, turning your tent into a sauna. You can then enjoy camping all year round.  
There are numerous different types of heater which are suitable for camping. 
Fuel – the most portable and powerful heaters use gas, but if you're on a campsite you may have electricity available. An electric camping heater will be more economical to run if you already have mains power.
Technology – does it use radiation or convection to heat you? Radiation is the direct transfer of heat energy via infra-red waves – these heaters will normally glow red and can be dangerous to touch. Convection heaters will typically heat the air, allowing it to circulate and warm up – they are safer but less efficient at heating a tent.
Heaters also come in a variety of sizes, shapes and build qualities with different safety features depending on the technology used. Choosing the best camping heater can therefore be a challenging task. For us, the main features come down to the following:
Does it provide enough heat? Some of the smaller camping heaters are not powerful enough for tent use in winter.
Is it safe to use? Gas powered heaters can be dangerous due to carbon monoxide – are they safe to use inside a tent and to leave on when you're asleep? Also, is there a fire risk from your heater?
Does it cost much to run? It seems silly to buy a gas powered heater and pay for that gas yourself if you're camping at a site with electrical power included in the price. However gas powered heaters can often be more powerful than electric.
We've compiled a roundup of the best camping heaters on the market at the moment, after taking into account these considerations. So let's dive in and turn up the heat!
It's our opinion that nobody wants to carry a large heater around in their campervan or caravan. Ideally we're after something that looks good, doesn't take up much space and can chuck out enough heat to warm your cockles.
Step forward the Dreo Atom One which is easily the best looking heater on the UK market at the moment. It's not all just show and no go however, as it can throw out up to 1500W of pure heat using mains electricity – you'll need a hook up or a power pack to run this when you're away.
The question always arises – is 1500W enough? Well in our view it is if you're in an insulated campervan, caravan or motorhome. In a tent, it's a bit of a different matter and we would choose one of the gas powered heaters below as they tend to feel hotter – always be wary of carbon monoxide though.
The Dreo Atom One has a few added extras which we actually found quite useful – a large LCD display on the front shows the current ambient temperature, and it has thermostatic control which means it can heat up to a set temperature and then regulate to that level – very nice. This can all be controlled by the supplied remote control as well which is rare at this price point.
In Use
The Atom One is surprisingly quiet in operation, with a recorded noise level of only -40dB. This is attributed to the 9-blade fans which Dreo have fitted – most of the competitors only use 3 blade fans. 
The top section of the heater can automatically swivel in a 70° arc which enables it to sweep heat out through your space. Nice. Also, if it's knocked over there is an auto cut-off trip switch which means that a fire is extremely unlikely.
It measures 43 x 35.5 x 66.5 cm and weighs just over 2kg, so don't go thinking this is tiny product – it will take up a bit of shelf or floor space, but certainly looks good when doing so.
Overall, we highly recommend the Dreo Atom One as the best camping heater currently on the market.
Highlander Portable Compact and Lightweight Gas Heater With Safety Grill
The Highlander Portable Gas Heater is excellent for camping. It features a nominal output of 1.3KW, which makes camping in the cold season hitch-free. It keeps you warm when hiking, fishing, or camping on a chilly night. 
This compactly designed product is simplicity itself to use. It weighs about 2.3 kgs, which along with the robust carry handle, makes it easy for you to carry and maneuver.
It comes with a directional warmer and automatic ignition system. You can easily power it up through a built-in Piezo Ignition switch and control its heat output using the twist and turn knob located on the side. Obviously, this makes a lighter and/or matches redundant. 
Furthermore, the Highlander Portable Gas Heater comes with a combined temperature control knob that allows you to regulate the temperature to your satisfaction. You can easily angle the heater to anywhere you like using its swivel mechanism. We really like this feature.
Gaswise, it uses standard A4 227g butane gas cartridges. Loading the cartridges is simple. You just have to move the canister lever in the slot. It also has a protective cover to keep the butane in place safely. 
We really like this heater from a value for money point of view – it's fairly cheap. However, you've got to keep your eye on it as gas flames are notoriously powerful and there is always the risk of carbon monoxide poisoning. Best for outdoor or awning use at most.
Specifications 
Materials: Steel with enamel coated surface
Fuel Type: Liquefied Petroleum Gas
Open Dimension: 28.5 x 28.5 x 19.5cm
Product Weight: 2.30kg
Gas Consumption: 160g/h 
Nominal Heat Output: 1.3kw
Outdoor Revolution Portable PTC Oscillating Ceramic Heater 750W/1500W
The Outdoor Revolution Portable PTC Oscillating Ceramic Heater is a superb all-rounder. It works great with all types of tent, caravan, or campervan and does not have the carbon monoxide drawback of gas heaters.
It sports a compact design that can easily fit into limited space and can work even if there is no airflow. But don't mistake it for being light-duty. Although it does not take up a lot of space, it's powerful enough to keep you warm on the most chilly nights. 
Impressively, its power output is between 750W and 1500W with an oscillating function that rotates the heat output and spreads it evenly around your camping space. This makes it great for warmer months as it helps circulate the room temperature effectively. With the built-in thermostatic controller, you can easily control the heater for the most comfortable room temperature. 
One of the most important aspects of the Outdoor Revolution PTC is that you can power it up whenever you have mains electrical power. However, the downside is that if you're wild camping it won't work unless you have a generator or AC power pack with you. This saves you from the trouble of continually buying and transporting gas cartridges. For general campsite camping, this is our preference.
In summary, the OR Ceramic heater looks good and chucks out enough heat to make a difference. We like the safety and would have no hesitation in running it overnight. A great choice for UK camping!
Specifications 
Material: Lightweight ABS material
Fuel: Electric 
Power: 220W-240V~50Hz, 750W/1500W
Open Dimension: 18 x 15.6 x 25cm
Product Weight: 1.35kg
Modes: Variable heat and fan speed control with "Fan Only" setting
Kampa Cuboid Low Wattage PTC Fan Heater
The Kampa Cuboid Low Wattage PTC Fan Heater is a great little tent heater for your camping adventures. One of the most prominent features of this heater is the ability to heat the room exceptionally quickly, owing to its maximum power of 1500W. It takes just a few minutes to change the room temperature, so you don't have to freeze in the meantime. 
Additionally, weighing about 1.1kg, it is one of the lightest options available on the market. Hence, you can easily carry it around.  
Because it chucks out so much heat, Kampa have been clever enough to design the Cuboid with cool-touch housing, a thermal overheat protection system, and a tip-over protection switch. The tip-over protection switch helps turn off the heater instantly if it's not in contact with the floor. Hence, safety is guaranteed here. These features are an excellent addition to the product that reduce the chances of accidents and injuries. 
In terms of power control, the Cuboid has three settings. You can run as a cooling fan-only for hot days, 750W power, or the full mighty 1500W power. 
Not to forget the compact and stylish build that makes it stand out in a room full of camping. The black on it gives it an extra coat of class. With a Cuboid heater, you can fight chilly nights in style.  
Specifications 
Power Source: Corded Electric 
Open Dimension: 26 x 20.8 x 18.8 cm
Product Weight: 1.1 kg
Heat Output: 1500 Watts
Kampa Diddy Portable Heater
The Kampa Diddy Portable Heater is among the most affordable heaters on the market. You can easily use it when camping outside and in garages, caravans, sheds, conservatories, porches, workshops, and even around your home. 
As a versatile product, it comes with a tip-over protection switch, a thermal overheat protection device, and cool-touch housing. These features help guarantee users' safety. In case the heater accidently tips over, it could theoretically start a fire by igniting combustible items nearby. 
The Diddy is surprisingly powerful for its size and can match the power of its bigger sibling the Kampa Cuboid at 750W or 1500W. The downside is that because it's so small, that hot air is not easy to distribute across a big camping space – for smaller tents and campervans, it's perfect though and a great price.
In use, the moment you power it up, the fan blows out heat like a hairdryer. So you don't have to wait long before you can enjoy a desirable room temperature. We love the Kampa Diddy – it's small enough to pack away easily and really delivers the goods.
Specifications
Material: Cool touch housing
Power Source: UK 3-pin plug
Open Dimension: H22 x W17 x D9.5cm
Product Weight: 1.05kg
Fuel Type: Instant fan-forced heat
Warmlite Halogen Mobile Electric Heater
The Warmlight Halogen Mobile Electric Heater is a great choice for both heating and lighting up your tent. Heat output is fairly low at 900W but it's enough to heat up a small to medium sized tent or campervan during winter. 
Design wise, it comes with a quartz tube design and two energy settings. The former makes it offer instant heat while the latter allows you to set the desired temperature easily. In addition, other enjoyable features this camping heater includes are simple dial controls, a carry handle, and a lightweight design. These features ensure ease of use and portability to make your camping adventures more comfortable. 
Furthermore, it is built with a radiator with a stand that keeps it upright. Also, its auto-safety feature helps shut it off if the heater tips. These features are of great importance. The halogen heater will rotate as well in order to radiate heat in multiple directions. We like these and they are great value.
Specifications 
Material: Steel
Power source: Corded Electric
Dimension: 16 x 28 x 40 cm
Product Weight: 1.56 kg
Outdoor Revolution Portable Gas Heater
The Outdoor Revolution Portable Gas Heater can blast out 1.2kW of heat and is a favourite of ours for its portability. As the name suggests, it's a radiative gas heater and this may not be suitable for all situations where safety is absolutely paramount.
However, OR have included some safety features which should put you more at ease. For starters there's a clever Oxygen Depletion Sensor (ODS). The ODS helps cut the heater out when the oxygen level runs too low (e.g. due to carbon monoxide). There is also a tilt switch included which shuts off the gas flow if the unit accidentally falls over. Definite peace of mind. 
The heater is lit-up using a built-in Piezo Ignition switch and heat output controlled using a twist and turn knob located on the side. We found that this worked really well, and the 1200W of power which is thrown out can heat a tent up in seconds.
It has an enameled steel body with a chrome-plated wire fireguard that covers the ceramic burner plate. This build enables the heater to radiate heat more effectively than others we've seen. 
Fuel
The Outdoor Revolution uses a 220g disposable cartridge which is widely available. The lightweight and compact design is the cherry on top, and this makes it easy for adventurers to carry around. Moreover, it's suitable for all camp types, including caravans, tents, folding camps, and even trailer tents. You can also use it at home but remember to maintain proper ventilation. 
Our main issue with gas heaters is the carbon monoxide risk. Even with the ODS on board we would still be very wary of using this inside for long periods of time, and especially if you're thinking of sleeping. For a quick blast though we were very impressed with the heat output and the portability. Recommended.
Specifications
Material: Enamelled steel
Fuel: 220g butane/propane gas cartridge
Power Output: 1200 watts
Open Dimension: 30 x 13 x 26cm
Product Weight: 1.5kg
Fuel Consumption: 90g/h
Burner Time: 2.5 hours on one cartridge
Vinclus Portable Camping Fire Pit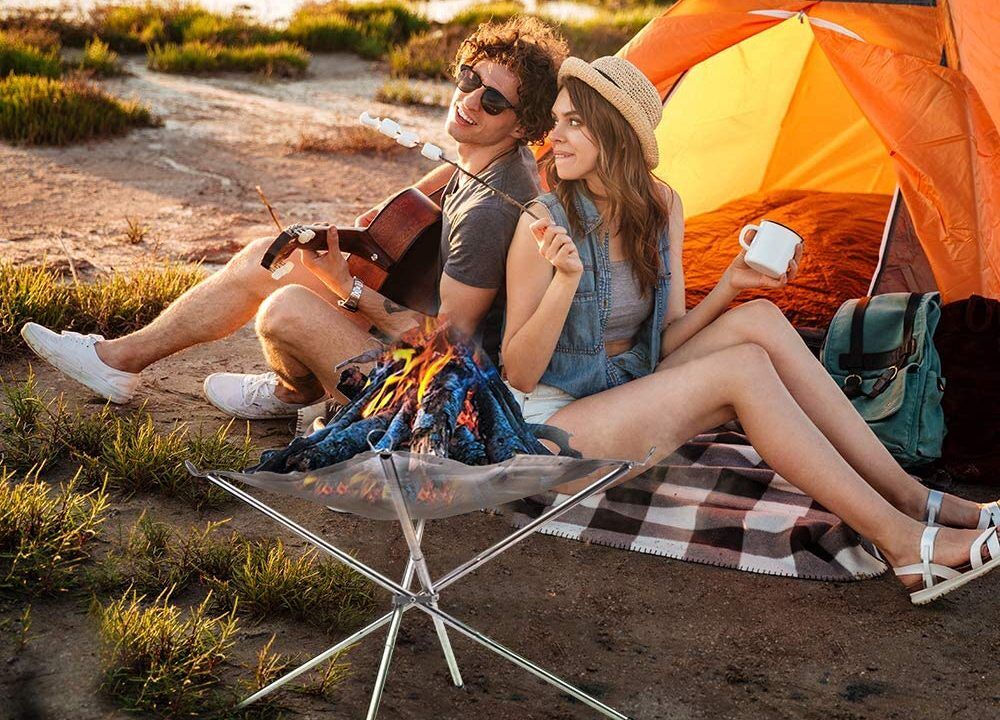 The Vinclus Portable Camping Fire Pit is an innovative version of traditional heaters. Back in time and even today, a lot of people use bonfires to warm up in the cold. This fire pit gives you a safe base to lighten up your bonfire and enjoy it for as long as you want. 
It features a stainless steel build which ensures strength and durability, offering you the best value for your money. After use, you can easily have it folded and put it directly into your backpack. Besides, it's user-friendly as you can assemble it manually. It comes with a storage bag where you can safely store it while commuting. This product is great for camping, hiking, fishing, barbecue, rock/ mountain climbing, and outdoor picnics.
Moreso, it features gift gloves that help with assembling the fire pit. Its detachable four steel feet help with stability and promote more convenient outdoor camping. 
Specifications
Material: Stainless steel
Fuel Type: Wood
Dimension: 43.2 x 43.2 x 33 cm
Product Weight: 680g
Buyers' Guide – How to Get the Best Camping Heater
When having to choose from so many options, what's better than a word from the experts. There are several essential factors that characterize the best camping heater. To help you identify them and make an informed decision, we have listed them below. Read each one of them carefully. If needed, make a checklist, too, so you don't miss out on any of them. 
When traveling or camping, you usually do not have much space available to keep a lot of stuff. Hence, it is better to carry as limited things as possible. Wherever you can compromise on the items' size, do it. This also involves even the camping heater. Believe me; you don't necessarily need a big heater to fight the chilly night. A compact one with the right features can also go a long way.  
So before you settle on a heater, first confirm the size of your camping unit. If it's small, go for a compact heater. Otherwise, a bigger one might also be fine. Apart from the size of the camping unit, you must also consider your commuting plan. If you plan to move on foot, carrying a giant heater would be real trouble. 
Power output is one of the primary deciding factors when it comes to choosing the best camping heater for your trips. If the heater isn't powerful enough to fight the cold, what's the point of getting it? Therefore, make sure it produces enough heat to serve the purpose. 
When investing in a heater, try to get the one that offers the best value for your money. One way to ensure that is through the product's versatility. Some heaters can work for you all year round. They are able to heat the air in the cold and blow around unheated air in the warmer months. So you can use them in any season you want. 
Handling heaters can be a bit risky. They might tip or overheat, which is dangerous as they can put combustible things around on fire. However, that's not the case with the ones we have reviewed above. All of our suggested heaters come with extra safety features that make your trip safer. 
One of the most significant factors that affect the level of safety a heater offers is its base. A bigger base ensures better stability and always keeps the heater upright. Some other safety features include cool housing and a tip-over protection switch.  
So what if you cannot control the weather, You can definitely control your heater. Most camping heaters come with thermostat control that lets you adjust the temperature as per your needs. This ensures that you enjoy the weather just how you like it. 
Typically, most camping heaters either run on electricity or gas. Both these power sources have their peculiar benefits. With an electric heater, there are no gas fumes, no need for fuel canisters, and they are cheaper to purchase. However, you will need a power outlet to power them up. 
On the other hand, a gas heater is more portable and produces more heat. Plus, its fuel is quite cheap. However, it produces carbon monoxide and can be more expensive than an electric heater.
In case you didn't know, even the best camping heater does create some noise. If you're planning a trip for peace of mind, be aware a noisy heater will definitely spoil it. Advisably, look for a heater that can work well without creating extra noise.
Your camping location has a lot to do with the kind of heater you choose. For instance, for a campsite with a power supply, an electric heater can be a good option. Otherwise, a gas heater is all you are left with. 
Frequently Asked Questions (FAQs)
1. What are the different types of camp heaters available for sale?
For everyone that seeks a tent heater, know that there are different types of them on the market. Well, this may make choosing one an overwhelming task. But with our detailed guide, you'd be able to make a good decision.  
Also, every camp heater has its pros and cons. Therefore, make sure to be very careful with the product you pick for yourself. For your assistance, let's discuss a few types of heaters here. 
One of the most popular types is a propane heater. This type is ideal for the coldest winter locales. Characteristically, propane burns quickly and sustains its liquid form even when the weather is extremely cold. 
Another one is an electric heater. This type is ideal for short camping adventures. What makes it worthwhile is that it can be as powerful as its fuel-powered counterparts. However, taking it into the wilderness can put you in trouble with recharging it. 
Lastly, you'll come across butane heaters. This type of heater is known to be the most lasting of all. Characteristically, it needs very high temperatures to convert to gas from liquid. Using them in the coldest of winters may be a bit of a struggle. However, the moment you fire the heater up, you will be glad to have it as a companion for your trip. 
Moreover, butane heaters provide top heating coverage and produce ample BTUs. This ensures quick and efficient warmth in your tent.
2. What kind of heater is best for camping?
Most campers prefer propane heaters for their portability, convenience, and affordability. As for electric heaters, there may not be a power supply at your campsite, which makes them useless. But with propane heaters, you don't have any such problem. Impressively, they are both safe to use and can produce more warmth.
3. What are the safety tips for using the best camping heater?
There are some basic things you need to observe for your safety even when using the best camping heater. For electric heaters, keep them away from fabric or the walls of your tent. Try to keep the generator outdoors if you're powering the heater by one. Lastly, get a heater with the auto-off function. 
In the case of gas heaters, try to avoid using them indoors. Secondly, ensure you always have backup fuel canisters. But keep them in a safe place away from the heater. For a secure experience, try to always adhere to the instructions on the fuel canister. 
4. What heater is safe to use in a tent?
Frankly, every electric heater and most propane heaters are ideal and safe for indoor use. Just make sure the manufacturer recommends the product for indoor usage. Besides, always try to follow the usage instructions. 
Conclusion 
Choosing the best camping heater from the plethora of options available on the market is quite challenging. But not anymore. We have put together a very comprehensive buying guide for you. Read it thoroughly and take care of all the mentioned factors. Besides, make sure you are clear on what you actually need. The paramount factors reflecting your choice are how and where you'll be using it. 
To directly jump to the best options on the market, check out our reviews. They mention all the important details you need to know about a product.