Weber Q2200 Review – Portable Gas BBQ
The Weber Q2200 is a table top gas-powered BBQ which we've been itching to get our hands on for ages. But is it too large to be a truly portable option? We put it to the test…..
Why we like the Weber Q2200: Rapid heat; Grill area; Portable (just!)
We've been avid users of the baby Q1200 barbecue from Weber for a couple of years now, but there has always been a nagging segment of our brain thinking that perhaps we should have bought the bigger brother – the Weber Q2200.
Possessing a significantly larger grill area, faster heating time and higher max temperature, the Q2200 certainly offers attractive benefits for our typical usage – there are three large eaters in our family and we often also tend to simultaneously cook for friends who are also camping with us.
People just miraculously seem to congregate around our rig when the Weber comes out, and so we could do with the larger size grill to help keep the burgers rolling.
Weber is a US company which has been in existence for more than 100 years, and they have become one of the top brands in outdoor cooking. They are renowned for offering extremely high quality dependable gear with superb all-round performance and durability – but it comes at a cost – the amount of moolah you need to fork out to buy one!
Weber equipment is always solidly made using chunky metals and materials – the grills can therefore be quite heavy, even when classed as 'portable'. Think of them like the Harley Davidsons of the BBQ world!
Interestingly, the Q2200 is not that much more expensive than the Q1200. It can currently be purchased in the UK for around £375 for the tabletop version, which is only ~£50 more than the Q1200. If you can handle the increased size (more on that below) then we think it makes sense in most scenarios – however there are some undoubted downsides.
Weber Q2200 Review Methodology
We were lucky enough to be lent a Q2200 for a spring weekend of testing. We cooked a range of meats (steaks, chicken breasts/thighs, burgers, sausages, kebabs) and vegetables (peppers, onions, corn-on-the-cob etc) at a mixture of low, medium and high heats. This gave us a in-depth feel for the capabilities of the grill and the expected serving efficiency.
We were also able to do some direct Q2200 vs Q1200 comparisons in terms of achievable heat and come away with some definite conclusions on how the Q2200 fits into the pantheon of camping stoves on the current market.
In short, we think it is an excellent patio BBQ which is built from dependable and quality materials, but is straddling the line for what can be truly considered portable.
Weber Q2200 Portable BBQ - the Key Specs
The Q2200 is a table-top portable gas barbecue which is primarily designed for grilling meat and vegetables. It measures 104.1 (H) x 130.6 (W) x 62.2 (D) cm with the cast aluminium lid down and side tables folded up – it's certainly no shrinking violet. Weight is a substantial 19.7kg which gives a good workout if you are carrying it by hand to a picnic destination.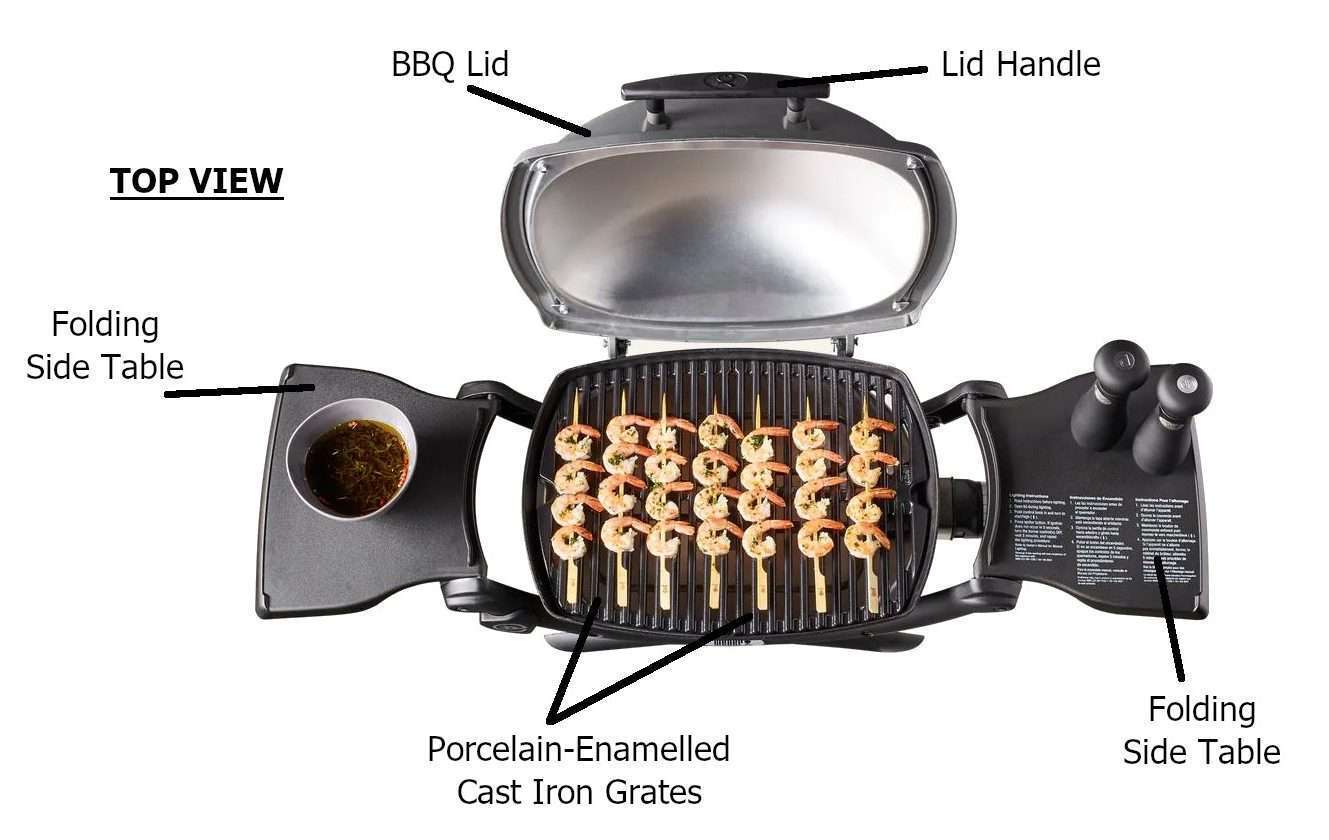 The Q2200 comes in two 'flavours', which differ only in the colour of the lid cover. There is a jet black option (our preference) or a titanium option which is more cream looking than silver.
Gas power
The main body of the Q2200 incorporates a large single gas burner which is capable of chucking out 3.5kW of heat (compared with 2.5kW for the Q1200). The burner is controlled by a large ergonomic valve on the lower right hand side of the unit and lit by a reliable piezo ignition button on the left (battery required which is included).
Gas can be supplied via standard screw-on LPG cannisters or via a regulator and larger patio-style tank.
The centre-piece of the Q2200 is the dual cast-iron grates on which you cook. These measure 54 x 39 cm (~1800 cm2) in total area which is large enough to fit about 10-12 burgers on simultaneously. This is more than enough for most situations.
Having two smaller grates instead of one offers you definite advantages: first, if you're just cooking for one or two, you can simply cook on a single grate – makes for much easier cleaning afterwards. You can choose to split your cooking – meat on one side and vegetarian on the other. Finally, you can use a grate on one side and a griddle section on the other (bought separately). We think Weber have made a good design decision here.
The grates themselves are porcelain enamel-coated which means meat tends to stick less to them. We recommend that you take care when scrubbing them clean that the coating is not scoured off. 
In terms of cooking temperature, there is an in-built thermometer on the domed lid which enables you to get it pretty much spot-on – bare in mind that this is not a thermostat and will not automatically adjust the power of the gas flow – you need to keep an eye on it! 
A removable drip tray underneath the Q2200 allows fat and grease from your food to be collected safely.
Finally, the BBQ has a plastic table on each side of the main grilling area. These can be rotated upwards when not in use to save a bit of storage space, and to give access to a pair of carrying handles. The side tables are reasonably adept at holding small items such as condiments or a pack of burgers. Anything more than that and they struggle.
Warranty
While Weber kit is expensive, they counteract the price somewhat by offering a comprehensive warranty. All the key parts of the Q2200 have a five year warranty which is exceptionally good. Weber also make it very easy to remove every part of the BBQ for either cleaning or simple replacement if something fails. We like this as it means your Q2200 will have a long lifetime in your care.
In Use and Overall Impressions
The first thing to say about all Weber gear is how well they 'spark up'- the piezo ignition works extremely well, and you never need to press the button more than once. It feels dependable and helps maintain the premium feel.
Screwing an LPG gas cannister in is a little more fiddly on the other hand, but this is only because of where the connection is located – underneath the right hand side of the BBQ. It's
Initial Temperature Tests
We first set out to measure the temperature achieved inside the closed lid of the Q2200 with a full LPG cannister attached and the gas flow either at minimum or maximum.
| Gas Flow | Temperature Achieved (°C) |
| --- | --- |
| Minimum | 177 |
| Maximum | 298 |
As you can see, the minimum temperature of the BBQ is still quite high at 177°C. This means that the Q2200 is not particularly adept at ultra slow cooking, Heston Blumenthal style. It is designed for cooking items in the 0-60 minute range, with steak searing at the lower end, and chicken sizzling at the longer end of that time range.
Cooking Meat on the Weber Q2200 Gas BBQ
We started off by setting the temperature to 275°C – this took about 15 minutes of pre-heating which was very reasonable, and significantly faster than our Q1200. 
We added a packet of pecan wood chips to the inside of our smoker box (see photo). This is personal preference, we tend to like the smoked taste to our chicken. 
Marinaded Chicken Thighs
We had pre-marinaded some organic chicken thighs and have found that these cook best on low temperatures of around 150°C for a longish time of an hour or so. With the Q2200, the minimum temp is only 177°C and so may not be optimum for this style of cooking.
We initially seared each side of the thighs at 275°C and then dropped the gas flow to minimum, allowing the temperature to drop accordingly. We closed the lid and turned the thighs after about 20 mins. Cooking was complete after 45 minutes.
Verdict – incredibly succulent chicken – success!
Steaks and Burgers
We turned the temperature up close to max again (298°C) to cook some rump steaks we had bought from the local butcher, first having wiped the grill bars with grapeseed oil (which has a higher burn temperature than olive oil). We seared each side of the steak for around 3-4 minutes each for medium-rare, rotating it twice on each side to get some nice 'cross-hatch' burn marks from the grates.
Verdict – superb again!
Weber Q2200 vs Q1200 
If you don't have a lot of space for your grill but still want that feeling of quality, then the Weber Q1200 is pretty much perfect and is all you need. The Q1200 has quite a small footprint and can easily be stored in a campervan, caravan or car boot. It features side shelves and hooks that can hold tools like spatulas and tongs so they are always within reach when cooking.
The Weber Q2200 is a better option if storage space isn't as much of an issue as it features more than double the grilling area as well as all the attributes which made the Q1200 so good (except the hooks!). This makes it better suited for larger families or parties where there will be lots of food cooked at once, but you do lose that extreme portability. It also obviously weighs more – 19.7kg vs 14kg.
The other thing you lose is range of colours. The Q1200 comes in eight different colours of Grill Lid, from a natty green to a vibrant purple. With the Q 2200 you are stuck with titanium silver or Jet Black. They look good, but you lose a bit of that sense of fun.
We really noticed an improvement in pre-cooking waiting time of the BBQ with the Q2200. It heated up much more quickly than the Q1200 and was more responsive. However, it used more gas for the privilege of that flexibility.
Overall, you need to decide if the increased grill space is what you need – if not then there is absolutely no point buying the Q2200 – stick with the Q1200. However, we are definitely now ready for a bigger unit and can support the increased storage space in our campervan and on the patio at home.
Cleaning the Q2200
We recommend cleaning the Q2200 grates twice per cook – after every session for packing away and after the first pre-heat of the day. This latter clean enables any remnants of the previous BBQ to be caught which you may have missed. Some people claim that having old charred meat on your BBQ 'enhances the flavour'. We totally disagree with this!
If you're lucky enough to find a 'bundle deal' on the Q2200 (see our supplied link) then the BBQ comes with both Weber turning tongs and a Weber T-Brush for cleaning the grill. These are great quality tools which we recommend for maintaining your BBQ.
The Weber Q2200 gas BBQ is a quality piece of catering equipment and will last many years of use and abuse if you look after it correctly. We found it the correct size for our current situation (cooking for 4-5 people typically), but if you are a couple then we would recommend sticking with the Q1200.
We had excellent success cooking chicken, steak, burgers, kebabs, bell peppers and corn-on-the-cob. To be honest we don't eat much else from the BBQ. In summary, if you can live with the dimensions and weight then we don't feel you'll regret purchasing it.
The Weber Q2200 is a great bit of kit and a substantial chunk of metal. Perfect for keeping on the patio as a table top gas-powered BBQ without overwhelming your backgarden. For camping it is right on the limit of what is transportable. For caravans, and larger campervans we think it can be managed, but not so much if you're just using a car boot and tent without a trailer. Check it out, and join the BBQ revolution!