Best Women's Walking Boots
Walking in the wild offers many benefits which can be difficult to achieve in the hustle and bustle of daily life – solitude, peacefulness and an opportunity to reflect on your life and future plans is not easy to accomplish if you're working constantly and on the go.
At its best, walking can be exhilarating – the feeling of cresting a ridge on high ground with nobody else in sight can quicken the pulse and take you out of yourself to reach something akin to a spiritual high. It's no wonder that long distance treks such as the trail to Machu Picchu in Peru are getting overrun with millions of us each year looking for enlightenment.
Hiking is definitely an activity that is growing in popularity in a world reeling from Covid-19 and successive lockdowns, and it's easy to see why. The learning curve and level of initial expenditure is extremely small – literally anyone can do it, and so if you have even a modicum of interest in the natural world and/or getting fit, then hiking is a fantastic pastime to engage in.
Finding a decent pair of walking boots is the key to getting started and the place to invest as much money as you possibly can. If you consider that the best women's walking boots for women will last at least 10 years (possibly double that time for leather hiking boots) then paying £200 now will seem like exceptional value on a cost per month basis. It works out at miniscule £1.60 per month which is less than the cost of one coffee in Starbucks! However, you will definitely need to buy smartly in the first place – so read on!
Considerations When Choosing Ladies Walking Boots
Sizing
Choosing a pair of walking boots to buy can be tricky, especially online because the sizing is not always as consistent as it could be between brands and in comparison to standard shoes and boots. We would certainly recommend testing a potential pair in a physical store if at all possible and then either going home to buy online, or try and get the store to match the online price – most will with a bit of persuasion. 
Sizing up walking boots online may feel like a lottery, but the distance selling regulations are your friend. By law, you have 14 days to return the product if they have not been damaged in any way, and this process is getting easier and easier. Online stores like Amazon make the returning of your walking boots extremely straightforward – you just print off a label and take it to a participating local hub who will give you a receipt and send them back for you. Note: The link to a particpating local hub will only work when you are logged into an Amazon account.
For the ease of returning, it is no great hassle to order several pairs of different size walking boots and then send back the ones that don't fit for no extra cost, apart from your time. We have started doing this all the time now and it is a great way to get the best product in the optimum size and at the best price.
Choose Your Sock Thickness Carefully When Sizing
Make sure you test the boots wearing the exact type of socks you'll be wearing on the walks you will be engaging in. You may have purchased a gorgeous pair of ladies walking boots, but if they don't fit when you put on your thick winter warmer socks then you may have to send them back for a larger size.
Our advice if you're choosing between a boot on the tight side with the correct socks, and one on the loose side with the correct socks then go for the latter – you can always wear extra socks if you have to. Tight boots soon lead to blisters which can be hell on earth to deal with on a long hike.
Features of the Best Walking Boots for Women
So, assuming you can get the perfect sized walking boot using the methods above, then what physical attributes are the most important to look for?
For us, it comes down to:
Outer Material – leather boots will generally have a longer product lifetime than synthetic and are more rugged, but typically slightly heavier. We like the traditional side of leather, but you may have moral concerns about using leather products. In reality, the choice is moot because both options can be exceptionally good – go with your 'vibe' on this one in terms of which you think looks best.
Waterproofness and Breathability – certainly look for Gore-Tex lining in your boots. It makes such a difference in terms of how much water can be withstood. You will thank us for this when the water is rising up towards the collar of your boots! The breathable nature of Gore-Tex is also essential on long distance hikes – without it you start feeling like you're suffering from Trench Foot!
Sole Quality – this is a key feature to take note of. Look for a Vibram sole or similar which can offer grip and 'stickiness' with a small amount of flexibility. Too soft and yielding and you will suffer on rocks. Too hard and you will lose grip. We suggest some of the best women's walking boots below using Vibram soles.
Overall Weight – lighter is usually better for walking boots unless you're trying to build up leg stamina by wearing heavy boots. Unfortunately lighter often also means shorter lifetime and flimsiness, and so this is a tradeoff you need to consider. We will discuss this for the individual boot choices below.
Key Parts of Walking Boots

It's worth knowing some of the lingo and terminology used for women's walking boots, so you can understand the structure on offer and whether it fulfils your particular requirements. 
We would urge you to pay particular attention to the total number of eyelets and the liner cushioning around the top collar part of the boot. Some walking boots use memory foam for additional comfort around your calves and this can be a godsend when you're out on the trails. 
Also look for a rugged 'rand' which is the rubber layer between the sole and the main upper shank of the boot. This needs to be rugged and watertight. Our choices of best women's walking boot below have this covered.
For anyone who is into the outdoors and hiking in particular, the name "Merrell Moab boots" is extremely well known and basically synonymous with comfort and performance – in short they are a legendary boot and we simply had to include them in this roundup.
I've been wearing Moabs for many years now and once you have learnt how your feet shape compare to the Moab range you can literally buy a new pair sight unseen and know that they will deliver on all levels. Perfect for walking to the park, beach or hills, I would not swap them for many other boots if I'm honest.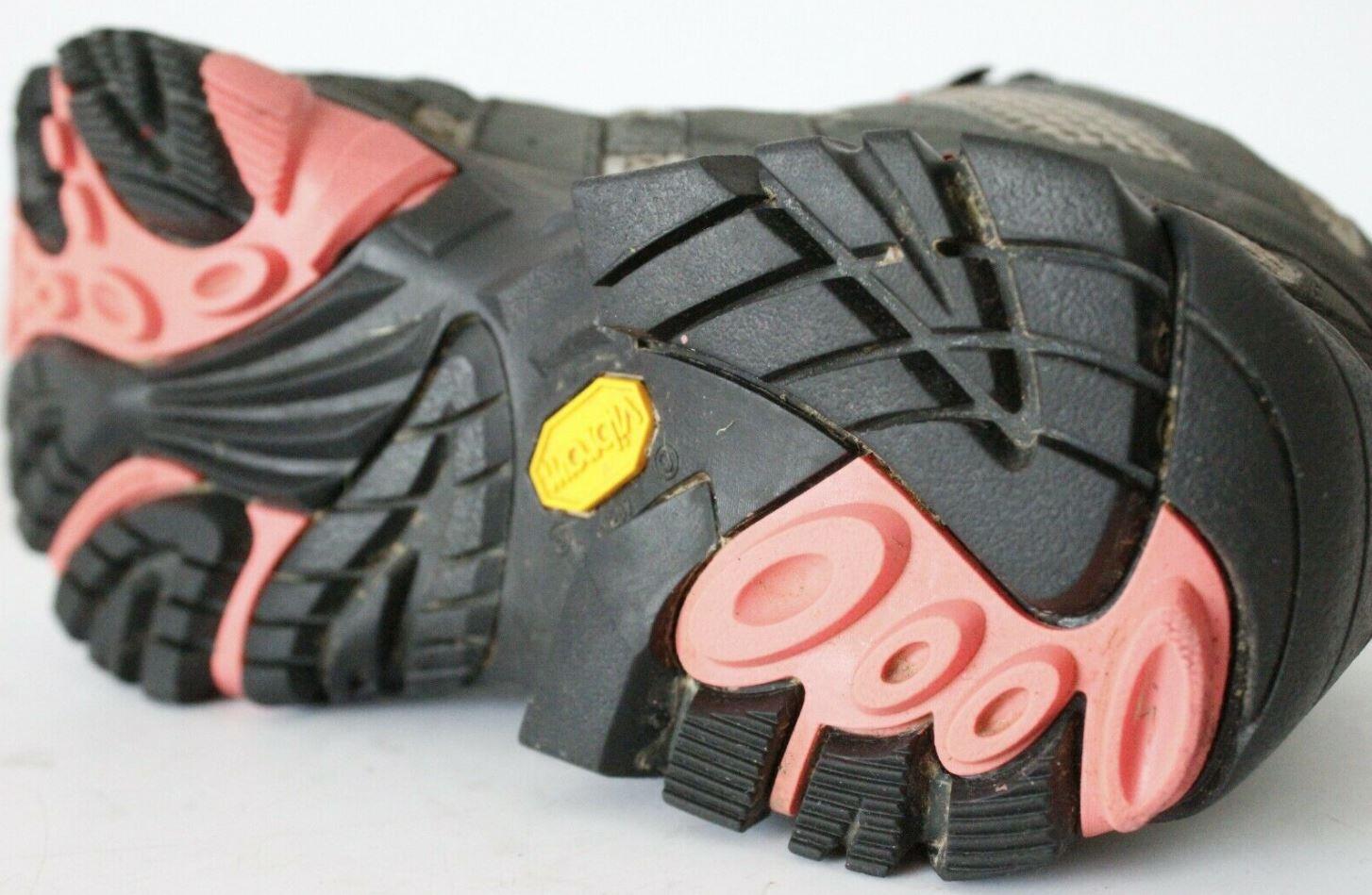 So why all the fuss? Well first they have a full Gore-Tex upper layer which is extremely breathable and waterproof, they're light (936g for two) and the Vibram sole is full of spring and grip. I love the look of the Moabs even though the tendency of boot manufacturers to sprinkle in dabs of girlie pink on their women's range is slightly irritating in the 21st century.
In Use
As soon as you slip on the Moabs and walk around the room you feel like you're floating on a cushion of air, and actually you are! The heels of the Moabs incorporate a dedicated air cushion to absorb impact and this works very successfully. In combination with the moulded (and replaceable) footbed which has a contoured profile to fit the arch of your foot, the Moabs really feel like they've been designed for you personally.
Waterproof performance is good, but you wouldn't want your feet fully immersed in a stream for long – go for something more opaque to water if that's on the agenda. However for rain and snow, the Moabs are definitely up to the job. 
Merrell say their Moabs have been worn by nearly 20 million people in total since their inception, and we can fully understand why. If you haven't tried on a pair then I've got to ask – what are you waiting for?
Helly Hansen Switchback Trail
Decathlon Quechua MH900 Women's Mid Boot
Occasionally, we stumble across great item of gear from a friend's recommendations. Recently, our close friend Geb bought a pair of the Decathlon Quechua MH900 Womens Boots and she has been astounded at the quality on offer for not a huge outlay. On closer inspection and a test in the Malvern Hills, we have to agree with her.
Decathlon are well known for providing excellent value outdoor gear and the Quechua MH900s are no exception. These come in a natty blue colour with part leather, part technical fabric uppers and an excellent grip on the sole. 
They are a mid-ankle boot with excellent fit around the calf area, possessing extra cushioning where it counts. These are one of those pairs of boots which just feel right as soon as you put them on, with the perfect length and width for my feet (standard women's UK 7) when wearing a pair of merino wool hiking socks. I still recommend testing in store though to be sure, although Decathlon offer an excellent returns policy (and warranty for that matter).
The boots are thoroughly waterproof and just feel lightweight and springy – it's like they're helping you walk up the slopes! Our pair weighed around 450g but smaller sizes will be proportionally lighter. We also like the stone guard kick plates on the front and rear of the boot which protect against stubbing your toes against loose rocks on the trails. Take care to keep the waterproofing up to date and the MH900s will look after you all day for years! 
Overall, the Quechua MH900s are excellent boots after finding out about them somewhat serendipitously. We are really impressed with the quality on offer and will be searching out for more Decathlon gear if these are anything to go by!
Keen Women's Targhee III Mid Boot
Getting close to shoe/trainer territory, these Keen Targhee mid-boots are fantastically comfortable and feel like an old friend after you've put a few miles on them. Lightweight at only 375g, they use a combination of leather and synthetic mesh for the upper layer and incorporate a breathable inner lining which allows great air flow.
A word about the mesh – this is placed in between the lacing system and is excellent for venting hot air outwards. However, water can get in through it and so these are probably not the best boots for heavy rain or walking through bogs.
Lacing is quick and easy and there is absolutely no need for breaking in these boots – they are extremely supple and seem to mold to the perfect shape from the moment you first 'set foot in them'.
Some owners have complained about a narrow fit to the boot, but that is not our experience – in fact the toe box is deliberately widened by Keen in order to accommodate toes more comfortably.
We had the Weiss/Boysenberry colour combination to review which has some fairly subtle pink/purple design detailing on the sole, sides and internal edging of the tongue and collar. Other combinations are available if you're not a 'pink kinda gal' but we think the colour combo worked well.
The bouncy rubber sole is made by Keen themselves and contains 4mm multi-directional lugs which offer decent grip. We found that the boots were excellent for a wide variety of walking and would recommend for a 3 season lightweight and comfortable walking boot. We would also say these are best women's walking boot in terms of breathability and keeping your feet cool on the trails.
On Cloudrock Womens Waterproof Boot
The On Cloudrock Women's Waterproof Boots are a Swiss designed hiking boot available in a range of five vibrant colours (Storm Wash, Pecan brown, All Black, Jungle Fir, Navy Midnight and Cocoa Red). We have found them a great option for speed-hiking and fitness improvement.
The Cloudrock boots are a synthetic boot and a technical tour de force. If you're turned on by tech then you're going to love these! Weighing 420g they use a novel sole which has gaps like a caterpillar track on a tank to provide great grip and bounce when walking. The Missiongrip rubber used for the sole offers decent traction and stickiness when traversing rock or turf.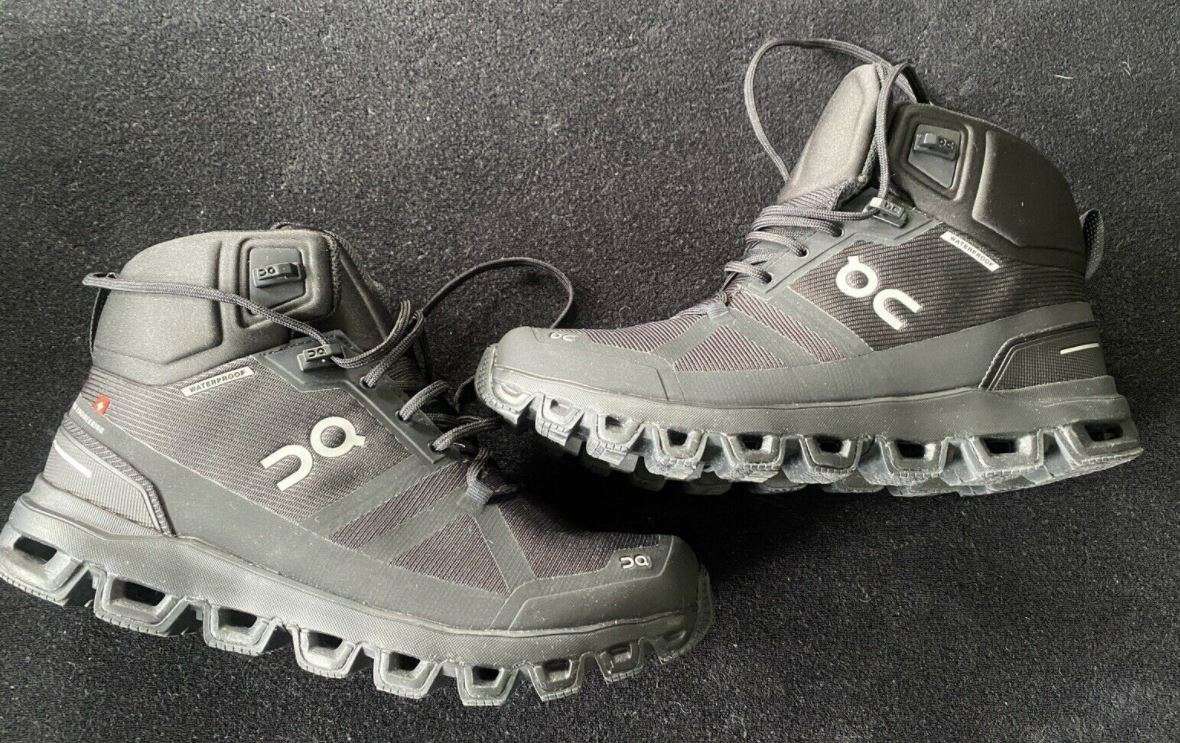 The boots are highly waterproof, windproof and breathable as you might expect for the £180 purchase price, and the value for money you are getting is clear in the quality of construction and the great design touches.
In particular, we loved the FlexLock lacing system which allows you to either tie your laces conventionally, or alternatively lock them in place on the upper eyelets. The advantage of doing this is that you can loosen the lace, but your foot in and then tighten them up with a single tug. Nice!
These are the best women's walking boots we've tested in terms of the feeling of speed you get when wearing them. The curve of the sole seems to bounce you along and makes walking a pleasure.
We tested the black version of the Cloudrocks, and to be honest they looked a little uninspiring in terms of style. However, the other colours in the range are more vibrant. In particular, we like the Storm Wash colour available at Ellis Brigham.
Meindl Women's Bhutan MFS Boot
We've been fans of the Meindl Bhutan MFS ladies boots for a while now, having completed a rigorous long-term test involving a combination of lane, moor and mountain walking in a wide range of conditions. Check out our full review on the Bhutans for more info on this. 
So why the high praise for the German offering? Well the comfort given to your feet and lower legs is immense due to the decent cushioned inner sole and the fabulous memory foam Meindl have incorporated around the collar of the boot. This envelopes your calf area snugly and essentially moulds to the shape of it. For long distance walking, we haven't really found a better boot for the money, although they are fairly weighty at 650g.
The Bhutans incorporate a full Gore-Tex waterproof membrane which is breathable and allows any hot moisture to escape, even if it's bucketing it down. The Vibram sole offers reasonable grip and a solid base on which to push off on your stride. We like the Vibrams alot.
If we were to be picky the style of the boot could be described as 'traditional' or even slightly old-fashioned. We don't particularly like the grey rubber used around the outer heel area of the sole. In our view, looking good on a walk is at the bottom of our requirements, but if a boot is downright ugly we would certainly be put off buying it. Luckily the Bhutans don't fall into that category, but there are better lookers in our list if style is a priority for you.
The Meindl Bhutan MFS boots are a serious contender for best womens walking boot if walking is all you intend for them to do. If you want to look good while walking then that might be a different matter. But remember, beauty is in the eye of the beholder so if they float your boat then there is no better boot for a day out in the UK countryside.
We've reviewed the Scarpa Terra GTX before and their excellent price/performance had to instill them as one of our 'best women's walking boot' choices. You can find the longer in-depth Scarpa Terra GTX review here.  
The first thing that strikes you about the Scarpas is the softness and suppleness of the nubuck Italian leather they've used for the outer layer. It is simply wonderful and feels suitably luxuriant when you're sliding them on. 
Weight is reasonable for a full-on leather hiking boot at around 490-500g, but you should be looking at some of our other recommendations if you're after a lightweight, less rugged option.
The Scarpas use a Gore-Tex lining membrane for excellent waterproof and breathable performance. A chunky Vibram sole offers great impact absorption with decent tread for gripping in muddy conditions. It's a quality design which will last many years and we have been very impressed with these boots. The overall construction and quality of workmanship on offer is superb and the Scarp Terra GTX boots should see you through your backpacking, camping or hill-walking expedition in style and comfort, whatever the weather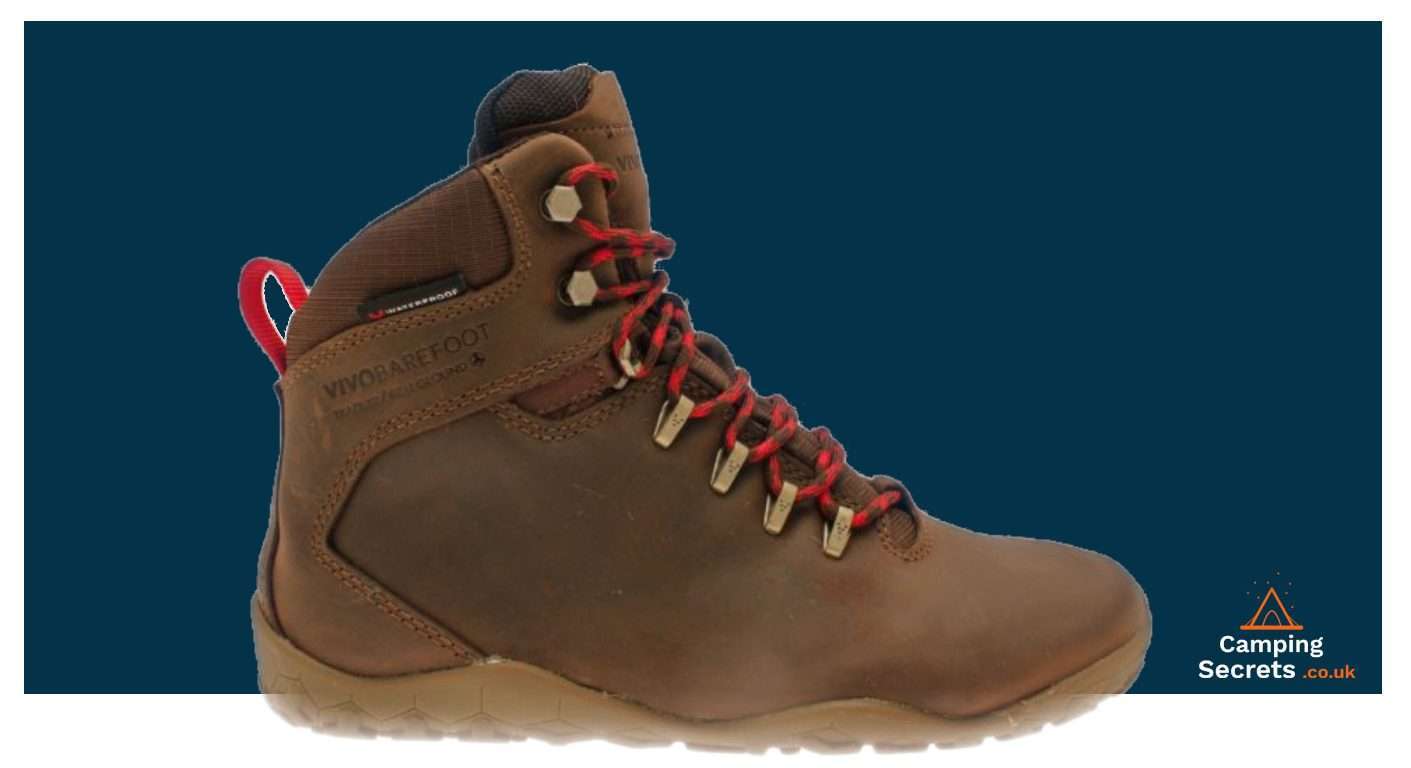 This is a relatively new boot which we haven't had time to put through a rigorous 6 month long-term test yet. However they've gone straight into our recommendation list because they combine the ruggedness of leather uppers with an exceptionally grippy sole and excellent breathability. On top of this they accomplish it all with a great big dollop of outdoors panache mixing a traditional hiking boot style with more contemporary red detailing.
The VivoBarefoot Tracker is what is known as 'natural footwear'. This means that the sole is slightly thinner than you normally find on hiking boots, but it connects you much closer to the ground on which you're walking and certainly feels more tactile as a result.
The grip on offer is astounding with a sticky rubber compound used for the sole. It does flex a fare deal and so the Trackers are not ideal for hikes over shale and broken stone. However as a turf and trail boot or a climbing boot they are second to none.
The brown leather for the upper section is from free-roaming cattle, and when you're finished with the boot, VivoBareFoot implore you to send them back to them for recycling. They aim to reuse every component of the boot which is an excellent initiative for reducing waste.
Weight is excellent for a leather boot at 436g, and they can actually pack down really well due to the flexibility in the sole. There are seven pairs of lacing eyelets and a substantial tongue and carrying loop included.
Waterproof levels are high (the leather upper has been treated with Hydroguard) and there is a 360 degree breathable membrane layer within the upper which is equivalent to Gore-Tex in performance. The insoles are breathable and warm which is great when there's snow on the ground. They can also be removed and replaced.
In summary, we have been extremely impressed with the VivoBareFoot Tracker as a flexible all-day trail walking boot. They look great, don't weigh much and should last well. If you require a more sturdy boot for tough days in the mountains then these are not the boot for you – scroll down further for more suitable choices!
That concludes our roundup of the best walking boots for women and we hope it helps you come to a decision on this most important item of outdoor gear. 
Thanks to Tengyart and Sorin Gheorghita on Unsplash for some of the arty photos used in the article.