Rab Valiance Jacket Review – Is this the Perfect Combination of Warmth and Waterproof?
An ultra-warm down-filled jacket having a fully waterproof outer layer – we put the Rab Valiance to the test…
Key adjectives describing the Rab Valiance jacket: Waterproof; Insulating; Stylish
I only recently discovered that Rab, the upmarket outdoor clothing design house, are based just up the road from us in Alfreton, Derbyshire. We are based in Birmingham. For some reason I had always imagined Rab to be a Scottish company, owing to their founder Rab Carrington being a proud Scot. I felt a little deflated – Derbyshire  just doesn't seem as glamorous as 'the Highlands of Scotland' to my impressionable mind. Their gear is still rather good though!
We recently reviewed the Rab Prosar down-filled jacket and were very impressed by the lightness, compressibility and warmth on offer from it. However, the waterproofing ability was almost non-existent, and  I found myself having to wear a dedicated waterproof Gore-Tex shell layer on top to stay warm and dry.
This is where the Rab Valiance jacket comes in. It is a jacket specifically designed for the nasty combination of extreme cold and rain which is actually quite a commonplace weather pattern in the UK.
I had found myself in need of a decent waterproof down jacket as the Winter months approached, and bought the Valiance blindly (with my own funds I hasten to add!) based purely on the specifications provided by Rab in the product description. Was I correct in trusting them? Read on to find out…
Be sure to also check out our independent round-up of the best down jackets currently on the UK market if you're in looking for warmth on your hikes and outdoor adventures.
Let's start with a description of the technical details and construction of the Valiance.
The Rab Valiance is a 660g down jacket which uses a Pertex Shield waterproof and breathable top layer to provide a complete barrier against liquid water droplets from entering the inner depths of the jacket. Pertex Shield is a lightweight technical fabric which has a microporous coating to prevent water ingress. It is also highly windproof which can be a godsend on particularly icy walks.
Every zip and seam on the Valiance is designed with maintaining this waterproof nature. Each seam of the jacket is taped which means that these traditional weak points for leakage are fortified like a dam on a reservoir. The Valiance has two front hand-warmer pockets which use YKK Aquaguard zips – these have a very smooth action and are a pleasure to use (I love a good zip action!). The main front zip of the jacket is a YKK Vision and is similarly smooth. They are things of beauty!
Insulation and Warmth
The inner depths of the Valiance is where things get interesting. Rab have used a bonded narrow box-wall design for the Valiance, filled with 800 fill-power goose down insulation. These are just about the best down feathers that Rab supply (in terms of volume or 'loft'), and they are from ethically reared geese.
The bonded box-wall design means that none of the main panels of the coat have any stitching or seam taping within the panel and so are remarkably waterproof.
Moreover, the down feathers trapped within the baffles are treated with a hydrophobic Nikwax coating. This prevents loss of loft if moisture gets into the insulation and is often the main failure mechanism for down jackets when they get wet. Wet down feathers clumping together will severely reduce the efficiency of the jacket at trapping warm air next to your body. Trust me when I say that the Valiance keeps you insanely warm.
Hood and Cuffs
The hood on the Valiance is helmet-capable and is adjustable in size by way of a pull toggle on the back which helps with cinching down. If you're not wearing a helmet for climbing (i.e. me, all of the time), then it can easily be shaped to fit your head and will turn with your head as you look around. The peak of the hood is wired which gives an excellent shape for rain water to run off.
One thing I don't like when wearing both a standard down jacket and a waterproof shell on top is that you get the problem of having two hoods in operation. They both get in the way of each other! The Valiance overcomes 'hood overload' by effectively integrating the shell and down jacket into a single, more efficient combination. No more hood-overload!
The cuffs are similarly excellent, using a hook and loop (i.e. Velcro) system to allow adjustment to a user-preference tightness.
An excellent design feature of the Valiance is that Rab has incorporated Pyrotec insulation into both the hood and cuffs which is a synthetic waterproof down. Because these areas of the jacket often take the brunt of rainfall, using synthetic down here (which has far superior wet performance than goose down) means that you will not lose heat at these key points. Nice attention to detail from Rab.
Rab Valiance - Colour Options
The Valiance is available in a range of fairly subdued colours, which suit my preference to 'blend into the background' when enjoying outdoor spaces.
For men, the colours available are: Black (my choice); Steel; Ink; Oxblood Red and Army.
For women, they are: Black/Shark; Steel Passata; Blueprint/Celestial; Crimson and Fig. You'll notice that these use very similar colours to the men's, but with slightly more feminine names!
Rab Valiance - Weight and Packability
Because the Valiance incorporates both a shell layer and high loft down insulation, it is both weightier and less packable than other dedicated down jackets. The Womens Rab Valiance weighs 615g, and the Men's 660g – about double the weight of the Prosar in comparison.
Pack size is not ideal for a day rucksack either at around 30cm x 15cm. This is a fairly bulky jacket option, and so you're more likely to wear it for the duration of of your walk rather than carry it around on the off-chance you may use it The Valiance comes with a separate stuff sack in the pocket for packing away.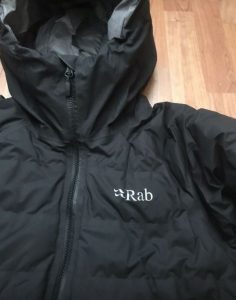 I bought the Valiance at the perfect time for testing it – the nights had begun to draw in around November time, and freezing rain was hammering Sutton Park (my local stomping ground) on a regular basis. Size-wise, I went for the Men's XL which fitted me well at 6ft3 tall and average build.
The first thing to note about the Valiance is that it is insanely warm. This really is a jacket for cold alpine type conditions when rain might be expected. I repeatedly got completely soaked whilst wearing it, and it was clear that the Pertex Shield is very effective at keeping water out. With snow on the ground and icy chill in the air, the windproofness of the Pertex was very effective at keeping my core warm. I was very impressed with these aspects of the coat.
On days when it is not so cold then some disadvantages start to hover into view. I mentioned how good the insulation is at keeping you warm. This is undoubtedly true, but you do find on warmer days whilst walking that the inside of the jacket can get damp from internal water vapour condensing – it is possible that the breathability of the down is restricted, meaning that the vapour cannot escape. You really have to choose when to wear the Valiance – it is not a coat for everyday wear in my view because of this.
The outer Pertex Shield layer is reasonably thin too. I have been slightly worried about catching the material on thorns and hedgerows in case it gets ripped. The fabric has rip-stop properties however and so perhaps I am being unjustly cautious. Something to bear in mind in any case.
More positive features are evident everywhere though. The hood works very well, and is possibly the best example I've found on a coat. There is a useful inside security pocket for carrying phones and wallets. The zips work well and the abundance of bungees and cords for adjusting the fit of the coat around the waist show excellent attention to detail.
Finally, it's worth saying that the Valiance really looks good. I personally think Rab make some of the best looking outdoor gear, and although there is some bulk to the Valiance, it is never less than stylish. In retrospect, I think I should have bought the grey steel colour with the orange interior, but you live and learn! 
Rab Valiance - Conclusions
The Rab Valiance does some things extremely well. It is highly insulating, very warm, and very waterproof. As such, you need to wear it on days which demand that kind of performance. Luckily, that is most days in the Autumn and Winter of UK life. 
It is a great coat for sitting outside at campsites because the combination of a windproof and waterproof outer layer with decent heat-trapping ability means you simply will not get cold.
However on milder days, especially if you are planning to walk substantial distances and potentially build up internal perspiration then it might not be the best option to choose. I did find that condensation built up inside. This is not necessarily a massive problem – the Valiance still kept me warm. It's more that the Valiance doesn't adapt smoothly to the conditions – the conditions have to be right for the Valiance. Definitely worth trying it out though.
The Rab Valiance down jacket is an exceptionally well-insulated and highly waterproof coat. Perfect for campers and dogwalkers, but possibly not breathable or adaptable enough for extended hikes or scrambling expeditions in the mountains. Be clear about why you need it, and the Rab Valiance is definitely worth looking at - plus it looks great!