Key Factors for Choosing the Best Camping Toilet
We've got to be honest – if we go camping in our tent or campervan we tend to make sure we book a campsite with decent facilities. For us, it's worth paying that little bit extra to access the absolute best camping toilet – the one located in a bricks and mortar toilet block!
While it's often considered a positive to have a permanent on-board loo in your caravan or motorhome, they need frequent cleaning and emptying which can be messy work. In our view it's better to not have one and then camp at a site having properly plumbed toilets which get cleaned regularly by somebody who isn't us!
But the times they are a-changing. The Covid-19 pandemic has forced everybody to reassess their hygiene habits in a world where it seems like more people than ever are camping or pursuing outdoor hobbies such as fishing, hunting or mountain biking. 
If you want to wild camp in the 'real world' where there are no loos or even just park up for a few nights on a 'back to basics' campsite, then a portable camping toilet can be a godsend. Alternatively you might wish to use a portaloo to avoid the midnight run to the toilet block or even to help isolate yourself from potential Covid hotspots at the campsite.
In this post, we review the best camping toilets available in the UK at the moment. We also explore additional loo-related paraphernalia such as pop-up tents which can help smooth the process as much as possible…
At Camping Secrets we are absolutely dedicated to testing any gear we recommend first hand. However when it comes to "trying out" a camping toilet, it's not entirely practical or hygienic to fill a review unit with 'real' waste. Sorry for any mental images created there!
Instead we have tested each toilet from an 'is it comfortable to sit down on?' perspective and then separately tested the flush and emptying mechanisms (if they are present) using simple tap water and toilet tissue added to the bowl. 
Where possible, we have also asked for feedback from our circle of camping friends and family about their experiences with these toilets. There have been some horror stories of leaks! We've collected their reports together and combined with our own research to make our recommendations for the best portable loos.
CampingGaz Portable Toilet - Best Large Portaloo
Portable toilets come in all shapes and sizes and you need to decide quite early on in the buying process what exactly you are looking for. Do you want a toilet to hide away, or do you want it to feel more sturdy and closer to the comforts of home?
The Campinggaz portable toilet is aimed towards the latter half of that trade-off and gives real toilet comfort for an excellent (in our opinion) price. The downside is the size of the thing for transportation.
Luckily the Campinggaz splits into two sections: a) the main lid, seat and bowl section with clean water tank and manual flush b) the leak-proof waste tank below. Each section has a dedicated carry handle for easy lifting too and from the car, and to the waste disposal point for the tank. Useful to avoid getting splashed!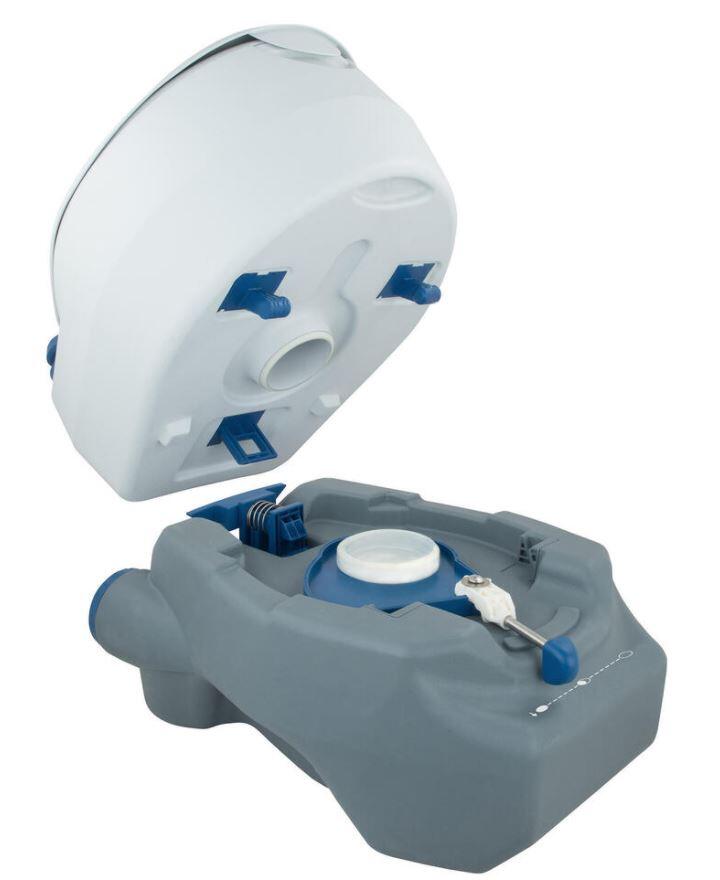 This loo has recently been redesigned after some owners reported a bad seal between the lid and seat, but our review unit was strong and very comfortable to sit on (mind the silent 'h' there). Height is an excellent 41cm off the ground and so you don't feel like a naughty kid conducting toilet training. 
Campinggaz have made sure that all surfaces which you may be in contact with have a special antibacterial coating applied, which gives some confidence when handling and also allegedly reduces unwanted smells.
We very much like the Campinggaz portaloo. With a large 20 litre waste capacity, you are not going to be making regular trips to the waste disposal point (always a chore) and we managed to get a large number of flushes (>20) from the 16 litre clean water tank. Recommended.
Feels like Home!
The Campinggaz Easygo portaloo is a big beast but really feels the part for a very reasonable purchase price. Just check whether you've got the space to carry the two sections, and Bob's your uncle!
Thetford 565E - Best Luxury Camping Toilet
One of our friends owns this colossus and I have to admit to occasional pangs of jealousy. Is it wrong to be jealous of a toilet? For your money you get a full electric flushing loo with level indicators and a 21 litre waste tank – it takes 4 AAA batteries and weighs around 6kg 'unladen'. 
The Thetford 565E feels like a proper loo. You sit up high and can occasionally start imagining you're a king or queen sat on the throne. In fact I did start humming a few Elvis numbers until I remembered what happened to him on his final day. The 565E has a cool little hatch too which opens to reveal your toilet roll, ready for action.
There's not much to say which isn't positive about this great loo. If you've got the space then go for it.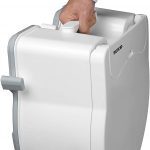 However for most of us who are cramming our cars and campers to the brim before setting off, it probably is a little excessive in size, especially if the place you're going to already has toilets. In the end that has to be your decision, but my friend has one and I don't – and that's irritating!
We highly recommend the Thetford 565E electric portable toilet if you are not pushed for space. 
If you have plenty of space to use up and money to spend then the Thetford 565E is the Rolls Royce of portable loos. It has a great electric flush, a toilet roll holder and essentially feels like you're back at home. Recommended for Camping Royalty!
Thetford Qube 335 - Best Small Camping Toilet
As mentioned many times on Camping Secrets, we love our little Mercedes campervan. However it does not have an on-board loo which can limit the places we can stay – step forward the Thetford Porta Potti Qube 335 which measures only 31.3 x 34.2 x 38.2 cm and works really well.
Thetford have a long history of making portable toilets, and operation of the Qube 335 is very simple as might be expected. 
The toilet splits into two sections – the top part consists of the loo seat, lid and a 10 litre tank with manual flush pump. The bottom section contains the waste (also 10 litre capacity). For an average family of three it will last a couple of days between empties.
Before use, fill the requisite amount of blue chemical fluid inside the lower tank – this keeps things hygienic, odour free and helps disintegrate any scandalous solids! The mechanical seal seems pretty fool proof and does not leak at all. In fact, we were impressed with the overall design and build quality. The top tank is filled with water  and pink fluid which can then be sloshed down into the bottom tank after use by squeezing the manual pump a few times with hand or foot.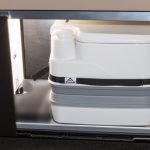 We think that this is the smallest portable loo with a (manual) flush available to buy in the UK and will fit inside the cupboard space of the small 'VW-sized' campervans such as the Mercedes Marco-Polo and VW California/Transporter. See the photo opposite. This means it can be discreetly hidden away.
Emptying the 335 requires some dexterity when it's fully 'utilized'. It can get a bit heavy, although you only have to carry the lower half to the Elsan point and this also includes a handy spout for emptying.  Hold your nose and look away!
The Thetford Qube 335 is a great mini-loo and one of our top recommendations but is unfortunately in short supply at the moment (in the UK). As a cheaper alternative, try the Enders Deluxe camping toilet but check if the dimensions are small enough if you're planning on storing it in a cupboard it's a little larger than the 335.
Compact
The Thetford Qube 335 is a great camping loo due to its small size and well-engineered design. We think it's perfect for little campervans or tents when space is at a premium.
Carplife Bivvy Loo - Best 'Bucket' Loo
Some things in life shouldn't be complicated too much. The Carplife Bivvy Loo takes that mantra and applies it to one of life's essential processes. The end result is a camping toilet which does its job well, can be folded away unobtrusively and renders the 'end product' biodegradable too – we love the simplicity of it.
The Carplife loo was originally designed for anglers (hence 'carp') but can equally be commandeered by the camping brigade.
It comes packed in a natty green circular bag which only measures 8cm thick (about 3 inches) and so can be packed away really easily in a tent or campervan. In the bag is a toilet seat which fixes to a pop-up corrugated cylinder section. When assembled it can support up to 23 stones which is pretty impressive. The Carplife loo also comes with 12 biodegradable liner bags – you simply attach one of these inside the toilet underneath the seat and… bombs away!
The liner bags contain special powder which combines with the waste to produce a neutral end gel. The bags can then be safely disposed of in any bin. This is really useful and means you don't have to search around for an Elsan point or dog waste bin.
After use, the toilet seat can be cleaned very easily and packed away again. It is probably the easiest system available to use and maintain, with no chance of leaks.
We highly rate the Carplife bivvy toilet. It does exactly what it needs to in a very efficient manner. Sometimes simple is best. Check out our full review on this great toilet for more details.
The Carplife Bivvy Loo is a simple concept and may seem expensive for what it is. However, compared with other loos on the market we find the no-nonsense approach with a seat and liner bags to be the most hygienic and simplest to use. A great camping loo!
Blue Diamond Eco-Friendly Composting Toilet
For a different twist on the camping toilet genre, how about going full on Eco-Warrior with the Blue Diamond Composting Toilet?
It's a substantial portable toilet and made of very rugged plastics which give a reassuring feel to sit on. It can take a weight of 200kg which is over 30 stones – no problem even for the biggest campers. There are no chemicals in play at all which helps our water systems avoid getting contaminated.
So how does it work? Well firstly it has two waste compartments – one for 'solids' and one for 'liquids' – you could call them number 1 and number 2 if you prefer! Compartment '2' should be lined with a biodegradable liner and after use sprinkled with sawdust or peat or similar – this helps suppress nasty niffs and starts the composting process (a natural degradation of waste by bacteria).
Capacity levels are reasonable at around 8 litres for each compartment, and the size of the Blue Diamond is good at 42 (H) x 32 (W) x 52 (D) cm. Weight is a reasonable 7.8kg for a loo of this size. This is a great toilet for long term camping on a site during the summer holidays for example. Not so good for a weekend break or emergency use.
So why is it so expensive? It's a good question in all honesty, because the toilet doesn't even include a flush – perhaps there is a bit of bandwagon jumping with the eco-theme, but we do think it has a purpose and a place in the field. Perhaps pick one up in the sales if it gets reduced. 
Hi-Gear Portable Camping Toilet - Best Budget Bucket Loo
Go Outdoors have a few camping toilets available for purchase. Our favourite is the simple Hi-Gear Portable Camping Toilet which is exceptional value for money at around only £20.
The Hi-Gear consists of an outer shell which uses a glossy plastic to disguise the fact that this is a toilet – it resembles a footstool to the untrained eye!
The outer section has a lid which allows access to the inside where the action takes place. There are also a couple of carry handles for moving the toilet around.
With the outer lid up, there is a proper toilet seat available inside which can be also lifted up if required. It then rests inside the outer lid neatly.
Any waste product is directed into a separate inner 'bucket' which can be removed for emptying. This means the Hi-Gear loo can be used either with or without a liner bag. However in our view it makes sense to use the liners or else it will require some fairly thorough washing.
Overall, the Hi-Gear portable loo is fantastic value but it does have the downside that it cannot be collapsed down. Because of this, it does take up quite alot of space (dimensions are 49.5 x 42.5 x 34 cm). Also, cleaning is a bit more fiddly as there are so many different lids and sections. Still, excellent value and worth considering!
Triptips Portable Loo
The Triptips Portable Loo is another compact 'seat+cylinder' toilet which is excellent value and has a comfortable 'wipe clean' waterproof seat. The Triptips will support around 100kg of weight (15 stone, 10 pounds) and so don't buy it if you weigh more than this – it might get messy!
When not in use, it packs away down well, measuring only 8.4cm high. However it doesn't come with any liner bags and so these will have to be purchased separately.
Sfeomi Camping Toilet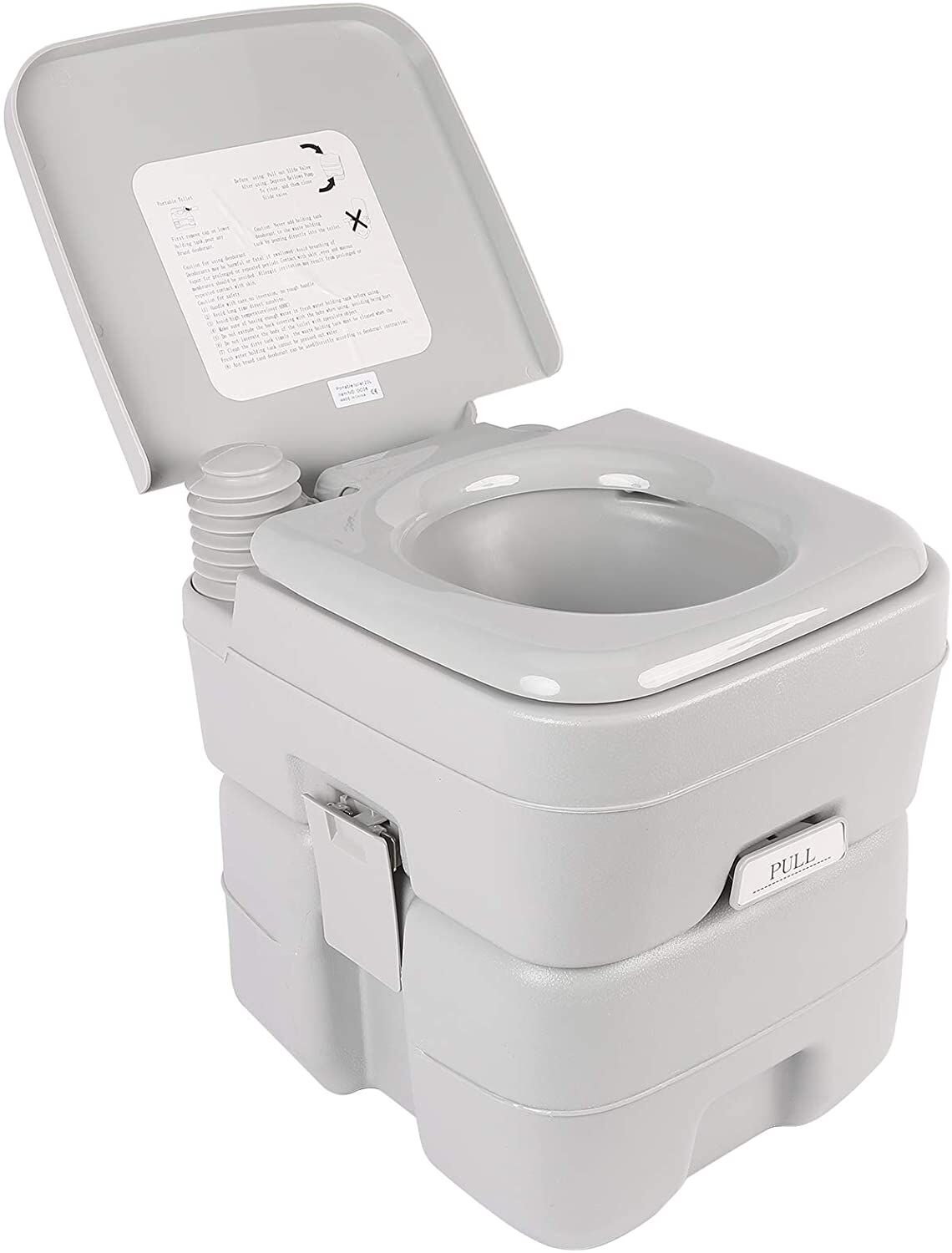 The Sfeomi Camping Loo is another great value (~£60 again) portable toilet with a 20 litre capacity (10l flush and 10l waste capacity), a manual flush and great customer feedback. Our friends have one and swear by it – half the price of Thetford, so could be worth a shot! I said shot!!
Enders Deluxe Camping Toilet
The Enders Deluxe camping toilet is a cheap (~£60) alternative to the Thetford range and measures 37.5cm (H), 44.5cm (D) and 38.5cm (W). Whack some of the pink toilet fluid in the top and some blue in the bottom and you're good to go. No sign of any unwanted smells either! 
We have some friends who swear by this loo and bought it when the Thetford 335 Qube was not easily available. They maintain that it's excellent value, and that is why we have included it here.
Biodegradable Toilet Liner Bags
It's useful to stock up on a supply of these biodegradable 'Bivvy Loo' bags and wipes from Carplife. The bags include some clever powder which helps neutralize those nasty niffs.
Bonlife Ottoman - Toilet Storage Box
Grab one of these swish Bonlife Storage Ottomans to hide your camping toilet in. They are great value at around £10 and look surprisingly elegant for the money – much better than a bare portapotti in any case!
Using a Bonlife Ottoman also gives you an extra seat in your van and is available in six natty colours.
If you've decided to go down the "Bring Your Own" route with a portable loo then you need to decide fairly early on where you're going to locate it – you can't just whack it in the middle of the campsite, sit down and start reading the newspaper with everyone gawping.
If the toilet is just to be used in moments of desperation then there is no reason why you can't find a temporary spot inside your tent or campervan to work your magic – we've tried this approach and found that it's a good idea to tell anyone you're travelling with to keep away in moments like these – danger zone! You can get to know your own family a bit too well under such circumstances!
Instead, we recommend buying a pop-up toilet tent which will help create a permanent fixture for your newspaper reading away from your main camp area – they're not expensive and are quick to put up and take down.
Wolfwise Toilet Tent
Our current favourite toilet tent is the Wolfwise Pop Up Privacy Tent which uses an absolutely ingenious system of folding to instantly arrange itself on removal from its flat circular carrying bag.
When folded it takes up very little space, but expands to a height of 1.9m and over a square metre of floor space. The updated model we had to review included a rain cover which could be used to cover a mesh opening at the top of the tent. The mesh is useful to allow unpleasant odours to escape!
If you're not too bothered about the rain cover then the older model can still be purchased considerably cheaper in green or blue.
Overall, the Wolfwise toilet tent is an excellent piece of gear. It includes a hang rope and pocket inside, has a curtained window at standing height and the time to put up can be measured in seconds. A great buy!
Qdreclod Toilet Tent
Using a similar design to the Wolfwise, with a useful internal clothes line added to the design to hang a towel and a pocket to store some reading material, this Qdreclod toilet tent is actually great value at around £40 on Amazon.
It folds down compactly and looks rather spiffing with its orange and white colour scheme! Probably the best camping toilet tent when comparing value, features and style.
One of our favourite camping gadgets is this amazing steel Military folding shovel. We recommend having one of these stored in your travel equipment whenever you set off for an adventure.
The folding shovel can be used for many purposes as it has a serrated saw edge, a sharp edge and even a little hook for pulling out nails etc. It also has a mini pick axe blade!
This awesome tool can dig, hoe, hammer, saw and even open bottles of beer! Not to mention that it folds down to around 20 x 13cm and only weighs 600g.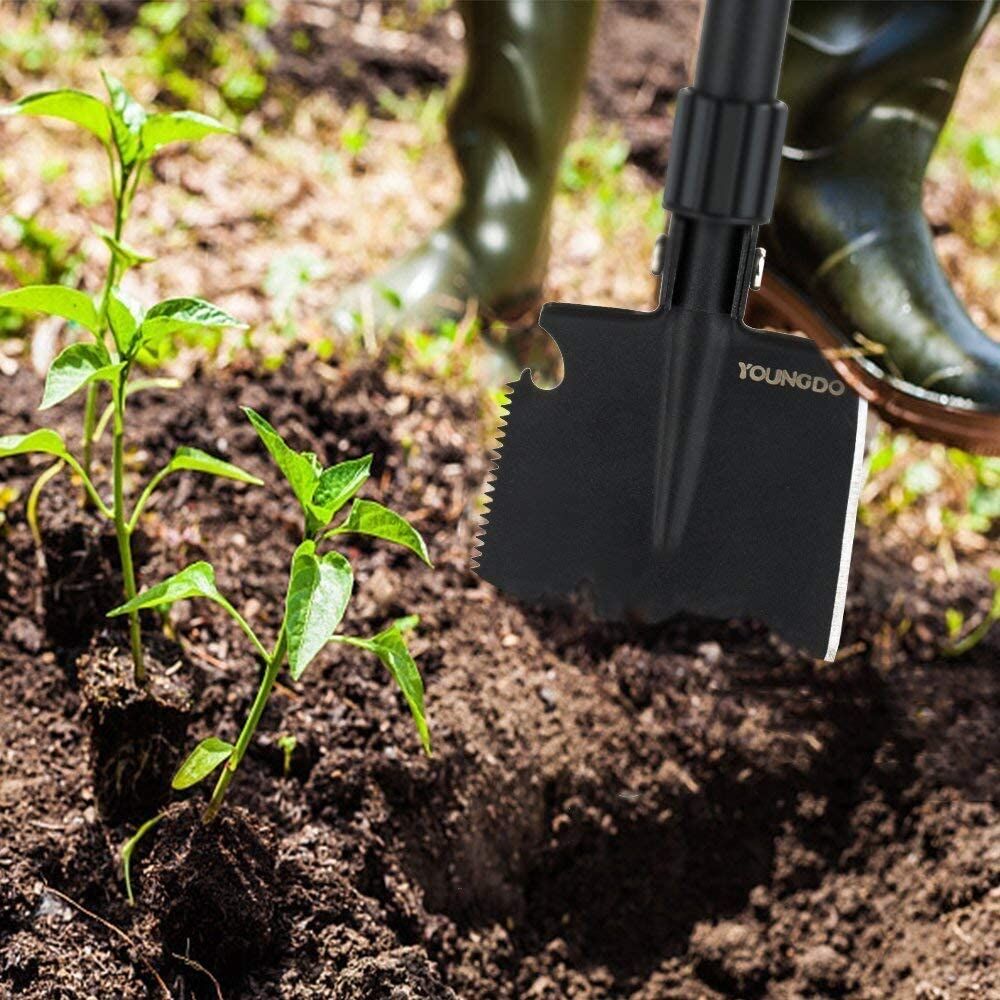 Toilet-wise, the shovel will enable you to dig a hole when you're stranded out in the wilderness somewhere and desperately need to unleash the fury. At only £16.99, you may as well feel like Rambo while you're doing it. Highly recommended!
We hope you found this exploration of the best camping toilets and toilet tents useful. Overall, we do think a portable toilet is worth having on board for your camping trips. You never know when it could come in handy, and any way of stopping the spread of Covid-19 is to be welcomed.
Happy camping!